Citations are a key component of the ranking factors for local SEO. Typically, businesses with more citations tend to rank higher than those with fewer citations. But what are they?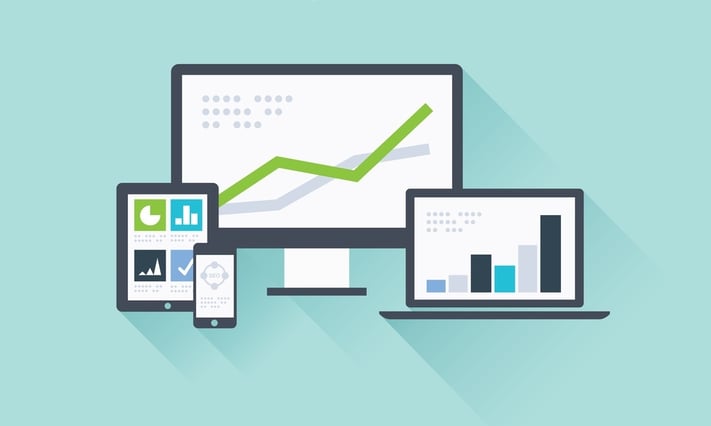 Your business should strive to build a broad base of citations. These not only increase the visibility of your business, but it will also boost the "trust" factor for search engines when calculating the validity of your business's existence. According to Moz, "High-quality, authoritative citations are also viewed by experts as the #1 ranking factor in competitive local search markets."
What are Citations
In the world of SEO a citation is simply a mention of your business name and address on other web pages, typically directories, and this includes those with no link to your website. One example of a citation would be an online local business directory where your company is listed, but does not have a link to it.
Other examples might be chamber of commerce sites or local 'yellow page' directories, as well as industry or other professional directories. The key distinction to keep in mind when we speak of citations is that they are not the same as a link. But they have a significant value in the 'eyes' of search engines, as we will see.
Why Citations Matter
To reiterate, a local citation is any mention of a local business on the Internet, even without a link. According to Darren Shaw of Whitespark, a citation can come in various forms:
Company Name, by itself.
Company name & phone number.
Company name, phone number, & address.
Company name, phone number, address, & link.
In fact, he says that even just the phone number by itself can be a local citation. Shaw points out that a complete local citation should include your company name, address, and phone number (NAP). A citation that does not include all three of these is sometimes referred to as a partial citation.
There are a number of factors that work together to determine page ranking in organic search. In fact, one authority lists over 200 factors, or "signals" that search engines - especially Google - pulls into their algorithms to determine where your search results end up amongst everyone else's.
However, there are really only a handful, relatively speaking, that have a significant impact on your rankings. Depending on whose statistics you look at, citations account for anywhere from 14 to 20 percent of the factors that matter.
Leading practitioner of local search engine marketing, David Mihm, noted that in the Moz Local Search Ranking Factors survey, citation related factors make up 25% of the top twenty factors. He offered a pie chart to illustrate a simplified version of the key factors: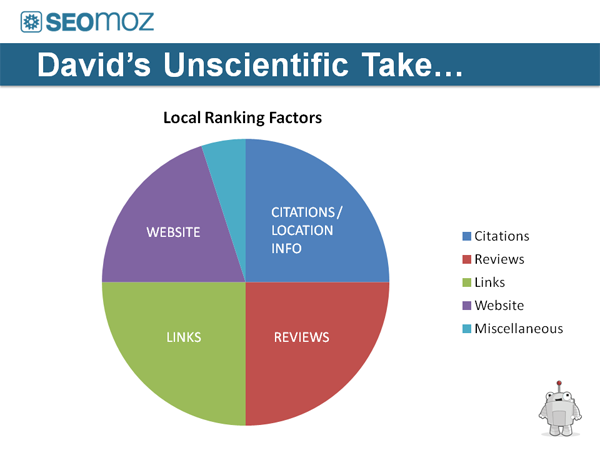 While this illustration gives you the thrust of why citations matter in local ranking factors, it is not intended to be statistically accurate. On the other hand, the point is well made: citations matter for local search results.
Where to Get Citations
Online business directories number in the thousands. Every industry and profession has its share of directories and there are dozens of online business directories like Yelp!, Foursquare, and others. In addition to local chamber of commerce directories there are business networking directories for groups such as BNI and others.
A couple of great "directories" of directories are Best of the Web's Regional Directory and Yahoo's Regional Directory. With these tools you can search for directories by locale or region, as well as by industry or profession. Tools such as these can provide a wealth of good prospects for garnering quality citations.
One other potential source for getting your business listed are in blogs.
Local blogs are a great place to get your business listed. These will obviously vary by particular geography, but if you simply perform a search on your favorite search engine for "[your city] blog" or "[your neighborhood] blog," you'll likely see good candidates
There are many professional and industry sites that the local search engines count as citation sources. Getting listed on these site's directories or on these blogs can be a significant addition to your citations. You can find these site with searches like "[your industry] directory" or even "[your keyword] directory" which will give you insights to the sites you might want get listed on.
How to Improve Citations
Make sure that the information given in your directory listings is both accurate and consistent. This, however, is not always as easy as it might seem. Fortunately, there are tools available to help with this task. A great tool is moz.com/Local , a useful way to check for the consistent spelling of your local citations across the web.
Businesses in the U.S. can use these four map data aggregators that provide a large amount of the map data for search engines such as Yelp!, Bing, Google+ local, Trip Advisor, Apple, and more.
Again, it is critical to verify that the information in your citations are consistent and complete across these four data aggregators. In addition, you should always remove any duplicate listings you find.
A duplicate listing is when a local business has more than one listing for a single physical location in an online directory. Unfortunately, a number of negative results can come from having duplicate listings, which can impact your local business's ability to rank well in organic searches.
Although citations may only account for about 14 percent of all general ranking factors, citation quality and consistency are still part of the top-five factors for both map pack results and for competitive markets.
Citations are Part of a Larger Effort
It bears repeating: citations are some of the most influential factors for determining how well your website will rank in search results, but they are far from all of them. And, as the folks at SearchEngineLand put it,
"No single SEO factor will guarantee search engine rankings. Having a great HTML title won't help if a page has low quality content. Having many links won't help if they are all low in quality. Having several positive factors can increase the odds of success while the presence of negative factors can worsen those odds."
Ultimately, you want your potential customers to know that you provide the right service they need, that you are located near them, and that you good and highly reputable. What your website visitors see and read when they discover and come to your site is as critical as the SEO signals that got them there.
The truth is that a solid local SEO strategy can effectively boost your your business. But achieving your marketing objectives using a search engine-based strategy does take time. It won't happen with hundreds of citations, a few blog posts , or other great content. The reality of local SEO is that people will typically need to see your content for a while before they contact you.
Getting Help With Your Local SEO Plan
The good news is that you don't have to figure out alone. In fact, one of the best investments you can make with your marketing budget is to partner with a solid firm like Petaluma-based BroadVision Marketing. We are your local partner for your local marketing needs.
Get your free Complimentary Inbound Marketing Session here so you can make an informed decision, or call BroadVision Marketing at 707-799-1238. Want to know more about local SEO and how we can help? Click the button below to learn more about how inbound marketing can work for you.