Every year the gurus, experts, marketing pros and other prognosticators offer up their take on what the trends and changes will be in the digital marketing universe. Here's a high-level round up of some these to help you shift your own tactics accordingly.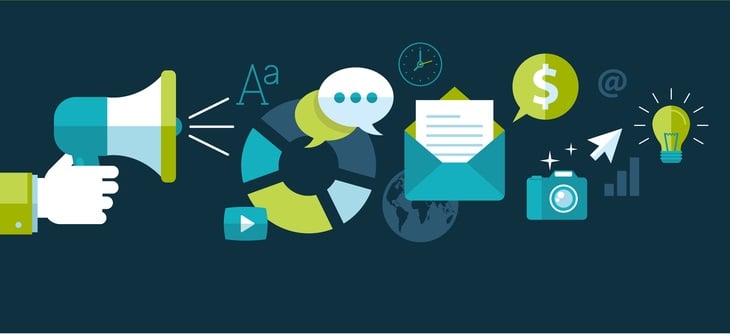 As a marketer, or a business-owner-as-marketer, it is important to keep in mind that trends mostly apply to tactics, not strategy. In other words, if your current digital marketing strategy is working for you, making drastic changes can be costly. However, how you do what you do should evolve if the changes warrant it.
What's Expected for Digital Marketing in 2019
There very nature of digital marketing is it's basis in and reliance on technology. And as tech evolves, do does digital marketing. Here's a look at some of the top trends noted by some of the top marketing experts:
According to the CEO of No Joke Marketing, Michael Tasner, writing for Forbes,
Artificial Intelligence

Everyone talks about artificial intelligence (AI) but few understand it. Think of AI as a bunch of computers that can analyze things rapidly. They are able to better understand behaviors and patterns by going through data.

You can use AI for tasks like scouring your databases and providing insights to your team. For example, you could leverage AI to find prospects who look like your existing customers or scan social media conversations to provide you with real-time intel on your competitors.

Chatbots

For some reason, businesses have been slower to adopt chatbots than I expected. But by 2022, it's estimated that chatbots will help businesses save over $8 billion per year.

In fact MobileMonkey shares some pretty impressive lead gen results from chatbot marketing:

97% reduction in lead acquisition cost
Up to 400% increase in lead volume
+50x return on investment

Chatbots can help with customer service tasks and tie into your various systems to answer repetitive customer questions like: "When will my package be delivered?" "What time is my appointment?" "Where are you located?" Bots can also be used to warm prospects, schedule sales appointments and help make purchases.

And Old is New. Again
Some new trends find their basis in old tactics. Clodagh O'Brien, Google Senior Account Manager, shared some prescient observations recently in an article noting the following,
Video Is a Must

A total of 73% of all Americans engage with YouTube. That means more than half of all Americans are watching videos, and a lot of those videos are created in the service of digital marketing. While YouTube may be the most popular way to consume videos, even more popular than Facebook, that doesn't mean that you shouldn't be putting videos on Facebook or any of the other social media platform for that matter.

Video digital marketing, in some ways, offers the best of both worlds. The actual budgeting and mechanics of video production are well understood and documented, since video itself is a 20th century medium. However, now video is paired with the incredibly accurate and valuable user metrics of digital media to provide much more useful data on how specific efforts are performing.

Good Content Still Matters

Content marketing continues to be an essential component of digital marketing, although there's an increasing emphasis on nuance in content. The quality is always going to matter a lot, but now there's a renewed interested in looking more deeply into who the intended recipients are. Having a deeper, more sophisticated understanding of a targeted market and being able to target that market more precisely is a rising trend in more effective marketing.

So while general audience content was, is, and always will be important, specialized material for specific industries or experts can also yield impressive results. That, combined with improving techniques in measuring content effectiveness, keep content marketing relevant and moving forward.
Thinking About Digital Marketing Strategy Trends
Okay, so we did say that you should be slow to change your strategy if it's working well for you. And that's true. However, trends can also offer insights into strategic shifts that can work to improve on what you've being doing so far.
With that in mind, let's look at some thoughts from John Hall, Co-founder of Calendar, writing for Forbes.
Strategy will become more essential

Different companies have different goals, so no two content strategies work quite the same way. Still, general goals like lead generation, SEO, and thought leadership are common, and starting from there, companies can customize strategies that are specifically designed to work toward whichever goal is most important to them.

According to Content Marketing Institute, 65 percent of the most successful content marketers have a documented strategy.

Customer success will emerge as the new frontier

Content marketing already addresses a variety of needs and objectives for different departments. Sales teams use content to bolster pitches and improve client relationships. The possibilities are endless — and now, a new avenue is opening up.

Customer success refers to the ways companies help customers get the most value from products and services. In this era of personalization, it's no longer enough to make the sale, move on to the next one, and handle complaints as they arise. Now, companies need customers to get maximum value from their purchases to encourage word-of-mouth marketing and develop stronger relationships.

Distribution will remain a driver of success

Even the best content is useless if no one sees it. As both offline and online worlds become more crowded, content distribution will remain a vital component of every good content marketing strategy. Staying updated on social media trends is great, but social is just the tip of the distribution iceberg. Email marketing helps; still, brands need to dig deeper to discover the distribution channels unique to their audiences.

The Song Remains the Same. Sort Of.
With apologies to Led Zeppelin, the point here is that trends are continuous and change is constant. But the essentials of effective marketing remain the same. Only the details may differ. Digital marketing is still basic marketing at its core and one should never lose sight of the fundamentals while pursuing the latest "trend" and shiny new thing.
This is not to say that the trends or new tools and tactics cannot be effective. They most certainly can. If - and only if - your marketing strategy is well built. And documented. As John Hall points out, the most successful brands have a documented marketing strategy. This cannot be stressed enough, but even those businesses that agree can find themselves short-handed or overwhelmed.
Not to worry! There is expert help to be had...
Optimizing Your Digital Marketing Strategy
While these trends do not make up an exhaustive list, they represent the ever-present challenge for brands looking to leverage digital marketing for their products and services.
You probably already know that effective digital marketing can significantly boost traffic for your business, but you might not be aware that achieving your marketing objectives takes time. Digital marketing results won't happen with a few blog posts or some videos on social media.

Your audience must consume your content for a while before they contact you. And on a number of platforms and channels.
The good news is that you don't have to figure it out alone. In fact, one of the best investments you can make with your marketing budget is to partner with a professional firm like BroadVision marketing. Click this link to get your free Complimentary Inbound Marketing Session so you can make an informed decision, or call BroadVision Marketing at 707-799-1238.