A marketing strategy requires a plan. But with so many options how do you decide? A sample marketing plan can help.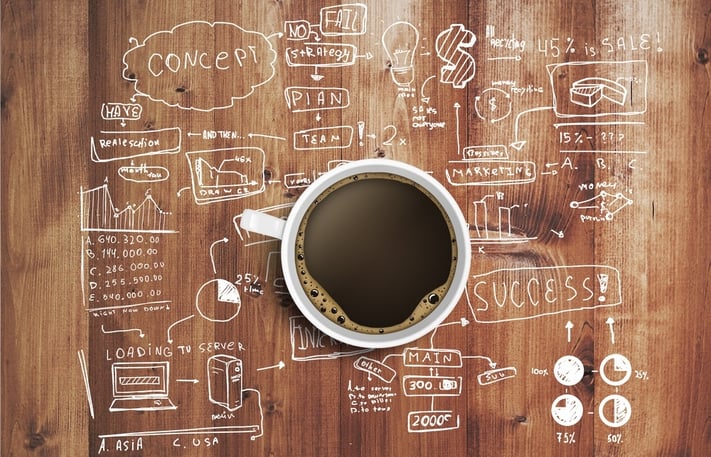 Editors note: This article was originally published on July 08, 2015 and has been updated for relevance.
As one writer noted, a strategy is not a plan. Simply put, strategy is the "what" part of the equation and helps you answer the question, "What are we trying to accomplish?" Having a clear strategy leads to a plan, or the "how" part of the equation. Your plan helps you answer the question, "How are we going to accomplish our goal?"
Knowing what you want to achieve and what approach you are going to take allows you to narrow down your tactics and be able to formulate a plan of action. For that is what a marketing plan really is: an action plan.
Why Inbound Marketing is a Strategy That You Should Plan With
A marketing plan for inbound marketing will give you one of the most powerful and most cost-effective approaches to marketing known to man. Okay, maybe that's a bit over-the-top, but the reality is that, compared to traditional marketing methods, inbound marketing consistently outperforms and typically costs far less.
A few stats from Hubspot and others illustrate this fact:
79 percent of companies with their own blogs report positive ROI for inbound marketing.

61 percent of people prefer brands that provide custom content and are more likely to make purchases.

Companies with blogs received 97 percent more links to their website.

Adopting an inbound strategy doubles average website conversion rates, from 6 percent to 12 percent.

Inbound marketing costs 62 percent less per lead

than traditional outbound marketing.
It is important to keep in mind that inbound marketing, while having a number of consistent components and tactics, is not a "cookie-cutter" approach to marketing. Each strategy and subsequent plan is unique to each business. The key is in developing a plan that is right for your goals and your particular tactics.
Your Company Is Different. Every Company Is Different.
Your business is like no other. Really. Your goals, your challenges, your offerings - they are all unique to you and your business. Even if you think you are simply a commodity. And because your business is unique, your marketing plan shouldn't be generic either.
We can offer a sample marketing plan, but the goal is to adapt it, modify it, make it your own.
What might work well for your competitor across town may not be exactly the plan that will be most effective for you. Your marketing strategy should be crafted with your vision, your objectives, and your customers in mind.
Now that we've established that not all businesses are the same, nor are all effective marketing plans, let's look at a generic approach to inbound marketing.
A Sample Inbound Marketing Plan Checklist
A typical inbound marketing plan will consist of the following steps:

Can This Sample Marketing Plan Work For Any Business?
The easy answer is, "Yes." This is because the content created for inbound marketing can take so many forms and be published and distributed in so many different channels, that any business can successfully leverage it. Inbound marketing simply works, and it works for any business.
The real question for most businesses is not whether they should use an inbound marketing strategy, but how?
Even though it is an effective and low-cost alternative to traditional advertising, it is also labor intensive. Someone has to create the content, manage it, track it, re-purpose it, and so on.
So here is one more important statistic: according to one resource, 73% of major organizations indicated that they hire someone to manage their content marketing strategy. Whether that is bringing someone in-house, or outsourcing to an inbound marketing agency, getting expert help makes the process infinitely better.
And easier!
Getting Help for Your Personalized Inbound Marketing Plan
The approach of inbound marketing holds great promise for your business. But achieving your marketing objectives with a content marketing strategy takes time. It won't happen with a few blog posts or some other great content.
People will need to consume your content for a while before they contact you. Yet, without your content compelling them to contact you, your goals may never be met.
The good news is that you don't have to figure out alone. In fact, one of the best investments you can make with your marketing budget is to partner with a solid firm like BroadVision marketing. Click on the button below to get your free Complimentary Inbound Marketing Session so you can make an informed decision, or call BroadVision Marketing at 707-799-1238.