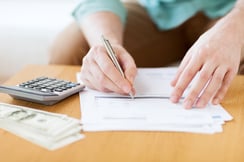 Whether you're an older, well-established local business or a relatively young one, you're likely at least somewhat familiar with local internet marketing. If not, you may want to do a little brushing up, but essentially local internet marketing is focused on inbound marketing techniques. This marketing style began with simple SEO (Search Engine Optimization) tactics, but over the years and with the advent of search engine super giant Google, internet marketing has blossomed and flourished, rapidly becoming the epitome of powerful marketing ability.
Sure, your billboards and paid ads are still relevant, but consider this: Roughly 2 billion searches are aimed at local business through Google per month. Per month. And that isn't encompassing the entirety of searches made in general. So, would we say a business is required to get into the internet marketing game? Well, maybe it's not quite that dire (though in some cases it may well be), but we certainly are saying you're missing out on a huge chunk of business by avoiding local internet marketing, potentially crippling your business in growth and sustainability. So, with all of this in mind, how does one get into the local internet marketing game? Luckily, it's actually super simple! It all comes down to one major force: Driving Traffic.
Local Internet Marketing: Driving Traffic
Essentially this means you want to base your marketing campaign around generating as many positive leads as possible. Not only that, you want those people to visit, love your site, and pass it on to those they know. This is called driving traffic. Traffic doesn't represent numbers and faceless masses, it represents your customers and potential customers.
Optimize
The bread and butter of local internet marketing is arguably Search Engine Optimization. There may be ten, twenty or fifty businesses in your local area providing the same services you are, and when a consumer gets on that Google search, they're likely to click on only the first few that pop up. Your business needs to be on the first page of a Google search, and Search Engine Marketing is the way to get that done.
Have A Solid Website
We're dealing with a consumer base that is more powerful than ever, and only stands to get stronger. If someone spends time on your website and can't find what they want within a few seconds, they will move on. How to counteract this is the key, and one of the easiest ways to retain your traffic is to create a powerful, smart looking and user-friendly website. The search bar should be in plain view and easy to use, contact information should be obvious, and you should not be using images older than the internet itself. Keeping these things in mind will yield a website that users will find a joy to use, and will view it more as a tool than a chore.
Earned Advertisement
As previously stated, there is a time and place for paid advertisement. However, the majority of your positive traffic won't come from these click ads; they'll come from word of mouth and a strong reputation. Try creating user benefits, perks and leaderboards to allow your consumer base an opportunity to interact with the site in a way that benefits both parties. Also always have a way to receive feedback from your customers. This is your way to find what you're doing right and wrong, and a business that addresses these will earn a lot of respect in the communities eyes.
Keep all of these factors in mind, and you'll be well on your way to beefing up your local internet marketing game.