More and more businesses are finding that constantly creating content can be a challenge. The good news is that content can be reused in a number of ways to expand your reach and impact.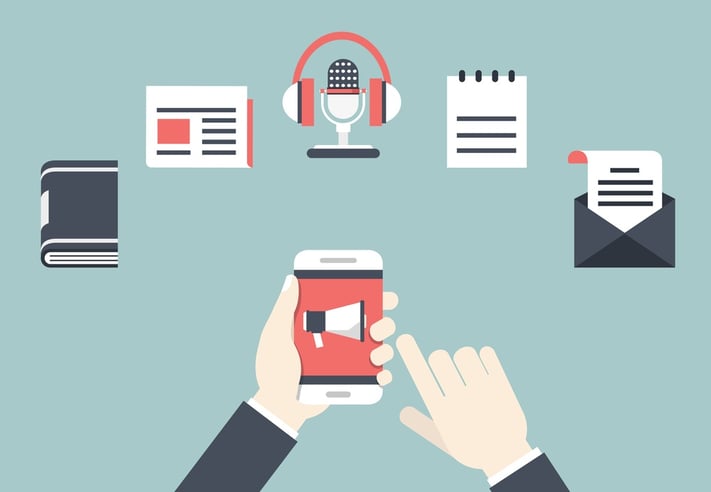 Every business owner finds that the organic search traffic to their website can suffer from periods of seeming stagnancy. Can repurposing content make a difference?
There are many reasons for ups and downs in traffic. They can come from changes in your industry, or how your audience consumes content. While increasing the quantity and relevance of your content might make a difference, sometimes this can be a challenge.
Instead of diving in to even more content creation, a cost-effective alternative is to give your existing client new live by simply "repurposing" and reusing it.
What is Repurposed Content?
When a piece of content is repurposed it typically involves either changing the format of the content, or changing the target audience for the content. And sometimes both. For example, creating and eBook out of a series of blog posts, or taking key content from a webinar and converting that into an easy-to-read and share infographic.
An example of changing the content for a new audience could be taking a SlideShare presentation originally used for service providers in a particular industry, and revamping the language so that it speaks to prospective customers in that industry.
Essentially, repurposed content is the work you did once simply configured into a new form of content.
Why Should You Repurpose Your Content?
The overriding objective of repurposing your content is to put it into a new form so as to give it new life. By having "new" versions of your "old" content, you can multiply the potential channels for your original piece.
According to HubSpot there are other benefits for repurposing content:
Reaching New Audiences
When you repurpose that content in a new format and/or update it, you can reach new audience segments that otherwise may have never found it.
Reinforcing Your Message
Marketing's 'Rule of Seven' states that buyers need to hear your message approximately seven times before they will close the deal. Repurposing your articles will consistently deliver your message to your audience.
Improved Organic Visibility
Organic search still provides the majority of site traffic. Repurposing optimized content in various formats can give you a significant boost in organic visibility and traffic. Publishing a variety of content gives you more access to search real estate for targeted queries.
Here are some of the more common types of content that you can convert your original piece to:

Share this Image On Your Site
Can Repurposing Content Work For Any Business?
The easy answer is, "Yes." This is because the content you create for marketing can take so many forms and be published and distributed in so many different channels, that any business can successfully leverage it. Essentially, content marketing simply works, and it works for any business.
When it comes to content marketing, the real question for most businesses is not whether they should use a content marketing strategy, but how?
Even though it is an effective and low-cost alternative to traditional advertising, it is also labor intensive. Someone has to create the content, manage it, track it, re-purpose it, and so on.
So here is one more important statistic: according to one resource, 73% of major organizations indicated that they hire someone to manage their content marketing strategy. Whether that is bringing someone in-house, or outsourcing to an inbound marketing agency, getting expert help makes the process infinitely better.
And easier!
Getting Help for Your Personalized Content Marketing Plan
The approach of content marketing holds great promise for your business. But achieving your marketing objectives with a content marketing strategy takes time. It won't happen with a few blog posts or some other great content.
People will need to consume your content for a while before they contact you. Yet, without your content compelling them to contact you, your goals may never be met.
The good news is that you don't have to figure out alone. In fact, one of the best investments you can make with your marketing budget is to partner with a solid firm like BroadVision marketing. Click this link to get your free Complimentary Inbound Marketing Session so you can make an informed decision, or call BroadVision Marketing at 707-799-1238.