Inbound marketing uses a number of tools and one of these is email. But how is email changing in the future?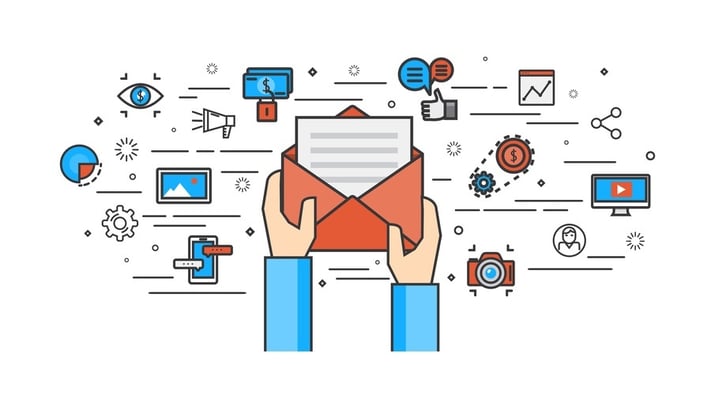 For a number of years the viability and survivability of email marketing has been questioned. But, according to a recent post on Campaign Monitor,
"No longer do we hear the outcry that email is dead, but rather the rally cry that email marketing is smarter and stronger than ever and is being used to deliver the right content to the right person at the right time. Powerful and affordable email marketing and automation are more accessible to every marketer regardless of technical ability, industry, or budget."
The truth is that email is still a valuable component of an effective inbound marketing approach. Bu the tools, methods, and technology available means that using email effectively in 2017 will look different than it did in, say, 2010.
Trending Now: Email Marketing in 2017
Now that we have entered into (another!) new year, it might be good to consider the predicted email marketing trends for 2017.
Here are ten big trends that promise to impact email marketing and how we do it in 2017:
1. Going Mobile
With mobile phones having become the most common devices used to access email, the push is towards shorter messages. According recent studies, the ideal length for email is between 50-125 words mobile viewing.
Two recent studies - one by Litmus and the other by BlueHornet - revealed that 56% of email users open their emails on mobile devices while 42% of them delete emails if they don't display properly. Consequently, email messages must be short, concise and to the point - all while being engaging and with a visible CTA.
2. Can We Talk?
Email text will become more conversational in nature. As businesses and marketers learn to write more like they would speak, email messages will be geared to leverage a casual, conversational tone written to encourage customers to relate to a brand and establish a personal connection.
With that idea in mind, Brian Clark, founder of Copyblogger, writes,
"When we read conversational content, we instantly feel a connection with the writer. We feel like we're getting to know him. We start to like him."
3. Chatbot That
Expect Chatbots to start running ecommerce email marketing. What are chatbots? Essentially, they are computer programs that mimic human conversation with users via artificial intelligence, or AI. They have the potential to transform the way customers interact with emails. Certain customer "behaviors" can already trigger automated emails and it is believed that chatbots will do this and more.
According to some experts they will be able to send confirmation emails or create subscriber sign ups. Chatbots are currently being used by brands to drive ecommerce, especially among younger consumers. Chatbots "have the potential to inspire purchases and increase the number of items in people's shopping carts" says Michael Klein, director of industry strategy, retail for Adobe.
4. Match Game
More sophisticated software will use data to match subscribers with content. Similar to personalization tactics, this type of matching will focus on customer's email behaviors such as the time of the day they tend to open emails, what type of emails do they prefer, how frequently do they want them sent, etc.
Leveraging a deeper understanding of the people you send emails to, and integrating this data with other customer information, will help you segment and communicate better.
5. Look at Me
Visuals continue to be huge for any channel and email is no exception. While fixed images and emojis have been used extensively to garner attention, the trend is going to be more towards large, hi-res images, GIFs and even video.
Like anything else in marketing - and online marketing, in particular - nothing here is static. What is hot today will be considered "old school" in six months. By regularly observing and tracking the latest trends on various social media channels you will be able to ride any visual wave that is coming through to enhance your email engagement.
6. Let's Get Personal
Personalization will be rising to a new level that goes far beyond simply using your subscriber's first name. With algorithms being applied to the behavior of subscribers it is becoming possible to predict subscriber behavior. Tactics such as geo-targeting - or geo-location marketing - can prove useful in generating higher responses from customers.
According to a post by Wesley Young on SearchEngineLand,
"Geo-targeting is the practice of delivering content to a consumer — via mobile or web — using geographic location information about that individual. At a basic level, a business can restrict its reach to consumers only located in a defined geographic area such as a state or a city. But location often provides much deeper, more meaningful and identifiable traits that tell you what a person wants, needs or is interested in."
7. Social Merge
Combining social media icons and links with your emails is huge. According to GetResponse, emails that have social sharing buttons generate click-through-rates 115% higher than typical averages. In addition to the boost in email engagement, this type of social media integration helps to increase visibility across all your channels.
Another way of merging email and social media is to embed feeds directly onto your emails. This could be in the form of tweets from your Twitter page, relevant posts to your Facebook page, or even photos linked to your Instagram or Snapchat feeds.
8. Just Say It
What was once the realm of Star Trek and Captain Kirk is now everyday reality in the form of voice-only interfaces. We see this today with Amazon's Alexa and Google's Assistant, as well as Apple and Siri, and Microsoft with Cortana. In addition, AT&T announced late last year its customers could use the Amazon Echo platform to compose and send text messages with by voice. According to a number of industry observers, responding and sending emails by voice dictation is not too far off.
9. All Is One
Embracing the Internet of Things, or IoT. According to the entry in Wikipedia,
"The Internet of things (stylized Internet of Things or IoT) is the internetworking of physical devices, vehicles (also referred to as "connected devices" and "smart devices"), buildings, and other items—embedded with electronics, software, sensors, actuators, and network connectivity that enable these objects to collect and exchange data."
What this means for email marketers is that they will have access to more data for greater personalization and targeting of emails. But it also means figuring out how to leverage this new wrinkle in technology. A common example now is the Fitbit, which makes use of IoT-powered email personalization. These types of devices will send emails to notify their owners that they need charging or servicing, or that milestones have been reached, etc.
According to Andrea Wildt, Campaign Monitor,
"I predict that marketers will start to integrate customers behavioral information from new devices. Google Home and Amazon Echo are just the tip of the iceberg of new devices that customers are sharing their likes, dislikes, and other behavioral data with that marketers can use to incorporate into their marketing strategies."
10. It's Interactive!
According to Chad White, MarketingLand columnist,
"Soon, making your subscribers click through to your landing page to watch a video, browse products, or even buy things will seem so 2010. Better coding support in email clients is allowing brands to let their subscribers do more within an email — from hamburger menus and email carousels to watching videos and (eventually) making purchases."
One of the main advantages of interactivity in emails is that it allows you to give more content in a condensed format. which in turn enhances user experience. The use of interactive tools in marketing emails is very likely to increase dramatically, especially video and GIFs.
You've Got Mail - With Your Inbound Marketing Strategy
Aside from business blogging and creating downloadable assets such as ebooks, email is one of the most powerful content tools you can employ. Inbound marketing can be a great strategy for your business and email is a critical part of it. But achieving your marketing objectives with a content marketing strategy takes time.
It won't happen with a few email blasts, blog posts or even a great eBook.
The reality is that your audience will need to consume your content for a while before they contact you. Yet, without your content compelling them to contact you, your goals may never be met.
The good news is that you don't have to figure out alone. In fact, one of the best investments you can make with your marketing budget is to partner with a solid firm like BroadVision marketing.
Click on the button below to get your free eBook "10 Powerful Inbound Marketing Charts" so you can make an informed decision, or call BroadVision Marketing today at 707-799-1238.