Setting up and maintaining Local SEO best practices is not difficult. But neither is making these seven deadly mistakes.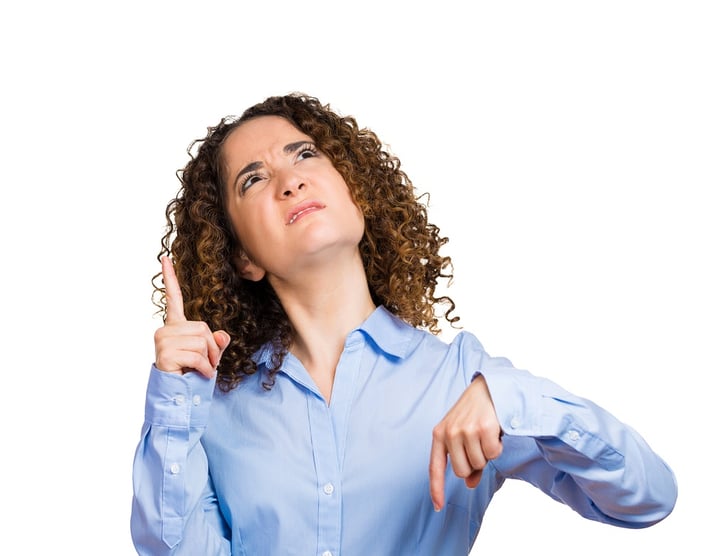 Local SEO has become a critical search engine marketing strategy in recent years. For example, the use of the search phrase "Near me" has increased thirty-four times since 2011, and it's doubled in the last year alone.
In fact according to Google, local searches send 50% of mobile visitors to stores within a day.
You can reap the benefits of local search, too, and the good news is that it's not hard to learn the basics of local SEO and get started:
Create a Google My Business listing
Have a mobile-friendly website
Optimize your pages for local keywords
Create local blog content
Get your name, address, and phone number (NAP) consistent across platforms
Drive high-quality back links to your website
Get on social media and interact with customers
But the deeper reality is that there common - and deadly - local SEO mistakes that business owners and marketers continue to make.
Seven Mistakes to Avoid With Your Local SEO Strategy
Mistake #1 – Not adding fresh, relevant content
Websites that regularly upload fresh, relevant content increase their chances of ranking higher in local search results. Google has been indexing the web to optimize for fresher results since 2010. As Google finds new pages or information on existing pages, it adds the information to the index. Creating fresh content is important because with every update or page you create, your site has another opportunity to be indexed by Google's freshness algorithm and earn inbound links.
By adding a blog page to your website, for example, you can increase the potential for Google results, local traffic, and more - if you publish regularly and consistently. Companies who blog receive 97% more links to their website.
Publishing blog posts that are relevant for your customers and rich with local keywords allows Google, and viewers, to be able to find your website easier. Choose keywords that are relevant to your business and your general area and include words you think your potential customers may be typing into search engines.
Mistake #2 – Having Incomplete or incorrect contact information
If you use the word "Avenue", for example on one website and "Ave." on an online business listing, it may not make a huge difference in optimizing for search results. But if you use different business names in various listings, you're creating essential inconsistencies and it's hurting your local rankings in Google.
It's critical to have consistent and correct business information across the web in order to rank locally in Google. An effective local SEO strategy is dependent on accurate NAP (name, address, phone number) information anywhere your business shows up on the Internet.
Consistency in your NAP is the most critical part of your local SEO strategy. This is how Google verifies that you are who you say you are. An inconsistent NAP footprint will cause Google to have less confidence in your business and will ultimately lead to lower rankings.
Mistake #3 – Choosing the wrong keywords
One of the biggest mistakes business owners make is selecting keywords without doing proper research. Choosing the wrong keywords can damage your search results by drawing the wrong people to your site. It takes some time and effort to learn what terms your prospects are searching for, but it is worth it.
Fortunately, you don't to simply guess what paid and organic keywords you should choose for your local SEO strategy. Here are a few great tools for finding those perfect keywords:
Mistake #4 – Having sites that are not mobile-optimized
More Internet searches are done on smart phones and tablets now than on laptops and desktops, according to Google, yet only 44 percent of business websites are optimized for mobile. It's been estimated that mobile to exceed desktop by 27.8 billion queries this year. (BIA/Kelsey).
According to a study by comScore earlier this year, 78% of all local searches on mobile devices led to a direct purchase within 24 hours. Of those purchases 73% were done in a physical store, 16% by phone, and 11% online. A responsive website is simply one that has been built and designed to conform to the size and proportions of mobile devices. This allows users to quickly and easily see and navigate the site.
If you hadn't noticed the world is going mobile: phones, tablets, notepads, etc. And if your site does not look good on a smart phone - or is hard to navigate - people will leave and go somewhere else, virtually speaking. This sobering fact is supported by a number of studies and does not bode well for websites that are not responsive.
Mistake #5 - Using the wrong categories on your Google My Business page
You know what your business does better than anyone. So you wouldn't choose the wrong category, right?
Wrong.
Google looks at your first category chosen as your primary category. It is always a best practice to choose relevant categories that are more specific than general in nature. For example, if you are smog shop and you choose 'Automotive Repair Shop' rather than 'Smog Testing' as your primary category you may find it difficult to rank in searches for "smog tests."
The problem is that businesses will often attempt to stuff keywords into their categories by choosing a number of general categories. Google does not like that. In fact, Google says that it's best to add just one or two categories to your business.
Mistake #6 - Using Call Tracking numbers on your website or business page
Business listings on directories such as YP.com can be critical elements in the local search process. Google indexes many of these listing to verify name, address, and phone number (known as NAP) information. It then uses this information as one of many determining factors when ranking local businesses.
A problem arises when business owners use separate call tracking numbers on each business listing to track the effectiveness of the listing. While it makes sense from a purely marketing perspective, it is a killer for local SEO. This tactic can diminish the overall number of views for your Google My Business listing. It is best to keep a consistent NAP listing throughout the internet. Using a tool like Moz Local to find and fix any inconsistent listings can be helpful.
Mistake #7 - Not asking for or encouraging reviews
Whether you're looking to improve your local SEO ranking or not, online reviews matter. People actively seek out reviews of businesses on third-party platforms, and 88% of them trust those reviews as much as personal recommendations.
Google reviews appear in the search results for businesses properly optimized for local search. And if you can attain five or more Google reviews, then the star rating icon will appear under your search listing. This is a powerful, yet subtle driver for getting people to click on a result.
However, if you have bad reviews here, people won't click. And if they don't click, that hurts your SEO as well, to the point where you might stop appearing at the top of the local results. While some of these can be dealt with, the bottom line here is this: have a good product or service, consistently delivered with great customer service. That has always been the key to good reviews and recommendations.
So while your efforts should be to receive positive reviews across the Internet, focus your attention on Google reviews. Try reaching out to happy customers and ask them to share their experiences in a review. No reviews can actually hurt your ranking as well as the perception of your business.
Local SEO Matters so Get the Help You Need
Fortunately, you don't have to attempt this on your own!
Your options for implementing a successful inbound marketing strategy include turning to a professional firm that can work with you to maximize your efforts.
A qualified agency like BroadVision Marketing will develop a road map with an implementation time line, marketing milestones, and key deliverables. Using this road map we will create the framework and structure for us to work with you and help you to achieve your marketing goals.
Get your Free Complimentary Inbound Marketing Session to help you make an informed decision or call BroadVision Marketing at 707-799-1238.