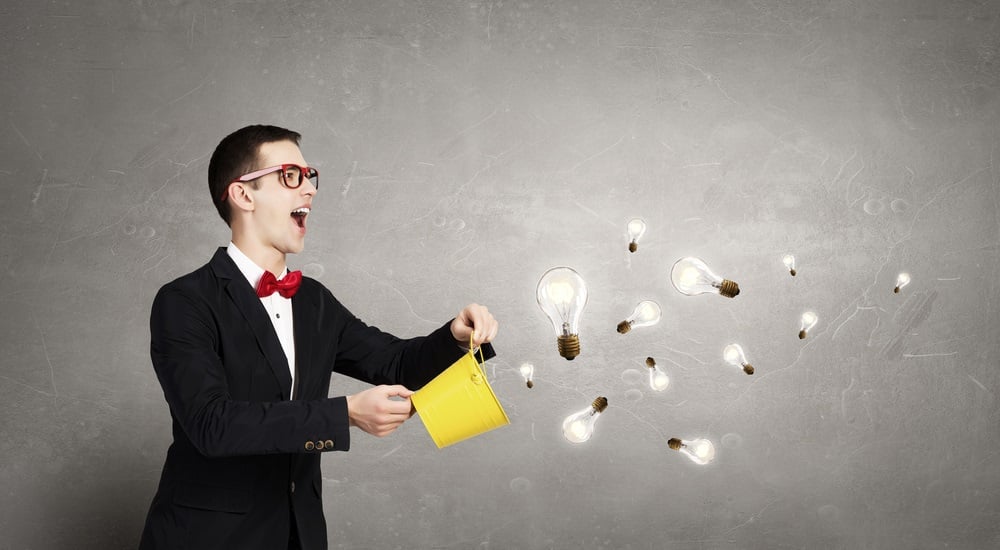 Every business owner and marketing manager (often the same person!) knows that they need a marketing strategy. But what do they really have?
Simply carrying out assorted marketing tasks or "doing marketing" does not constitute a marketing strategy. Something more is required. And therein lies the problem for so many businesses.
Great Marketing Ideas Do Not a Strategy Make
There are no shortages of great ideas.
One can spend less than an hour on the Internet searching for marketing ideas and tactics and end up with far more inspiration and concepts than can ever be implemented. And, even if one were to winnow this cornucopia of ideas down to a half dozen or so, there's so many questions:
Where do we start?
What will work best for our prospects?
Do we have the resources to do it?
What's the potential ROI?
What will it cost?
Who's going to take care of it?
And so on...
This is true even when our marketing efforts are refined to a specific realm, such as with inbound marketing.
A good example is when inbound marketing makes use of content, such as video or blog articles, to fuel the marketing reach. One challenge for business owners or their marketing managers is the task of content creation.
Someone has to develop and create relevant content. And who in the business has the time or skills for that?
But the real problem that so many run into isn't so much content creation – you can get people for that! No, the real challenge is having a clear understanding of what you should be trying to achieve with your content and how.
And this is where a strategy is needed.
Without a strategy, content creation and publishing becomes a crapshoot of disjointed content, misspent resources, and simply "random acts of marketing" that will result in little or no impact.
In addition, even a simple strategy that defines goals and tactics is destined to flounder without an action plan (i.e. an editorial calendar).
A Strategy and A Plan
"A strategy describes a global path to pursue a formal goal. .. A plan, on the other hand, allocates in detail resources that are necessary to accomplish the strategy."
– Arnold Oskar Picot, Prof. Dr. Dres. h.c.
What is needed first and foremost is a marketing strategy.
With inbound marketing this is often referred to as your "editorial mission statement." One way to look at inbound marketing, for example, is that you are publishing content as part of your overall marketing efforts. And, as a "publisher", you must have an "editorial mission" or intended purpose for your publishing activities.
That purpose may as simple and straightforward as increasing or driving traffic to your company website. A secondary purpose might be to educate and inform your customers and prospects.
And, once you have established that, you need what is essentially an action plan for carrying out your strategy to achieve your mission. Without a plan, your strategy - and your well-intentioned mission - will remain simply words on paper.
An article from BizFluent stated it this way,
"The strategic marketing plan needs to outline how the business will implement the marketing plans. This helps the organization to assign budgets, timelines and resources to ensure the plans can be successfully executed. Outline specific campaigns, promotions and other details that your business will use to reach the goals of your marketing plan."
So, to review:
Based on your editorial mission statement you can develop an effective inbound marketing strategy for accomplishing your company's goals and objectives using content and content marketing tactics.
And once you have a clear strategy, you can craft a plan for carrying it out.
In other words, think "Mission, Strategy, Tactics - Action Plan."
Inbound Marketing 'Done For You' by BroadVision Marketing
You may already be aware that effective inbound marketing can significantly boost traffic for your business, but you might not be aware that achieving your marketing objectives takes time.
Inbound marketing results don't happen with a few videos on social media and an occasional website blog article. And, as we've established here no amount of "random acts of marketing" will serve as a substitute for an effective inbound marketing strategy.

Your audience must be exposed to consistent, regular, and relevant content for a period of time before they contact you. And this on a variety of platforms and channels.

The good news is that you don't have to figure it out alone!
In fact, one of the best investments you can make with your marketing budget is to partner with a professional firm like BroadVision Marketing. We live and breath inbound marketing and have decades of experience with online, digital, and Interment marketing.
So, click below to learn more about BroadVision Marketing and our proven suite of inbound marketing services so you can make an informed decision.
Or call BroadVision Marketing at 707-799-1238.