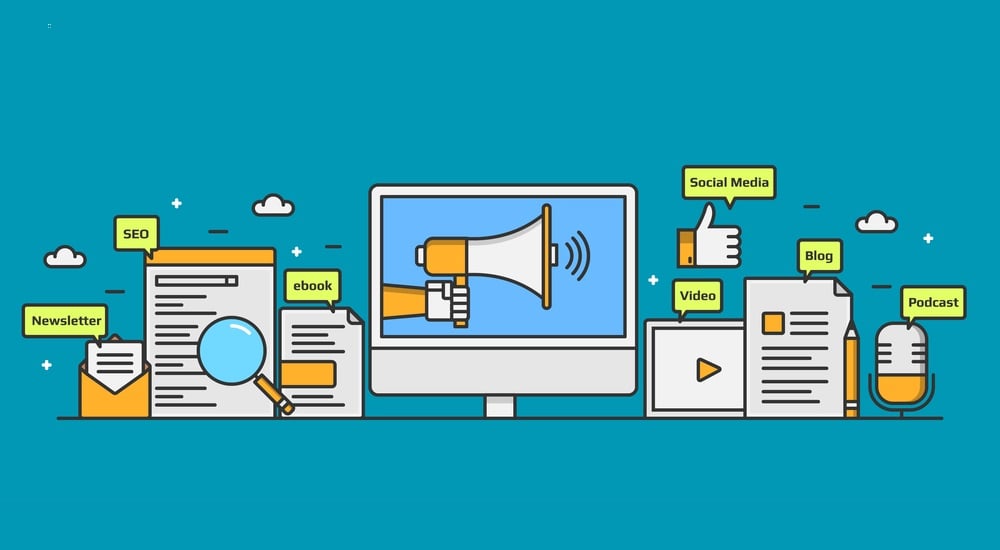 For many small business owners, the terminology that swirls around the digital marketing realm is confusing, especially terms such as inbound marketing.
So many similar terms are recklessly thrown around by marketers and others that it seems it's easier to just ignore them all. But understanding the essentials of inbound marketing can be valuable for owners.
Inbound, Digital, Online, Internet... Isn't All Just the Same?
We would readily agree that marketing terminology in general - and digital marketing in particular - can be confusing.
Words evolve, for one thing, and a marketing term that meant one thing 30 or 40 years ago no longer has the same meaning. Some terms fall out of style, like customer persona, only to be replaced with "buyer persona" and "customer avatar."
And different terms once used to describe the same thing, more or less, have become co-opted by marketing geeks and morphed into new categories of marketing arenas.
An example that is pertinent here are the terms "digital", "online", and "Internet" which are all used to describe the same thing most of the time. And now they've been incorporated into titles for supposedly distinct types of marketing: online marketing, digital marketing, Internet marketing and so on.
While there are, strictly speaking, distinctions between them, for the average business owner or part-time marketing manager, they just feel like different ways of saying the same thing.
And, worse, all the details on they work and how to implement their strategies and tactics seem to be hard to grasp, easy to forget, and difficult to master. And when you throw in a term like "inbound marketing" that just muddies the virtual waters that much more!
A Few Basic Definitions May Be in Order
At BroadVision Marketing, we specialize in what we have chosen to call Digital Marketing. And, in our view, this is a more fitting term for what is sometimes also referred to as online marketing or Internet marketing, which really mean the same thing.
We can do no better in defining "digital marketing" by using one offered up by our friends at HubSpot:
Digital marketing, also called online marketing, refers to all marketing efforts that occur on the internet. Businesses leverage digital channels such as search engines, social media, email, and other websites to connect with current and prospective customers. This also includes communication through text or multimedia messages.
HubSpot goes on to point out that businesses define digital marketing by the use of numerous digital tactics and channels to connect with customers where they spend much of their time: online.
In a broad sense, digital marketing is also an umbrella marketing approach that can and often does incorporate several more narrowly defined marketing strategies including inbound marketing.
We can define "inbound marketing" as,
A strategy that attracts leads and prospects by creating valuable online content and experiences tailored to them. In contrast with traditional outbound marketing tactics that interrupt audience with content they don't always want, inbound marketing creates connections through content that prospects are looking for and solutions to real problems they have.
At this level, things can indeed become a bit confusing as the lines of distinctions between other marketing strategies blur and overlap with inbound marketing.
For example, inbound marketing strategies often utilize tactics that make use of digital content including images, graphics, and videos, as well as the written word. Yet we can talk of content marketing, video marketing, and even email marketing as "stand-alone" marketing strategies.
So, when we speak of inbound marketing we are also speaking indirectly of the various components and tactics used in inbound marketing strategy.
And what does the inbound marketing process look like from a 30,000 foot perspective?

While this is a somewhat simplified depiction of the typical inbound marketing strategy process it does show the fundamental path that the various elements of the strategy leads those who experience your content.
In a nutshell, we can break it down to a simple methodology as Semrush has done,
Inbound marketing methodology can include three steps:
Attract:

It's important to bring in the right customer demographics in order to have meaningful, long-lasting engagement. To do so, research relevant keywords and trends before publishing content

Engage:

Once your potential customers have engaged with your brand, it's essential to build on this by offering solutions to their problems. If your potential customers see you as an authority, they may be more willing to buy your product down the road.

Delight:

Continue to engage with your customers even after their purchase — the goal is to create trust between your brand and your customers. Provide your user base with the tools and knowledge they need to succeed in their markets.
But the question remains: how does one go about making all this happen for their own brand?
Inbound Marketing Works by Not Being Intrusive, But Engaging
By drawing potential customers along their purchasing journey, inbound marketing tactics and tools organically guides them through your content.
This willing engagement on their part creates a virtual relationship which means that, when they do buy from you, they're buying from the company that provided the content rather than the company whose advertisements interrupted their content consumption months earlier.
By regularly and consistently publishing and uploading informative content, helpful videos, relevant social media posts, and many other platforms, inbound marketing works by engaging your prospects, converting them into leads, and transforming leads into customers and fans.
Most small businesses lack the personnel or resources for making this happen successfully, but by partnering with an established marketing firm that knows, understands, and practices the strategies of inbound marketing, they can.
Make Inbound Marketing Work for Your Business
If you've read this far then you know that effective inbound marketing strategy can significantly boost traffic for your business and increase leads for your products and services.
But in order to achieve those marketing objectives through inbound marketing you need to possess a level of knowledge and expertise that most business owners and even marketing managers don't have the time or resources to gain.
Implementing effective inbound marketing requires much more than publishing some videos or a few blog posts or even posting regular updates on your company's social media platforms.

Part of the equation is knowing intimately who your audience is, where they "hang out" in the digital universe, and what their needs and problems are. In addition, your inbound marketing strategy must then be implemented for a period of time before you will see a significant increase in organic search results and improved web traffic.

The good news is that you don't have to figure it out alone.
And one of the best marketing investments you can make is to partner with an experienced and professional digital marketing firm like BroadVision marketing.

Click below to learn about our Inbound Marketing services to help you make an informed decision, or call us at BroadVision Marketing at 707-799-1238.