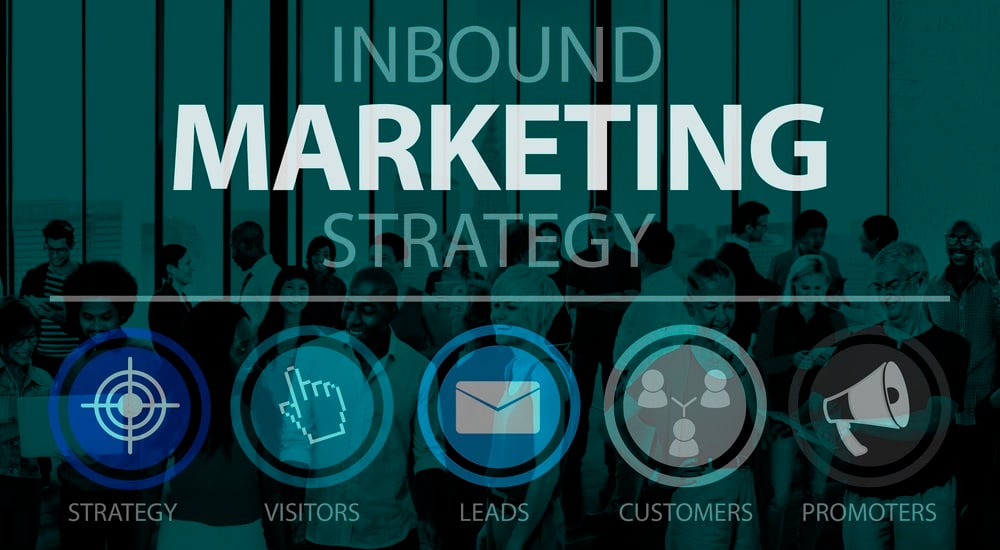 If you've been in business for any length of time you've probably discovered that there's a bewildering number of marketing approaches you could try.
So, how can you know what strategy to use?
Why Inbound Marketing Strategy is a Powerhouse Approach
If you're new to the concept you may be wondering what inbound marketing is. Fair enough. A brief, high-level description can be found from our friends at HubSpot,
"Inbound marketing is a business methodology that attracts customers by creating valuable content and experiences tailored to them. While outbound marketing interrupts your audience with content they don't always want, inbound marketing forms connections they are looking for and solves problems they already have."
In fact, HubSpot's CEO and co-founder, Brian Halligan, coined the term "inbound marketing."
According to one article, Halligan, his partner, Dharmesh Shah, and specialist advisor David Meerman Scott, saw that the Internet was changing the world of marketing. Combining their ideas with existing marketing theories resulted in the art and science of what they called "inbound marketing."
Another question you might ask at this point is how does this inbound marketing approach work?
Inbound Marketing Strategy In Action
The inbound methodology utilizes a strategy that grows your organization by building meaningful and lasting relationships with consumers, prospects, and customers. You could think of it as "online dating" for leads and prospects, except that it's far more successful.
Inbound marketing allows your business to value your audience and empower them to reach their goals at any stage in their journey with you.

According to HubSpot, the inbound methodology can be applied in three ways:
Attract: drawing in the right people with valuable content and conversations that establish you as a trusted advisor with whom they want to engage.
Engage: presenting insights and solutions that align with their pain points and goals so they are more likely to buy from you.
Delight: providing help and support to empower your customers to find success with their purchase.
Here's a nifty graphic to illustrate the concept: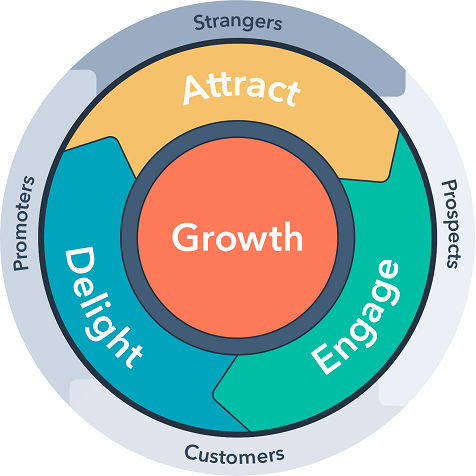 [Graphic courtesy HubSpot]
When your customers are successful, and they share that success with others, this can attract new prospects to your company and create a self-sustaining loop. This is how your organization can build its marketing momentum.
Connecting the Dots of Inbound Marketing

Strategy

Unlike the interruptive, old school strategies that use tactics like broadcast advertising and other "spray and pray" methods to get attention, inbound marketing leverages value, service, and the Internet to attract, engage, and delight prospects.
Attraction Tactics
Inbound marketing attracts your ideal audience and buyer personas through content creation and development. To reach your audience, start by creating and publishing content — such as blog articles, content offers, and social media — that provide value.
Search Engine Optimization (SEO) can supercharge the attraction for your audience by optimizing your great content. An SEO strategy will allow your content and information to organically appear on the search engine results page (SERP) as your ideal audience searches for this information.
Engagement Tactics
The goal of engagement is to communicate with prospects in such a way as to cause them to want to build long-term relationships with you. This can include how you handle and manage your inbound sales calls, focusing on customer service, and always "selling" a solution selling rather than a product.
This can then ensure that all transactions end in mutually beneficial agreements between your customers and your business. This happens with you consistently provide value for your ideal customers.
Delighting Tactics
Delighting customers means ensuring that they are happy, satisfied, and well-supported long after a sale or purchase is made. This can require that your team members function as advisors and experts who assist your customers at any point.

Effectively monitoring social media is another important tactic for being able to delight your customers. Respond to your social media followers with information that helps and supports them. This serves to provide value and demonstrates that you hear and care about them.

Real customer service is focused on delighting customers by assisting and supporting customers in any situation, whether or not your business gets any value out of it. Remember, a delighted customer becomes a loyal customer, and an advocate, fan, and promoter. Every interaction matters.
Make Us Your Partners for Inbound

Marketing

When it comes to implementing your inbound marketing strategy high-quality, relevant content is one of the main keys to attracting and winning prospects and customers.

That content can take on many forms such as video, blog posts, eBooks, white papers, email, slide decks, infographics, webinars, and even the pages on your website.

However, the challenge for most business owners is in creating this never-ending need for fresh content. Then there is the additional challenge of determining how best to distribute and use that content to carry out an effective marketing strategy.

Fortunately, you don't have to attempt this on your own! Your options for implementing a successful and affordable content marketing strategy also include finding a professional firm that can work with you to maximize your efforts.

A qualified agency like BroadVision Marketing will develop a road map with an implementation time line, marketing milestones, and key deliverables. Using this road map we will create the framework and structure for us to work with you and help you to achieve your marketing goals.

Get your Free Complimentary Inbound Marketing Session to help you make an informed decision or call BroadVision Marketing at 707-799-1238.