Content marketing as a basis for effective inbound strategy requires solid knowledge of your audience. But figuring out who those people are and how to attract them requires research.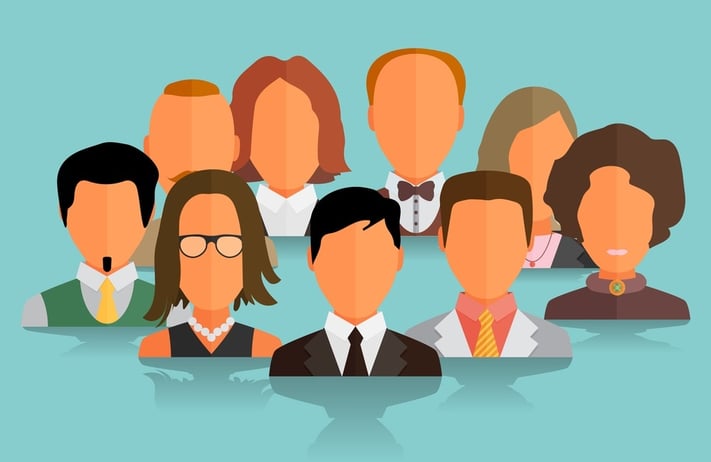 As a business owner it is not enough to simply say, "I know my customers." and think you have it all figured out. In fact, as much as we would like to think we do have it figured out, if you haven't done the work, you probably don't.
Why Marketing Personas?
According to the folks at HubSpot,
"At the most basic level, developing personas allows you to create content and messaging that appeals to your target audience. It also enables you to target or personalize your marketing for different segments of your audience.

For example, instead of sending the same lead nurturing emails to everyone in your database, you can segment by buyer persona and tailor your messaging according to what you know about those different personas.

Furthermore, when combined with lifecycle stage (i.e. how far along someone is in your sales cycle), buyer personas also allow you to map out and create highly targeted content."
Knowing your audience, your customers and prospects, means much more than where they are and what they tend to buy from you. One of the problems we run into as human beings is the tendency to see our customers as people just like us. Or as a generic, homogeneous entity without variations or distinctions.
You should never engage in content marketing without a strategy. If you have no defined goals and objectives - and a proper understanding of the purpose of content - you will find yourself simply creating content for sake of putting stuff out there. That's not a strategy.
Inbound marketing with content is about attracting and engaging prospects. And, along with a plan that defines your goals, you must understand your target audience's real desires and concerns. Once you have that documented, your content ideas can be created to address those concerns, consistently and regularly.
According to Marketo, marketing personas help you:
Determine what kind of content you need
Set the tone, style, and delivery strategies for your content
Target the topics you should be writing about
Understand where buyers get their information and how they want to consume it
What Do You Need to Know?
There are probably hundreds of questions you could ask a typical customer to help you understand them better. Depending on your product or service, the nature of these questions will vary tremendously, as well. But no matter what your company does or sells, there are some essential pieces of information and knowledge that you need to capture.
Here is a high-level list to help you get started:
1. You should always think in terms of segments: in general terms, which types of customers represent the majority of my customer audience? For the sake of simplicity you may want to limit your segments to five or less.
2. For each segment, or category, assign a name to that persona. That name will represent the real customer or prospect that the persona describes.
3. Begin with essential information such as:
Who is she?
Where does she live or work?
What does she do during the day/evening?
How would she see or hear about your company?
4. Also, you will want to address needs and desires:
What challenges or frustrations does he deal with?
What needs are not being fulfilled?
Where is he in the buying process, or journey?
Is he the primary buyer or decision maker?
5. Demographics such as gender, age, education level, position and income level, geographic location, etc. can be essential.
6. Psychographic qualities you might want to know would be their Self-perceptions, External perceptions, Drives and Emotional associations.
7. Since you are engaged in content marketing, knowing how your persona likes to engage and digest content is critical, as well.
While these questions may seem fairly comprehensive they are really only the tip of the proverbial iceberg when it comes to knowing and understanding your customers and prospective customers.
Doing the Legwork
To create your marketing personas, you will need to conduct interviews with customers and prospects, or use surveys as extensively as possible. In addition, you should interview members of your sales and customer service teams. These front-line staff have the first-hand and intimate knowledge of your current and past customers.
You can also do your own research online with a wide variety of tools and resources available on the web. If you have the financial resources you can hire firms to do the research or, if you are clear on your market audience segments, you can purchase existing data, as well.
The bottom line here is that there is no substitute for extensive research on your typical customers. That is who your marketing personas will represent. And the better you know your personas, the better your marketing efforts will be.
Getting Help With Your Marketing Strategy
Achieving your marketing objectives with any marketing strategy takes time. There are so many elements involved and so many tactics that can be implemented that the process can seem overwhelming.
The good news is that you don't have to do all of it yourself. In fact, one of the best investments you can make with your marketing budget is to partner with a solid firm like BroadVision Marketing.
Click on the button below to get your free eBook containing 10 Powerful Inbound Marketing Charts so you can make an informed decision, or call BroadVision Marketing at 707-799-1238.