Most business owners focus on the home page of their website and understandably so. But there is another page that is the next most visited on your site.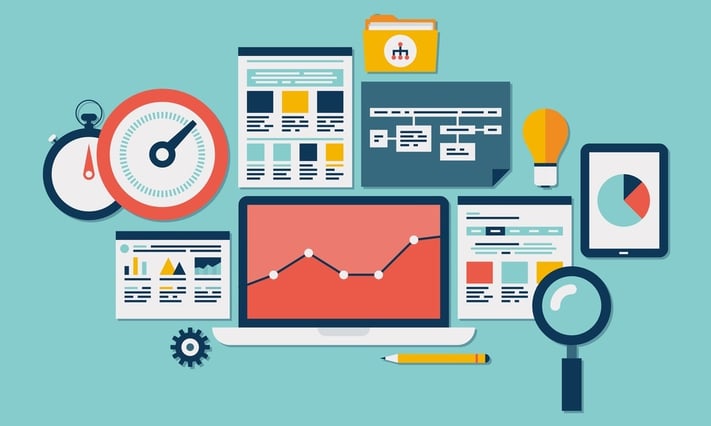 For some websites, such as e-commerce sites, there may not be a perceived need to have an "About Us" page, but even these businesses can benefit from these ubiquitous yet overlooked pages. In fact, according to Neil Patel in a post he published at HubSpot,
"Every website is different, but generally speaking, here are the four most important (and most-visited) pages on a website: Home Page About Page, Blog Contact Us Page"
And for most business sites, the About, or About Us, page is far more critical than most owners or their marketing managers may realize.
It's Not All About (Us)
One of the problems with many About pages is that they are either relegated to hosting superficial sales pitches, or long, drawn out company statistics. Neither of which anyone coming to your site wants to read nor cares about.
Other common About Us fails include using all text and no images whatsoever, simply listing contact information (like some random Contact Us page clone) and having nothing more than generic "Mission" statement of some sort.
But it doesn't have to be that bad.
Here are some quick tips for creating effective and engaging About pages:
1. Be yourself, not just another business
You may be one of a hundred businesses selling the same type of product or offering the same service, but your company is unique. You are unique. And your staff is unique. Why you do what you do and what you value is unique to you and your company culture. Your About Us page must reflect that. Speak in a voice and tone that embodies your company's personality.
2. Speak to humans, not an industry
If your business is in the SaaS niche of the CRM industry specializing in the finance sector, odds are your website visitors know this or they wouldn't be there. So there's no need to try and dazzle them with your grasp of industry-speak and endless acronyms. Your About Us page is about people and should speak to people.
Even self-described nerds want to know who the people are behind that acronym-laden company.
3. Tell about your customers, not your company
Okay, so it really isn't about you. It is, but it isn't - at least not directly. One of the best ways to really show the world who you are as a business is to talk about your customers. This can be in the form of customer success stories or profiles. And there is nothing wrong with bringing in what your company has done for them - from their perspective, of course.
4. Have your customers talk about you
This is somewhat of a variation on the previous approach. It can be done by having longer testimonials, or even a video testimonial (See #5). A slightly different take on the old standard customer testimonial format can involve written sentiments along with a series of three or four images of the customer. Having a series of three to five of these can have a powerful impact.
5. Use different media in addition to text
There is absolutely nothing wrong with incorporating a variety of media into your About page layout and design. In fact, though you would do well to keep within the overall design parameters of your website as a whole, mixing things up on this particular page can be both engaging for your visitors and liberating for your web designer.
In addition to still images and video, there are possibilities for slide shows, animation, interactive images and more.
6. Tell a story - your company story
There is an exercise that is sometimes used to help business owners find the core expression of what they feel makes their business unique and informs their company's purpose. It is sometimes called "A Company Story" and it is almost never the story of the company's founding or a history.
It is, instead, an anecdotal re-telling of some event or customer encounter that embodies th essence of what the company is and stands for. And because it is a unique story, it will be unlike any other story and can serve to set your business apart in the minds of readers.
7. Change it up periodically
There is no rule that states that your About page must remain static and fixed in time and space. Without going crazy, it is perfectly fine - and even beneficial - to change out the content or even the format of your About page a few times during the year. This is especially true if you are using customer testimonials. Instead of adding an endless stream of sentiments, simply replace them periodically with fresh ones.
Marketing is About More Than SEO and Content
Unless you already have more customers than you can handle, or you have far more than one single physical location, a solid marketing strategy is a necessity if you want to have visibility going forward. More and more people are quickly and easily looking to the Internet to shop, search and find businesses, products and services near them. Mobile devices have driven this trend relentlessly and it shows no signs of slowing.
But once the visitors find your site you must have what is needed to engage them and keep them coming back. A great home page and a unique and engaging About Us page are critical to making that happen.
Another smart move is to implement a solid local SEO strategy, and stay committed to sticking with it. With the right elements in place and great content, you'll start seeing results within months. And because Google - the entity that essentially rules the SEO cosmos - increasingly favors locally optimized businesses, you'll want to be on the leading edge of the curve.
A Great Local SEO Strategy is Partnering With Local Experts
The approach of content marketing for local SEO is a great one for your business. But achieving your local marketing objectives with a content marketing strategy does take time. It won't happen with a few blog posts or some other great content. People will need to consume your content for a while before they contact you. Yet, without your content compelling them to contact you, your goals may never be met.
The good news is that you don't have to figure out alone. In fact, one of the best investments you can make with your marketing budget is to partner with a solid firm like Petaluma-based BroadVision Marketing. We are your local partner for your local marketing needs.
Click on the link below to get your free white paper "The Seven Principles for Attracting More Clients" or call BroadVision Marketing at 707-799-1238.