Content marketing can be exciting and challenging. It can also be frustrating when your marketing objectives aren't clear cut or are conflicting. Knowing what goals are best suited for content marketing and for you business should be the first step in any content marketing strategy.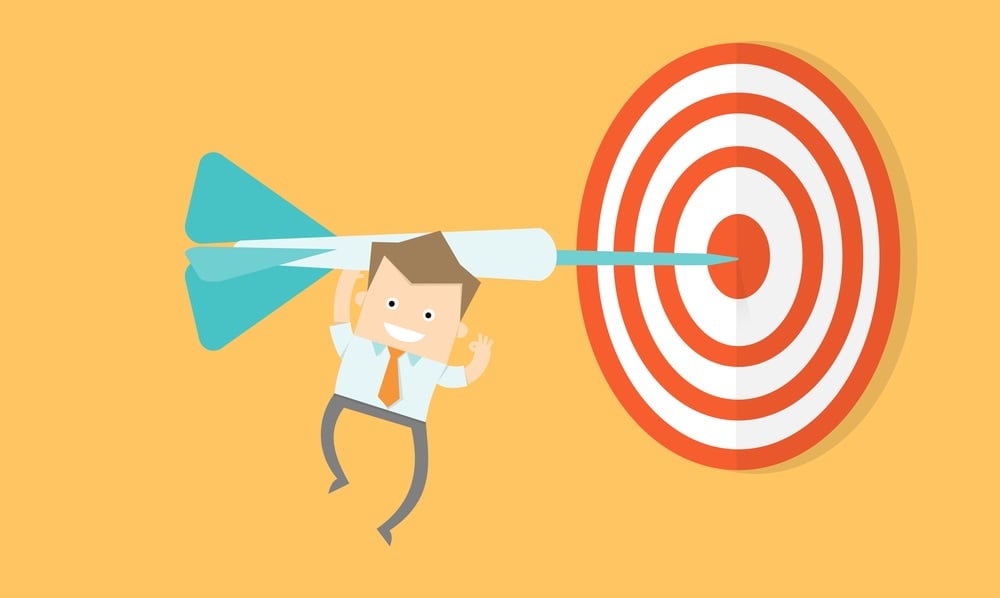 You know that content marketing is a powerful approach for building your business, driving traffic to your brand's website, and creating a tribe of loyal customers or clients. But you might not be so clear as to what those broad objectives translate into when it comes to specific and measurable goals.
And any marketing effort without clear goals can be an expensive waste of time and resources.
What Are You Trying to Do Anyway?
Part of the problem is that there are any number of goals you can accomplish with content marketing. This makes narrowing them down to the most important goals far more difficult. You cannot realistically accomplish everything with your limited marketing efforts and not everything is of equal importance.
Which is the other problem: how to decide what's worth pursuing and what isn't.
For example, you could be trying to establish your brand as an authority in your particular industry. But you may also want to build up traffic and leads for your sales funnel. Can you do both? Possibly. Is that realistic? Maybe not. Two vastly different goals often require different tactics and strategies, which can be difficult to carry out with your available resources.
Which brings us to a third issue: time and money. And possibly people. Large enterprises like Coca-Cola or Toyota can afford multi-pronged marketing campaigns running simultaneously to chase after any number of marketing goals and objectives. The rest of us make do with what we have!
And, for many smaller businesses, this means a few staffers and a limited budget.
So this is where discernment is the better part of valor. In other words, you can't do everything so pick out the three or four high priority goals that are both worth pursuing and measurable. Which brings us to the question of how to do that?
Get Strategic With Strategy
For most people, a strategy is simply another word for a plan. And vice versa. Not so. Anyone can come up with a plan without a guiding strategy. Don't think so? Failed political campaigns, failed marketing campaigns and failed businesses are sad testimony to that fact.
And strategies can be formulated and thought out, but without an action plan to bring it to possible fruition, a good strategy is nothing more than a good idea.
What, then, is a strategy? Ann Latham, writing in Forbes, offers this take on a definition of a strategy:
"A strategy is a framework for making decisions about how you will play the game of business. These decisions, which occur daily throughout the organization, include everything from capital investments to operational priorities to marketing to hiring to sales approaches to branding efforts to how each individual shuffles his To Do list every single morning. Without a strategic framework to guide these decisions, the organization will run in too many different directions, accomplish little, squander profits, and suffer enormous confusion and discord."
If we bring this down to a specific marketing level, we could say that a marketing strategy is a framework for how you will play the game of marketing. It provides the focus and parameters to guide tactics and decisions. And it requires a documented plan to be carried out.
In addition, a strategy is predicated on achieving a goal. Whether that is winning a war, building a business, or marketing a brand's products or services, these goals require a strategy and an action plan to make them a happen. Which brings us once again to the need for specific goals.
Let's Talk About Goals
Some common content marketing goals that most any company would want to achieve can be summed up in this short list provided by Emfluence:
Develop brand awareness
Drive Traffic and Generate Engagement
Generate Prospects and Sales
Customer Education
Build a Reputation with Search Engines
But note that the first objective along with the last two are somewhat subjective and, therefore hard to measure or even define. Not that these are unimportant or shouldn't be pursued, but they will require some deeper thinking and more nuanced metrics for tracking.
Tracking and measuring is critical. Simply setting goals and waiting to see what happens in six months or a year is not only ineffective, it's a sure path to disillusionment and frustration. Not to mention a waste of time and money. Good marketing demands good measuring.
According to Content Marketing Institute's Joe Pulizzi,
"Great content marketers do two things differently than the rest: They document their content marketing strategy in some way, and they review and consistently refer to the plan on a regular basis."
This means determining what Key Performance Indicators, or KPIs you will need for each goal. KPIs are measurable values used by marketers to demonstrate the effectiveness of their chosen strategy and tactics.
This also means testing, adjusting and comparing results over time. One tactic for a short period of time is not sufficient to determine whether a strategy is going to be effective. And just because your goals aren't met as soon as you hoped doesn't mean the goals are misplaced or unachievable. It can mean that you need more time, or different tactics, or additional platforms, etc.
But without tracking, measuring and comparing of results based on KPIs for specific goals, then there really isn't much point.
Don't Throw Spaghetti. Get Expert Help!
The worst marketing strategy is to do nothing. The next-worst marketing strategy is to simply "throw spaghetti against the wall and see what sticks." The problem with that approach is that you eventually run out of "spaghetti." Better to get expert help with your content marketing efforts.
Mastering content marketing is great for boosting traffic to your business, but you don't have to do it alone or even master it yourself. You can get professional help. The truth is that achieving your content marketing objectives takes time. And it won't just happen with a few blog posts or some other great content you put out there once in a while.
People will need to consume your content for a while before they'll contact you. Yet, without great content compelling them to do so, your marketing goals may never be met.
The good news is that you don't have to figure out alone. In fact, one of the best investments you can make with your marketing budget is to partner with a solid firm like BroadVision Marketing.
Click this link to get your free Complimentary Inbound Marketing Session so you can make an informed decision, or call BroadVision Marketing at 707-799-1238.