Anyone with a website wants visitors to their site. Businesses are especially motivated to increase website traffic since visitors can become customers. But how can you do that?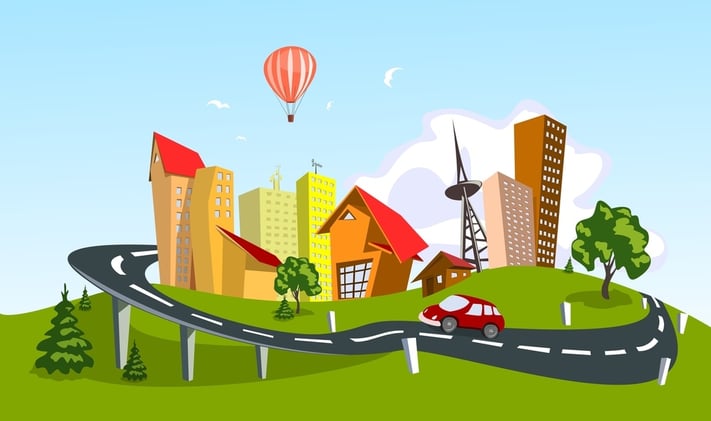 Business websites exist in a broad range of types and have a number of purposes. But what they all have in common - yours included - is the need to experience more visits. It's what we often refer to as "website traffic".
If the Internet is indeed an information highway, and everyone searching along the by-ways make up the drivers, your hope is that some of that traffic pulls into your "shop" on the Internet. And your main objective is to attract and guide those people to visit you. Of course, you and everyone else on the highway.
Well, almost everyone.
How Many Are There?
According to Internet Live Stats there are over 1 billion websites today. This milestone was first reached in September of 2014. A website is defined as a unique host name which is a name that, by using a name server, represent an individual IP Address.
Interestingly, it has been determined that around 75% of websites today are not active, but are parked domains.
And it gets weirder.
In a recent post, Entrepreneur.com reported 46 percent of U.S. small businesses still don't have a website for their company, according to a report released by business-to-business research firm Clutch.
This was the findings from more than 350 small businesses surveyed, the majority of which have less than 10 employees and less than $1 million in annual revenue. The good news is that if you have an active website for your business you're only competing with half the other businesses out there.
How do I Get Them to My Website?
There are literally hundreds of tips offered out in the digital landscape for driving traffic to your website. Many of them are useful and actionable, but most are have little or no real impact on overall visits. Tips like "print your URL on everything" are okay, but aside from being a bit obvious, they tend to be simplistic and sometimes of dubious value.
Having said that, it certainly makes sense to do everything possible and feasible to increase visibility and awareness for your website. Outside of people finding your website through an organic search on the Internet, they only way they will find you site and possibly go there is if they know about it.
But even knowing about your website is no guarantee that they will actually type in your URL and visit your site.
Being found in organic search is the key. That is the goal of inbound marketing and one of the main purposes of great online content - to be found by people searching for what you are offering and in a fashion that attracts and engages them.
3 Main Keys for Increasing Your Website Traffic
As already noted, there are any number of tactics and tips to help improve and increase traffic. Keep in mind, too, that simply bringing someone to your website is not endgame for most businesses. High bounce rates - the percentage of visitors who stay for less than a minute and never click beyond your home page - means no engagement.
No engagement means no prospects. And no prospects means no customers or clients. There must be good reasons for visitors to hang out a while and look around at your site. And - ultimately - there needs to be something engaging and enticing enough to cause them to interact through a "call to action".
This could be a free download, a registration or subscription form, and even emailing or calling your business through your site. So, with that, here are the three main factors for driving traffic:
#1 Optimize for Search Engines
We all understand that our websites exist for people. Our visitors are people and our prospective customers or clients are people. But human beings don't find your website though a search on the Internet - search engines do. Consequently, if the search engines cannot or have not "found" your website and indexed it, it is unlikely it will show up in the search results.
Not showing up is tantamount to not existing. And even if you do show up, but your search result ranks number 379, almost no one is going to work through 37 pages of results. In fact, most people never scroll beyond page one, and many of us never scan past the first three results!
We can use Google as our search engine example since, though not the only one out there, they still hold the number one spot for users. It is safe to say that your website should be written and designed for people and Google - and strike a balance between optimum user experience and readability, and search engine optimization.
And, while you could realistically optimize your site yourself, because this is a dynamic and ongoing process that requires a significant level of expertise, it is best to have this done for you.
#2 Build and use an email list
Email marketing still rocks. Despite rumors of its demise, it is still the mainstay of successful online marketers. This is because it is still one of the most effective methods of directly communicating with your prospect and customers.
Email can be used to drive traffic to your blog posts, for delivering newsletters, making announcements, and any number of other reasons. The key is to have an email list comprised of people who have either shown that they want to hear from you, or fit the persona of those who do.
#3 Have a business blog
A business blog has been consistently proven to drive traffic. Thai is, when it is done well and done correctly. The three main keys for an effective blog are relevant, targeted content, consistency of a long period of time, and frequency.
The more frequently you publish posts, the more often you have great content feeding to the search engines – and you audience. One company ran an experiment where they increased their blog posts from twice per week to over 10 posts per week. As a result, they experienced a 300 percent increase in traffic in just two months.
#4 Content marketing
Search engines love content. Your audience wants answers and/or information. The more relevant and targeted information you publish, the more related keywords it contains, the higher you'll be in search engine rankings.
This type of content is not limited to your blog. It should include your "About" page, your company information page, and any services or products page. In addition, you can create and publish videos, slide shows (decks), infographics, white papers, special reports and any number of quality and relevant content pieces.
#5 Be engaged on social media
While relying on social media by itself to drive traffic to your website is not enough, being active on Facebook, Twitter, LinkedIn, Instagram, YouTube and other channels is essential. And you engagement must be structured, planned and intentional. It's full-time job when done properly.
Because we live in a world where almost everyone is on social media, having your business presence there provides the opportunity to be seen by potential customers in a medium they are regularly in. Social media allows you to make those digital relationships to build trust and gain valuable leads. Love it or hate it, social media is a must-have for businesses.
Partnering With Local Experts for a Great Website Strategy
Leveraging Internet marketing is essential for your business. But achieving your local marketing objectives with a content marketing strategy does take time. It won't happen with a few blog posts or some other great content. While great content is key, visitors will usually consume your content for a while before they contact you.
Yet, without your content compelling them to contact you, your goals may never be met.
The good news is that you don't have to figure out alone. In fact, one of the best investments you can make with your marketing budget is to partner with a solid firm like Petaluma-based BroadVision Marketing. We are your local partner for your local marketing needs.
Click on the link below to get your free white paper "The Seven Principles for Attracting More Clients" or call BroadVision Marketing at 707-799-1238.