Creating great content is the foundation of a successful content marketing strategy. But expanding the reach of that content beyond your company website is critical.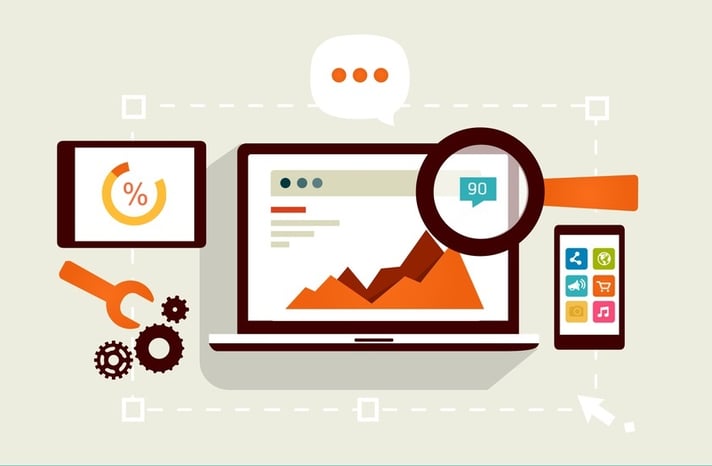 When it comes to content marketing it is a pretty sure bet that if you create good content, relevant and valuable content, content that your audience needs and wants, then you can drive traffic to your website.
However, while it is true that creating good content is absolutely essential for content marketing, it is only the first part of the equation. If that is all you do and then depend on your blog post to drive search results, then you will be continuously missing out on a much larger scope of reach for your content.
Content distribution is the real key to driving traffic, generating social shares, and expanding the reach of your content. And a multi-channel promotion and distribution strategy is the way to go.
Whether it's through social media channels, email marketing efforts, guest blogging, being published in an industry blog or website, and even paid distribution services, the goal is to get your content in front of as many interested eyeballs as possible!
What is Content Distribution?
A good content distribution strategy uses a multi-channel approach incorporating a variety of media to promote and distribute content. The goal is to increase the overall reach of your company's content while also bringing your audience through your online sales funnel.
For example, one agency found that 50% of a client's traffic over six months came from a variety of sources beyond the company's blog, social media efforts and email. These other sources included paid search such as pay-per-click (PPC), direct mail, display ads, and referrals.
If the client had depended solely on an "organic only" approach the results would have been only half as good. This is why content promotion and distribution is a critical element for a successful content marketing strategy.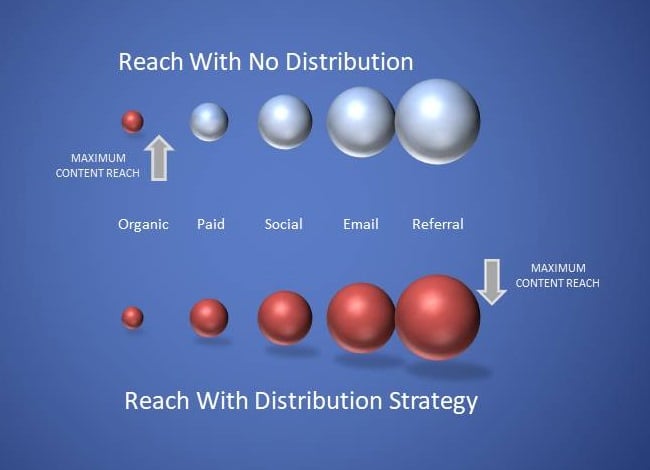 Basic Content Distribution Options
Content distribution is how you can promote and share your content using different formats and various online channels. With a few exceptions, content channel options can be broken up into three categories:
Owned Content Distribution:

Owned means channels and formats that belong to you. This typically includes your blog, any email newsletters your publish, and your social media platforms, etc.
Earned Content Distribution:

This refers to third-party channels and platforms that can distribute your content on their own sites or publications. It also includes guest posts from you, social media retweets or shares, and even media mentions or reviews.
Paid Content Distribution:

Paid simply means you pay for your content to be distributed. This can be through content distribution services, or in the form of pay-per-click services such as Google AdWords or Bing Ads.
Keep in mind that paid, owned, and earned media is meant to work as one strategy, not as separate tactics or siloed activities. And a multi-channel content distribution approach is not a "one time" process, nor does it mean there should be less content creation just because the distribution "net" is cast wider.
And, most importantly, you must realize that it takes time and effort to see results.
What Channels Work Best for Content Distribution?
Like many other aspects of online marketing, the tools, technology and platforms change and evolve over time. Channels that were hot five years ago may not even exist today. And others are coming to the forefront that didn't exist a few years back.
For example, HubSpot has found that there are certain approaches that work best to help you achieve greater brand awareness, influencer relationships, industry leadership, audience engagement, and more:
Personalized emails

Personalized emails have shown a 6.2% higher open rate than those that aren't.

Guest posting

Make sure the publication not only helps you achieve your own reach goals, but also, has something to gain by sharing your insights, from your particular brand.

Influencer outreach

Reach out to relevant influencers in your industry for quotes to include in your content, and send them the piece once it's published for them to share with their networks.
The good news is that marketers and business owners have contributed their own experience and insights to a number of studies and surveys that provide a good picture of what works today.
Content Distribution Channel Selection
Not every channel works equally well for every business, or every type of content. The upside is that almost every distribution channel being used predominately by marketers is free. But keep in mind that "free" still means time and effort is required.
While actual results may vary, there are seven top distribution channels that have been proven in overall effectiveness. Using email, for example, is still one of the most effective means for getting your content beyond your website.
Video can involve some investment on your part, but it still provides some of the highest ROI for marketers and brands. Whether the video is your original content, or a repurposing of some original written content, video is still one of the most powerful means of getting content seen and can provide you with the biggest "bang for your buck."
Next comes social media. And, whether you like them or not, the big three platforms (for now anyway!) are Facebook, Youtube, and Twitter. Leveraging and maximizing these channels is a huge key to effective content distribution.
The last three channels are influencer marketing, guest blogging, and paid distribution. These, too, can be quite effective, but they are somewhat more involved and complex. This is especially true for influencer marketing and guest blogging.
And paid distribution is exactly that: content distribution services that you pay for. These can be incredibly effective, but there are also many not-so-reputable or quality sites out there to avoid.
Expert Help for Your Content Marketing Strategy
You probably already know that implementing content marketing can boost traffic for your business. But achieving your marketing objectives with a content marketing strategy takes time. It won't happen with a few blog posts or some other great content.
People will need to consume your content for a while before they contact you. Yet, without your content compelling them to contact you, your goals may never be met.
The good news is that you don't have to figure out alone. In fact, one of the best investments you can make with your marketing budget is to partner with a solid firm like BroadVision marketing. Click this link to get your free Complimentary Inbound Marketing Session so you can make an informed decision, or call BroadVision Marketing at 707-799-1238.