We always strive to ensure that our marketing efforts are effective and successful - and that our strategy is relevant and up-to-date. Therefore, in a world where marketing fads come and go it's fair to ask if content marketing is still a valid strategy?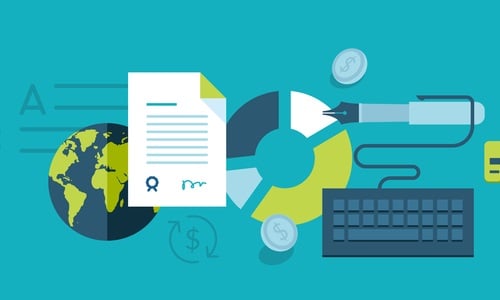 Content marketing is a fundamental element of inbound, or digital, marketing. While it's certainly not a new approach, it has evolved and refined over the years. As with any successful marketing concept, there are always recurring rumors of the coming demise of content marketing.
But the statistics tell a different story.
Content Is Still King. Really.
There is an old saying about throwing out the baby with the bathwater. In marketing, that is often a truism, as well. Too many business owners try a strategy to market their products or services, hoping to generate sales, and when they don't see the results they expected they toss out the strategy. And, unfortunately, they dip into the "spaghetti bowl" and throw something else against the wall, hoping it will stick this time.
Here's the thing: strategies such as content marketing require time, testing, and tenacity. Discovering what types of content or channels will work best for your business may require some work. But what you can know with a certainty is that content does work.
And it works powerfully.
Perhaps you've been dabbling with digital marketing. A few paid ads here, some pay-per-click listings there, and maybe a sporadic blog on your company website. But you've yet to see the results you've been promised my the online marketing hype. Again, one the fundamental keys to marketing success with any strategy is consistency over time.
Having said that, it is true that some strategies work better than others and - within those strategies - some tactics work better than others. A digital marketing strategy leveraging the power of content has been shown to be more cost-effective, with longer-lasting impact, and far more "trustworthy" than any advertising methods, online or off.
Let the Numbers Speak for Themselves
Every year for almost a decade the Content Marketing Institute, or CMI, has surveyed content marketers around the globe on the top trends in content strategy, planning, tools and effectiveness. And what they have found is that, when done correctly, content marketing is both effective and accessible for almost any business.
Let's look at three significant statistics derived from CMI's 2018 annual B2B Content Marketing Benchmarks, Budgets, and Trends—North America report.
A Documented Strategy
While this might seem like a no-brainer for many business owners and marketers, surprisingly only 39% of brands engaged in content marketing have an actual documented strategy.
It's not unusual, however, to plan out your strategy and your objectives without ever putting them into a written form. The problem is that, like any plan or process in a business, if it's not written down it is hard to execute and difficult to manage.
So, does a written strategy plan really make a difference? Well, according to the CMI survey, a documented strategy is one of the hallmarks of successful B2B marketers. In fact, 65% of the most successful content marketers have a documented strategy.
Social Media as Distribution Channels
Great content in any form is next to useless for marketing purposes if no one sees it. If you have a business blog and no one finds your posts, they may as well not exist. Almost as bad is content placed on the wrong or inappropriate platforms. If your ideal audience of customers or prospects are not using that platform then you're sharing your precious content with the wrong people.
Distribution matters. In fact, we've said it here before that if content is king (and it is!) then distribution is the royal chariot. And social media, whether you love it or hate it, is increasingly becoming a powerful stream of digital "highways" for distributing your articles, posts, videos, infographics, slide decks, and so on.
In fact, CMI's report noted that in 2018, 61% of B2B content marketers increased their use of social media for content marketing purposes over 2017. And this is a growing trend going into this year.
Paid Channels for Distribution
While part of the appeal of content marketing is it's relatively nominal cost and superior cost-effectiveness, many successful marketers are finding that selective use of paid channels can work to accelerate and expand the reach of their content.
The folks at SearchEngineWatch point this out in a recent post,
"66% of B2B content marketers use paid methods to distribute content. Paid advertising can help marketers expand the reach of their post. Organic promotion is not enough anymore and more marketers seem to acknowledge the benefits of boosting their distribution methods.

Why are they using paid methods then? The most common objectives are to:
Attract a new audience (80%)

Generate traffic when organic search isn't producing the desired results (65%)

Reach a niche audience (52%)"
Keep in mind that the content is free for your audience, but that some effective distribution channels will require an investment on your part.
Good Content Informs, Educates and Answers Questions
Content marketing is not simply about words or images. It is about providing relevant value to your audience. It's also about creating viewer experiences. Talking about your brand is just a step removed from advertising. You must create content people want to read, watch or listen to.
Your audience really doesn't want to read about your brand except when someone else talking about you.
So, what is good content? Jodi Harris, Director of Editorial Content & Curation at Content Marketing Institute, uses their organization's definition of content marketing to highlight the qualities of good content:
"Content marketing is the strategic marketing approach of creating and distributing valuable, relevant, and consistent content to attract and acquire a clearly defined audience – with the objective of driving profitable customer action."
Good content is "valuable, relevant, and consistent" and is written for your audience and about what they will benefit from. While a content topic may seem interesting to you, it may not be at all interesting to your ideal audience. And keep in mind that your ideal audience is not your co-workers, peers, or even your competitors.
Get Help for Your Content Marketing Strategy
You now know that content marketing can boost traffic for your business. And achieving your brand building and marketing objectives with content takes time. Because people need to see your content for a while before they contact you, it likely won't happen with a few blog posts or some other great content.
But you do have to have great content compelling them to contact you, or your goals may never be met.

Fortunately, you don't have to figure out alone. In fact, one of the best investments you can make with your marketing budget is to partner with a firm like BroadVision Marketing. Click here to get your free Complimentary Inbound Marketing Session so you can make an informed decision, or call BroadVision Marketing at 707-799-1238.