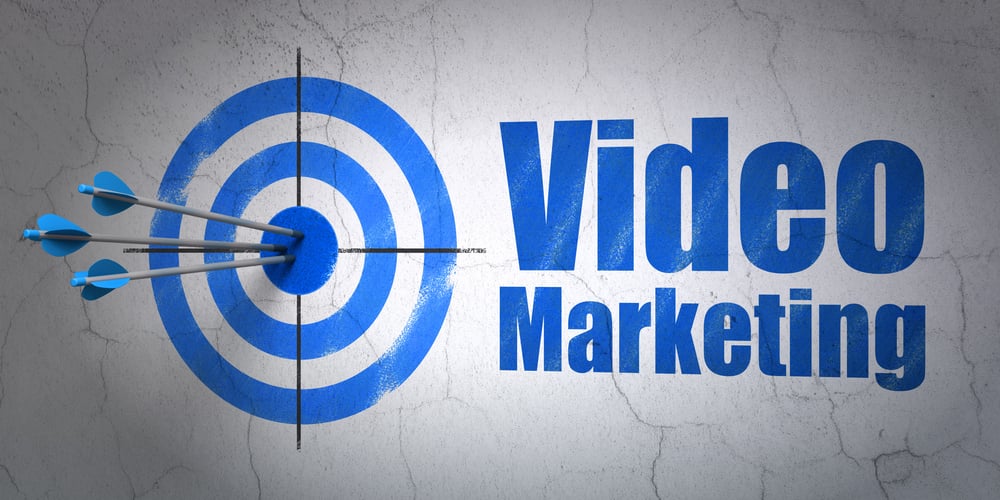 [This article first appeared here in February 2019 and has been revised and updated for 2023.]
Content marketing isn't just blogs and articles. It can include images, infographics, slide decks and especially short-form video.
Online content consists of a wide variety of formats, and video is the reigning "King of Content" when it comes to audience engagement and ROI. The bottom line is that if you are not making use of video on some level, you are missing out on a powerful content marketing tool.
Video Content Can Give Your Traffic a Rocket Boost
If you've been marketing your business online for any length of time you likely think of "content" as primarily written content, or words. This could be blogs, online articles, eBooks, or digital, downloadable guides of some kind.
And, strictly speaking, this is accurate. Content has been and still is primarily made up of written words, for the most part.
On the other hand, video hasn't always been looked upon as "content" in terms of content marketing. However, in the world of content marketing, video ranks right up there with written content.
Ana Gotter, writing in Business2Community.com, notes that:
While video has been used more for other types of marketing in the past, it has a solid place in content marketing. Videos are incredible mediums for storytelling and relationship building, after all, and though those features can enhance an ad, they also speak to the core purpose of content marketing. Copy is meant to sell; content informs and build relationships.
The real power of video is that it leverages the impact of visual and audio input. It allows your audience to see and hear your message. And because video is so attractive, so engaging, and so addictive, it can be the major content format in your content marketing strategy.
Especially short-form video.
According to a post at flixier.com,
As attention spans continue to dwindle and mobile devices dominate our daily lives, short-form video is set to take over the digital landscape in 2023. Bite-sized videos that capture and hold viewer attention are becoming the new standard for digital content, and it's time to embrace the power of this trend.
With the recent advent of powerful new tools, technology, and tactics, incorporating video in your marketing efforts - especially your content marketing strategy - is easier and more powerful than ever before.
Production Essentials of Great Short-Form Video Content
Okay, so we already know that the hardcore video production folks might disagree here, but the fact is that almost anyone can produce an effective and engaging brief video with nothing more than a smartphone.
So, what are the essentials for producing great short-form video content?
Simply this:
A quality smartphone or handheld video camera
Good audio (sound)
Sufficient lighting (no murky film noir here!)
A great story
Yes, you can invest hundreds or even thousands of dollars into high-quality video production, but for many purposes, simply creating a brief video that incorporates good audio, good lighting, and presents an engaging, relevant story will do the trick.
The key is to create a video that can be seen easily, heard easily, and captures your audience's attention and engagement. Avoid posting hard-to-see-or-hear video that will distract from your video's message.
So, how effective is video? Here are some recent video marketing statistics provided by HubSpot:
The number of digital video viewers worldwide is expected to reach 3.5 billion.
In 2023, people are watching, on average, 17 hours of online videos per week.
People are 52% more likely to share video content than any other type of content.
75% of viewers watch short-form video content on their mobile devices.
83% of marketers suggest videos should be under 60 seconds.

Keep in mind, too, that your online content should be distributed across as many channels as possible that your audience and prospective customers are participating on. And this obviously includes social media.
And what type of content do most people engage in most of the time? According to data from the folks at Website Planet, it is video: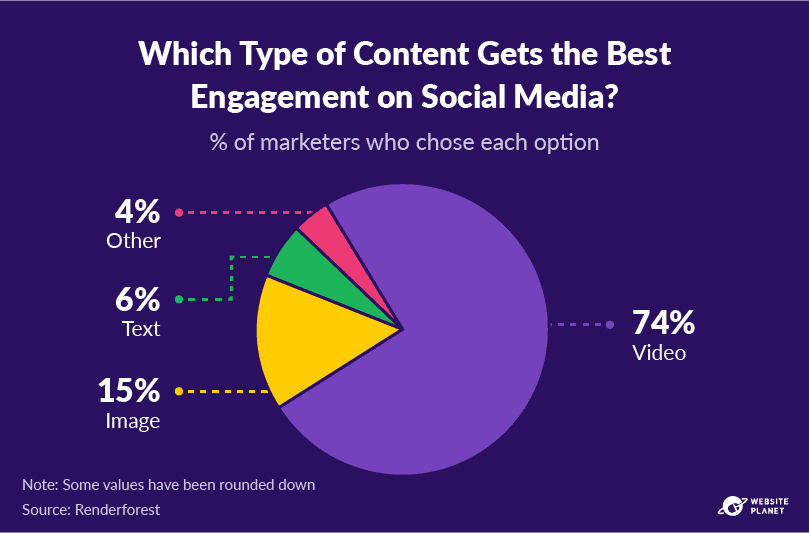 The bottom line for most businesses and brands is this: if you are not making use of video - and short-form video, in particular - you are missing a potential significant driver for your content marketing strategy.
Keep in mind, too, that we're talking about video as a content marketing component as opposed to purely advertising videos. In other words, your video for content marketing serve the same function as blog posts, eBooks, or infographics in that they should inform, educate, and tell a story that engages your audience - not try to pitch a product or service.
AI: A Powerful Tool for Accelerating Your Video Marketing Efforts
The recent advent of Artificial Intelligence (AI) apps and tools have turned much of the world on its head. However, regardless of the controversies and skepticism that is typical with emerging technology, AI holds great promise for marketers - and even for video content.
As we've pointed out here already, it has become abundantly clear that short-form videos have become increasingly popular in content marketing strategies due to their ability to capture attention and convey messages quickly.
And brands who leverage AI tools like ChatGPT, for example, can greatly enhance their video creation process and create effective and engaging short-form videos.
Here are just some of the ways AI can help you with video production:
Scriptwriting and ideation
AI tools such as ChatGPT can assist in generating ideas and developing scripts for your videos. You can provide prompts and questions related to your marketing goals, target audience, and desired message, and the AI tool will generate creative suggestions and refine your content. It can help you craft compelling storylines, catchy hooks, and impactful calls to action.

Video editing and production
There are AI-powered tools that can automate various aspects of video editing, saving you time and effort. These tools can suggest cuts, transitions, and effects based on your footage and desired style. They can also optimize video length, pacing, and visual elements to maintain viewer engagement. Additionally, AI algorithms can help with color grading, audio enhancements, and even generate visual effects.

Personalization and targeting
AI can help you create personalized short-form videos "at scale". By leveraging data and AI algorithms, you can tailor videos to individual viewers based on their preferences, demographics, and behavior. This level of personalization increases the relevance and impact of your videos, leading to higher engagement and conversion rates.

Content optimization
AI tools can analyze the performance of your short-form videos and provide valuable insights. They can track metrics such as click-through rates, view durations, and conversion rates, allowing you to understand what works and what doesn't. AI algorithms can also provide recommendations to optimize your videos based on the data, helping you refine your content strategy and maximize your marketing ROI.
Simply put, by incorporating AI tools like ChatGPT into your content marketing strategy for short-form videos, you can greatly streamline your production process, optimize content performance, and enhance viewer engagement.
The best part is that by harnessing the power of AI, you can potentially create more effective videos that resonate with your target audience and drive more traffic and foster customer loyalty.
However, it is essential to keep in mind that the best assists from AI tools and even producing a high-quality video with great lighting and sound can fail to achieve its intended purpose without an engaging, compelling and audience-relevant story.
In other words, video content has all the requirements of any other format of content when used for content marketing.
Your Partners for Video Content

Marketing

Video marketing can be a vital component of your content marketing strategy. And high-quality, relevant video content is one of the main keys to attracting and winning prospects and customers.

Content can take on many other forms as well, such as blog posts, eBooks, white papers, email, slide decks, infographics, webinars, and even the pages on your website.

However, the challenge for most business owners is in creating this never-ending need for fresh content. Then there is the additional challenge of determining how best to distribute and use that content to carry out an effective marketing strategy.

Fortunately, you don't have to attempt this on your own! Your options for implementing a successful and affordable content marketing strategy also include finding a professional firm that can work with you to maximize your efforts.

A qualified agency like BroadVision Marketing will develop a road map with an implementation time line, marketing milestones, and key deliverables. Using this road map we will create the framework and structure for us to work with you and help you to achieve your marketing goals.

Get your Free Complimentary Inbound Marketing Session to help you make an informed decision or call BroadVision Marketing at 707-799-1238.