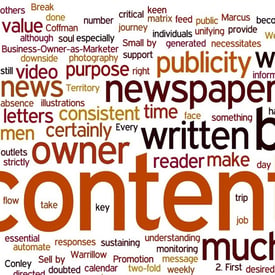 One of the questions that often comes up is how does an inbound marketing strategy and the marketing mix work together? Or do they? To some, the old concepts of marketing are no longer valid and everything is simply reliant on social media and having a responsive website. But some principles never change and one of those is that you are trying to reach people, not machines, with your marketing efforts.
The Marketing Mix Meets Inbound Marketing Strategy
Anyone who has taken even a basic course in marketing has a passing knowledge of "the marketing mix". According to the website Wikipedia:
The term "marketing-mix," was first coined by Neil Borden, the president of the American Marketing Association in 1953. It is still used today to make important decisions that lead to the execution of a marketing plan. The various approaches that are used have evolved over time, especially with the increased use of technology.


The marketing mix is a business tool used in marketing and by marketers. The marketing mix is often crucial when determining a product or brand's offer, and is often associated with the four P's: price, product, promotion, and place.
Inbound marketing, on the other hand, is still a somewhat fuzzy concept to many business owners and even a few marketers. Brian Halligan, CEO of HubSpot, the company that coined the term "inbound marketing", defined it this way:
Inbound Marketing is the opposite of traditional outbound marketing (advertising, direct mail/phone, tradeshows, etc.), where you interrupt your way into your people's lives. Instead of interrupting, Inbound Marketing pulls prospects into and down through your sales funnel in a new and natural way based on how they search for information and make purchase decisions today.
Fitting Inbound Marketing Into the Mix
One way to look at the relationship of inbound marketing and the classic marketing mix is to see inbound as a new approach to Promotion.
Promotion is typically comprised of all of the methods and channels of communication that marketers use to provide information about their product. This usually includes print and broadcast advertising, publicity and public relations, and other types of sales promotion. And it usually means trying to interrupt your audience from whatever they happen to be reading or watching in order to get their attention.
An inbound marketing strategy, on the other hand, takes a bit of an indirect approach to capturing the attention of your prospects. By providing great content that helps to solve their problems and answer their questions, the inbound marketing approach "promotes" your product or service by drawing your visitors to your website.
Is the Marketing Mix Old School?
Some marketing thinkers advocate that the "Four P's" are outdated and insufficient for the modern marketing world. Another perspective is that, while the classic marketing mix is still valid and applicable, it is now complemented with the essential channels and tools of social media and content creation.
In other words, there is still a need for competitive and strategic pricing, for developing and offering great products or services, and for determining the best point of distribution or place. And while you may still find value in more traditional means of promotion, an inbound marketing strategy can minimize or eliminate that approach.
Getting Help With Your Mix
The approach of inbound marketing holds great promise for your business. But achieving your marketing objectives with a content marketing strategy takes time. It won't happen with a few blog posts or great ebook. People will need to consume your content for a while before they contact you. Yet, without your content compelling them to contact you, your goals may never be met.
The good news is that you don't have to figure out alone. In fact, one of the best investments you can make with your marketing budget is to partner with a solid firm like BroadVision marketing. Click on the button below to get your free Complimentary Inbound Marketing Session so you can make an informed decision, or call BroadVision Marketing at 707-799-1238.