If you are a local business you want to be found online. And a local SEO strategy is essential. But getting visitors to stay on your site can be a challenge.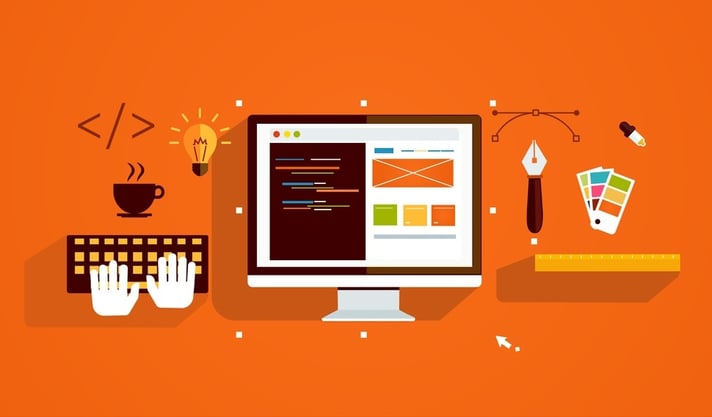 There are a number of statistics of how long the average visitor stays on a website before clicking away. A good estimate is about 15 seconds. The tragedy for many local businesses is that, while they may be quite successful in driving traffic to their site, they fail to keep visitors there long enough to interact or engage with them.
People are impatient and have short attention spans. If your site is slow to load, has distracting graphics or animation, or is even confusing and difficult to navigate, high traffic volumes will be meaningless. People don't want to wait around and if they don't find what they want quickly, they tend to move on.
According to a post by Hostingfacts.com,
The average human attention span has declined from 12 seconds in the year 2000 to 8 seconds now. This is much shorter than the attention span of a goldfish (at 9 seconds). This was revealed by a recent study by Microsoft Corp. that surveyed 2,000 people and monitored brain activity of 112 others using electroencephalograms (EEGs).
If we were to use number as a benchmark, then the minimal goal of any homepage is to engage and entice visitors to stay around for more than 8 seconds. In fact, Google has noted that an average "time on page" of three seconds or more is considered good.
Maybe.
But wouldn't you rather have visitors hang around long enough to click through to other pages, check out your "About Us" page, maybe email you or download a great piece content you're offering on your site?
Of course you would. And that's going to take more than 8 seconds!
Website Design and User Experience (UX) Matter for Local SEO
Website design, especially for your homepage, is critically important to the success of your company's website.
According to content marketer Barry Feldman,
You have to make tough choices regarding the content you'll develop for your homepage, the order the elements will appear, how they factor into your plan for delivering visitors the user experience they seek, and how they support your objectives.
The hard truth here is that there's not much value to great local SEO efforts if your hard won visitors decide to leave right away because of the poor design of your homepage.
Mr. Feldman goes on to note that,
Planning, creating, and publishing website homepage content is no walk in the park. In fact, it presents the most difficult—and important—decisions a digital marketer must make.

Everyone seems to want to know the exact formula for getting it right. But no such formula exists. So the process of getting homepage content published often paralyzes marketers big and small, experienced and novice.
In truth, your entire site should be fully optimized not only for SEO purposes, but for the enhanced experience of your visitors and for ease of use. There are a few unofficial "Cardinal Rules" of website design that are routinely ignored or violated - to the detriment of the website owners:
"Do not make it hard for me to know what you do."
"Do not make it hard for me to find what I am looking for."
"Do not make it hard for me to contact you."
"Do not make it hard for me to give you my money."
These "rules" could be applied to each and every page on your site, as well as the load times, and mobile-friendliness, etc. But for the purposes of this post we will focus on your homepage.
So, what constitutes a well-designed homepage?
Here is a 20-point checklist of ideas presented in the form of an cool infographic. These are not all required, but suggested. Barry Feldman noted: "By "checklist," I mean "possibilities. This is a hefty list of homepage ideas. If you elect to include all 20 ideas on your homepage, you've probably overdone it."
Make a Plan to Review and Revise Your Homepage for Results
While you may be somewhat limited in what you can do with your existing design, knowing that keeping visitors to your site long enough to become leads or conversions is crucial. Invite third-party critiques of your site with the goal of getting a fresh perspective.
Think about what action you want visitors to take when they land on your homepage and create a prominent "call to action" button, or CTA. The call to action (CTA) on your homepage is an important element to draw visitors further into your site.
You can and probably should have more than one CTA, but it's also important not to overload your homepage with CTAs. It's best to pick one or two and put your best efforts into those. If you have too many, you'll create too much visual distraction for users and that can lead to a confusing user experience.
And make sure the "important" stuff is near the top of your page. While there is debate on this still, it is better to err on the side of those who feel that visitors - mobile users especially - are less likely to scroll down the page. And if this is true and your CTAs and phone number, etc. are hidden then you will lose them.
Help With Your Homepage - And With Local SEO Strategy
If you are considering getting help with your company's marketing efforts, it is helpful to have the insights of a third-party, a marketing professional, to assess and assist with your strategy. BroadVision Marketing offers helpful information on how to create local SEO strategy.
You can get free advice during your Free Complimentary Inbound Marketing Session which will help you learn more about local SEO and its place in Inbound Marketing. You can also call BroadVision Marketing at 707-799-1238.Still not sure if Inbound Marketing can work for you? Click on the button below and learn more about our SEO services.