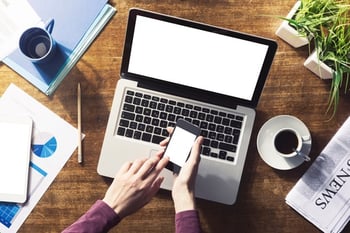 SEO and inbound marketing have a great deal in common. Knowing how to best leverage ever-evolving SEO practices will determine a great deal of your inbound marketing success.
Whether you are a business owner functioning as your own marketer, or a sales and marketing manager struggling to keep up with the evolution of SEO, you need to keep ahead of the trends.
But how do you know what's changing and how?
Six Ways SEO is Changing in 2016... and Beyond
Organic search, both globally and - more importantly -locally, is preeminent when it comes to SEO. But for those who haven't been staying abreast of Google's ever changing algorithms and protocols, it can be a bewildering task to know what works.
Some things never change. For example, keywords are still vital. But how they are used and where? Well, it's not 2010 anymore. Or 2014, for that matter! Content is still king, but what it looks like and how it's used has changed since the days of short, keyword-packed, superficial posts.
So... what are the most significant changes in SEO practices for the upcoming year?
This infographic illustrates them for us succinctly: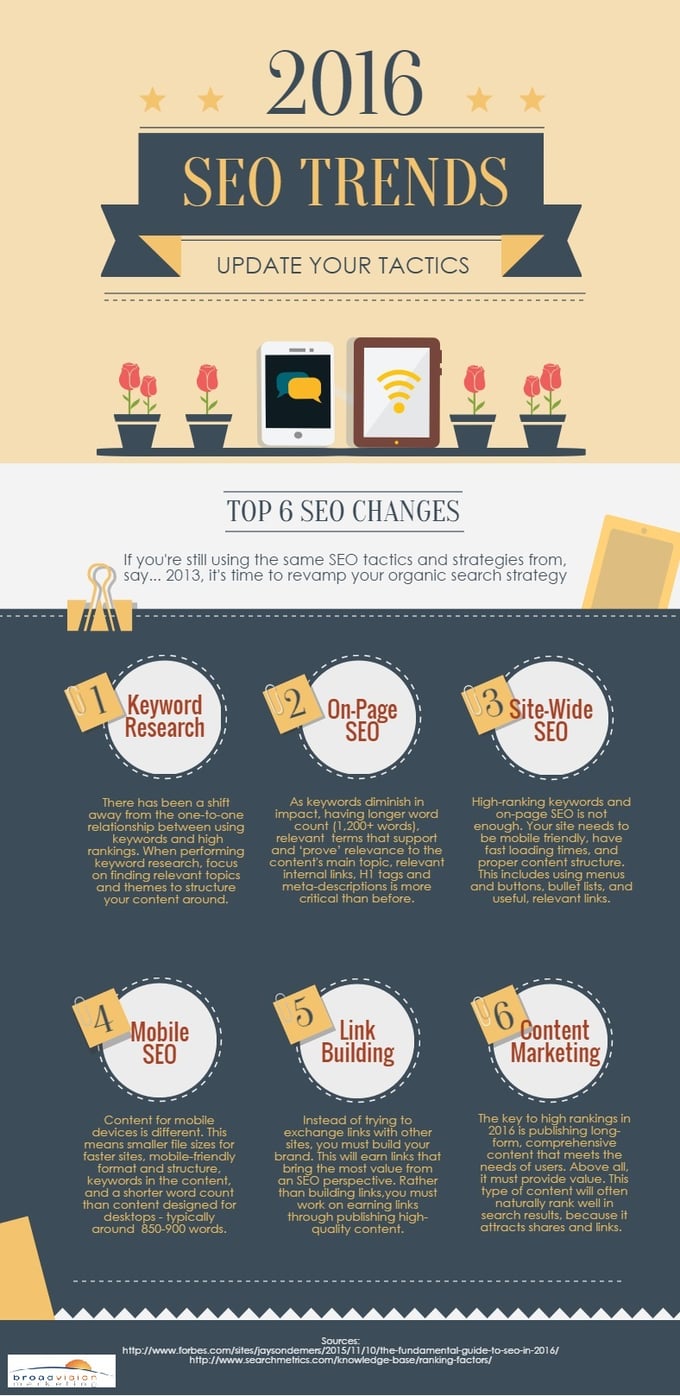 In the End, Content Marketing Rules
According to Jason Demer, writing in the Forbes online magazine:
"More than ever before, content is at the very heart of the practice of achieving high rankings in search. Neil Patel called content marketing "The New SEO" as far back as 2012...

With a proper distribution strategy for your content, your content is far more likely to gain traction; through social shares, links and through increased search rankings. Creating useful, thorough, well-optimized content is key, but so is having a plan in place for getting that content in front of a wider audience."
While ensuring that your keyword research provides terms that are relevant and helpful to your audience, you must make sure that your content is well structured and your site is accessible and mobile-friendly. In addition, you must target mobile users in addition to desktop audiences, and work to earn links and shares, But, ultimately, it is quality content marketing that matters most in the end for your SEO strategy.
Should You Manage Your Own SEO Strategy?
That's a great question and a valid one. Surely content creation and content marketing are tasks any capable business owner can manage. So, is it really necessary to outsource these functions to a third party, no matter how good that agency is?
Well, yes and no.
Yes, you probably can do your own content, or inbound marketing, but do you really have the time, resources, and knowledge to make it happen? The truth is that most companies don't. From both a resource allocation perspective and a cost-effectiveness perspective, it makes more sense to enlist the aid of a good outside team.
The Case for A Good, Local Inbound Marketing Agency
Fortunately, you don't have to attempt this on your own! Your options for implementing a successful inbound marketing strategy include turning to a professional firm that can work with you to maximize your efforts.
A qualified agency like BroadVision Marketing will develop a road map with an implementation time line, marketing milestones, and key deliverables. Using this road map we will create the framework and structure for us to work with you and help you to achieve your marketing goals.
Get your Free Complimentary Inbound Marketing Session to help you make an informed decision or call BroadVision Marketing at 707-799-1238.
---

Jaco Grobbelaar is the owner and CMO of BroadVision Marketing. BroadVision Marketing works with business owners to put in place inbound and outbound marketing strategies that consistently secure new clients. The BroadVision Marketing Training Center is located in Petaluma, CA and primarily serves companies in the San Francisco Bay area.
Jaco can be reached at jaco@broadvisionmarketing.com or 707.766.9778 or connect with Jaco on Facebook -www.facebook.com/broadvisionmarketing - and LinkedIn -www.linkedin.com/in/JacoGrobbelaar.