There are a number of elements required for a successful content marketing strategy. Some are more important than others, and some are needed for large enterprises, but not for small businesses. But what are the three fundamental elements that are non-negotiable?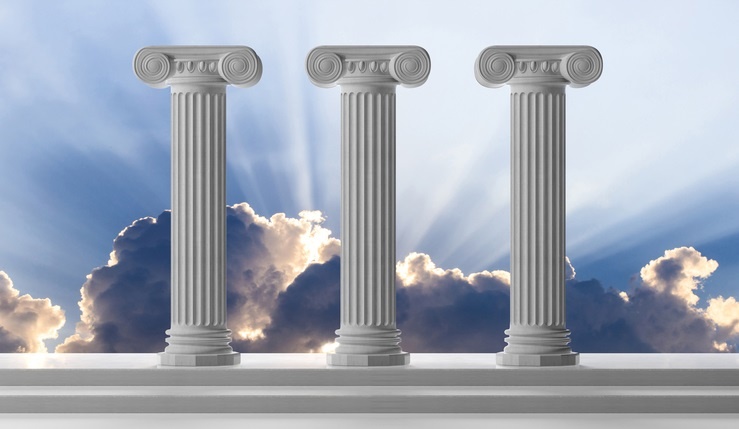 If you are reading this you already know (or hope!) that content marketing is a good strategy for your business. For the record, at BroadVision Marketing we are enthusiastically positive that content marketing can work for just about any business!
When done properly.
And therein lies the rub. What's needed to "do" content marketing properly anyway? In this article we are not going to give you a comprehensive crash course, but we will focus on the three pillars that support every good content marketing effort.
Have Strategy Plan, Will Market!
Last week we explained that any content marketing strategy needs a documented plan to ensure that it will be executed as designed. When it comes to plans and procedures, it has been rightfully said that,
"If it's not written down, it's just a rumor."
But, sometimes, even a documented strategy plan can be deficient if these three pillars have not already been recognized and established as essential elements of your overall strategy. So, with that caveat in mind, let's take a look at the three pillars that must support any content marketing strategy.
Pillar #1: Owned Digital Real Estate
For almost any business it is a given that they should have a website. Even if yours is a brick-and-mortar enterprise, a website is considered a standard component of a business. Without one, you risk being perceived as either out-of-date and out-of-touch, or less than trustworthy.
It may not fair or even accurate, but that is the perception you create without a website.
But, more importantly, your website represents your own space in the digital realm. Unlike social media channels or community blogging platforms, it is a piece of digital "real estate" that you own. You control the design, the content and the structure. It represents your "address" on the Internet and your digital place of business.
And, if you truly are an online business, then a website is practically a no-brainer. Never mind the folks who run e-commerce operations solely from sites like eBay or Etsy. It simply won't suffice for an effective and reliable content marketing strategy.
Pillar #2: Quality Content
Does this strike you as obvious? Well, to be fair, it should be. But the problem for far too many brands is the deficient content that they produce and publish. It's not so much that you need sterling writing and soaring prose. Nor do you want thinly veiled "sales copy" that is passed off as value content.
What is needed is fresh, quality content. And what, exactly, is that?
Google is, whether you like it or not, probably your second most important "reading" audience when it comes to your content. And what Google thinks is quality content matters. A lot. Admittedly, however, defining what "quality" content is can be like trying to scoop Jell-o ® out of a bowl with your hand. It's messy.
Writing quality is part of the equation as is relevance to the search query that found your content via a search engine (e.g. Google). But there are a number of other factors that Google never seems to put in one place and in a succinct fashion.
However, this excerpt from an article by Patrick Stox at SearchEngineJournal provides some great guidelines:
Some content quality signals you can control

Broken links.

Wrong information.

Grammatical mistakes. Y

Spelling mistakes.

Reading level.

Excessive ads.

Page load speed.

Matching the user intent with the purpose of a page and type of content expected.

Authority and comprehensiveness.

There are things outside of your control in the short term, but you can play the long game and continue to build your authority over time by consistently creating comprehensive content.
The bottom line is: your content matters. And it can help make or break your content marketing efforts.
Pillar #3: Distribution Channels
Having a "home base" that you own, and a process for creating quality content, will still fall short if you can't get that great content off your website and in front of as many eyes as possible. And this is where the third pillar comes in: content distribution.
Content distribution uses a multi-channel approach to make use of a variety of media to promote and distribute content. Distribution will increase the overall reach of your brand's content bring your audience into your online sales funnel.
Generally speaking, your content distribution options fall into three categories:
Owned Content Distribution: This refers to channels and formats that belong to you. For example, your blog, email newsletters you publish, and your social media platforms, etc.
Earned Content Distribution: Third-party channels and platforms that distribute your content on their own sites or publications works well. This can include guest posts, social media shares, and even media mentions or reviews.
Paid Content Distribution: This simply means you pay for your content to be distributed. This can be through content distribution services, or in the form of pay-per-click services such as Google Ads (formerly AdWords).
A good content strategy will make use of paid, owned, and earned media working as a unified approach as opposed to separate tactics.
Successful Content Marketing is a Team Sport
By now you probably know that executing a successful content marketing strategy can drive traffic to your website and create new prospects for your business. And, with the proper pillars in place, you can build an effective and efficient content marketing process.
But achieving your marketing objectives with a great content marketing strategy will take time. It doesn't happen with a few blog posts or some other great content you might produce.
The overriding fact of content marketing is that people will need to consume your content for a while before they contact you. Yet, without your content compelling them to contact you, your goals may never be met. Without consistent, high-quality pieces being published with optimum frequency, you may fall short of your goals.
The good news is that you don't have to do it all alone. In fact, one of the best investments you can make with your marketing budget is to partner with a solid firm like BroadVision marketing. Click this link to get your free Complimentary Inbound Marketing Session so you can make an informed decision, or call BroadVision Marketing at 707-799-1238.