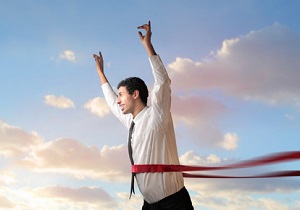 According to HubSpot, one of the premier inbound marketing and sales platforms in the world, "inbound marketing" began in 2006.
In essence, this approach to marketing focuses on creating and publishing quality content that pulls people to your company and product, where they naturally want to be. Having a great marketing company to work with can give you a huge competitive advantage.
By creating content that is aligned with and resonates with your ideal audience - your customers and prospects - you can attract what is called "inbound traffic." These are people who come to you because of what they have read, heard or seen from you and your business.
How To Win With An Inbound Marketing Company
While inbound marketing is certainly an approach that you can pursue wholly on your own, or with your own staff, aligning with a professional marketing company that knows inbound strategies is a sure win. One of the downsides of "doing it yourself" is the learning curve. Although it is not beyond the average marketer, there is a comprehensive body of knowledge and skills required to implement it well.
Partnering with a marketing company that specializes in inbound marketing not only accelerates your success path, but also relieves you of tackling all the more labor intensive tasks. These can include content activities such as developing, writing, and publishing blog posts, creating and implementing email campaigns, and crafting effective landing pages and strategies.
The Four Major Wins With an Inbound Partner
In addition to assuring you the best, custom approach to inbound marketing for your business, taking on an inbound marketing company will help you to achieve the four "wins" of attracting visitors, converting them to leads, closing sales, and delighting customers. The following graphic from HubSpot illustrates the "funnel" approach of successful inbound marketing: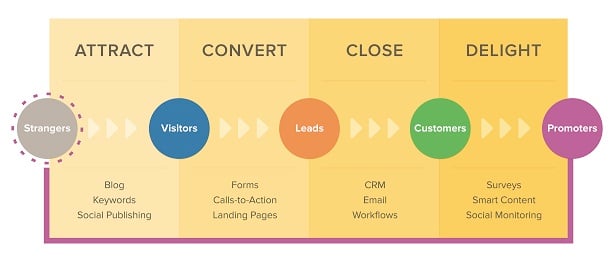 Inbound Marketing Is A Winning Strategy
While the tools and tactics of the inbound strategy has evolved, the last eight years have provided a wealth of statistics and analytics - as well as success stories - to solidify inbound as a winning strategy. Whether you opt for a minimal amount of engagement with your marketing company, or let them manage the entire strategy for you, inbound is a proven approach.
But keep in mind that not all marketing agencies are created equal. And some may make promises that seem too good to be true - and they probably are! There is no "silver bullet" when it comes to marketing strategies and inbound marketing requires diligent effort, a combination of tools and tactics, and time. The advantage of a professional and experienced inbound firm is that this is what they do, they have the tools, and they can help accelerate the results for you.
Finding the Right Partner
Achieving these objectives with your marketing strategy takes effort. They won't happen with a few blog posts or great ebook. People may need to consume your content for a while before they contact you. But without great content compelling them to visit you, your goals may never be met.
Content and inbound marketing work day in and day out. Once you post a blog article or upload a Slideshare piece, it is always there, working to educate and compel people to become leads. And when they do come to you, they are educated, informed, and much more likely to make the decision to buy.
If you are considering a marketing company partner, you can get your Free Complimentary Inbound Marketing Session to help you make an informed decision, or call BroadVision Marketing at 707-799-1238.
---
Jaco Grobbelaar is the owner and CMO of BroadVision Marketing. BroadVision Marketing works with business owners to put in place inbound and outbound marketing strategies that consistently secure new clients. The BroadVision Marketing Training Center is located in Petaluma, CA and primarily serves companies in the San Francisco Bay area.
Jaco can be reached at jaco@broadvisionmarketing.com or 707.766.9778 or connect with Jaco on Facebook -www.facebook.com/broadvisionmarketing - and LinkedIn -www.linkedin.com/in/JacoGrobbelaar.