Content marketing is not a magic bullet for solving your lead generation woes. But it might be the next best thing! Here are some key statistics to support that claim.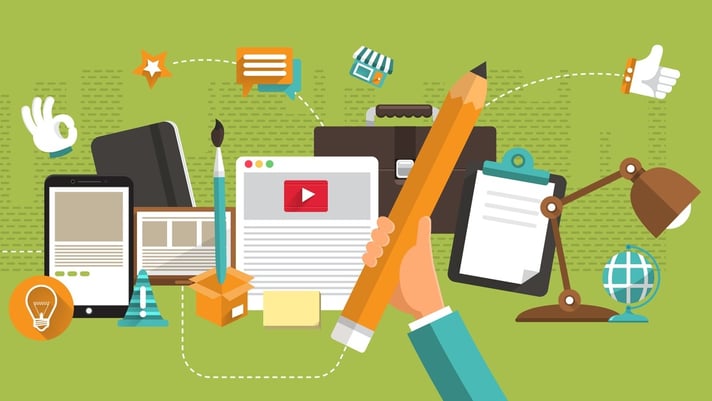 Traditional marketing tactics, including pay-per-click advertising, and other outbound methods, continue to be used by many, if not most businesses day in and day out. While these tactics can work - and often do - they prove to be costly. On the other hand, content marketing tactics has been shown to be far more cost-effective.
In fact, even though paid search, for example, has been as a cost-effective form of advertising, a recent study by Kapost and Eloqua has shown that this is not really the case.
When paid search was compared to content marketing, content marketing was shown to have lower up-front costs and deeper long-term benefits. Unlike paid search that needs a continual cash flow to keep getting results, content marketing continues to gain traction long after the content has been published and distributed. And without spending more money to make it happen.
Another dynamic that is draining the life out of traditional, or outbound, marketing is advertising overload. Our society is awash in advertising and paid promotions everywhere and in every place, 24/7. One statistic claims that an average American was exposed to about 2,000 ads every day in 1984. Fast forward about 30 years and the same person is seeing over 5,000 ads a day. That's over 300 ads for every waking hour!
Understandably, many business owners and marketers are still vague as to what exactly content marketing is. We define it this way,
"Content marketing is the process of continuously creating and sharing content to increase awareness of your brand and message, and truly engage your website visitors."
That's the essence of content marketing. Others have offered a more expanded description, such as this definition from CMI:
"Content marketing is a strategic marketing approach focused on creating and distributing valuable, relevant, and consistent content to attract and retain a clearly defined audience – and, ultimately, to drive profitable customer action."
The real question, however, is "Does it work?"
7 Statistics That Make the Case for Content Marketing
While individual case studies are engaging, inspiring and persuasive, numbers have a way of painting a bigger picture. These numbers paint a picture of a cost-effective, long-term and proven approach to increased lead generation and, ultimately, to sales.
Lead Generation
According to an infographic from Demand Metric, content marketing can generate over three times as many leads as traditional, outbound marketing efforts, but costs 62 percent less for those results. They also noted that 60 percent of consumers will look for a product after reading content about it, and 70 percent would rather learn about a product through content and through advertisements.
Conversion Rates
Attracting interest, gaining readers and even generating leads is wonderful. And content marketing excels at this. But can it be used effectively to convert those leads into customers or clients? According to CMI, it does. In fact, it has six times the power of traditional marketing for converting leads into customers. It can take a bit longer and require more effort over time, but the ROI can't be beat.
Improved SEO
Filling your brand's website with quality blog content can provide you with 434% more search engine-indexed pages than competing sites that don't publish content. In fact, Google rewards clean website experiences with clearly defined internal links for content that tell Google exactly what each piece of content is about. The key is quality, relevance and volume. (Oh... and a great content strategy!)
Trust Building
If you know anything about quality marketing you know that people do business with those they "know, like and trust." Building trust online is a huge challenge, but content marketing has shown itself to be one of the most effective means to accomplish this. In fact, 61 percent of online consumers in the U.S. make a purchase after reading recommendations in a blog.
Lead Growth
Generating leads is one thing; continuing to generate leads over time while building a dedicate audience is something altogether different. And blogging - as part of content marketing - does this exceedingly well. In fact, small businesses with blogs have 126 percent more lead growth than those who do not blog. Do people really read blogs? Yes. In fact, 77 percent of Internet users read blogs.
On a related note, it should be noted that simply having a business blog on you website does not draw traffic. You must publish blog posts regularly. How often? It's been shown that businesses who publish a minimum of 16 posts each month see almost three and a half times more traffic than businesses who are publishing for or less article monthly.
Marketing ROI
Every boss wants to know what they're getting for their money. And every good marketer wants to keep the "cost per lead" down and the "return on investment" up. So how does content marketing compare? Email, as a form of content marketing, provides a whopping $38 in ROI for every $1 spent. And brands using content marketing save over $14 dollars for every new customer acquired.
Video Content
Let's not forget the power of video when it comes to content marketing. People like to watch and the statistics more than support that notion. Here's a few: Four times as many customers would rather watch a video about a product than read about it, and almost 50% of internet users look for videos related to a product or service before visiting a store.
Improving Your Content Marketing Strategy
The case has been made many times, by many brands, that content marketing works. Achieving the same results with your own content marketing strategy takes time, however. It doesn't happen with just a few blog posts, an occasional email campaign, or even a great eBook or video. Your audience needs to see and consume your content for a while before they contact you.
But without your content compelling them to contact you, your goals may never be met.
The good news is that content works for you day in and day out. Once you post a blog article or upload a SlideShare piece, it is always there, working to educate and compel people to become leads. And when they do come to you, they are educated, informed, and much more likely to make the decision to buy.
And you don't have to go it alone. In fact, over 60 percent of businesses routinely outsource some or all of their own content marketing efforts. Let BroadVision Marketing be your partner in taking your content marketing to a new level.
Get your Free Complimentary Inbound Marketing Session to help you make an informed decision or call BroadVision Marketing at 707-799-1238. And take a moment to download this informative resource entitled "10 Powerful Inbound Marketing Charts" to support your own marketing efforts!