Content marketing is the staple tactic of inbound marketing. But the question still arises, "Does it work?" The numbers say, "Yes, and in a big way!"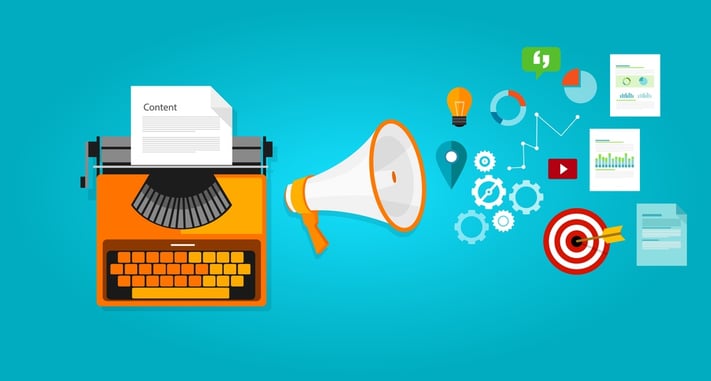 There are some conflicting definitions of both content marketing and inbound marketing out there. We see content creation and publishing as an integral component of the larger strategy of inbound marketing. And the overall trend across the board for businesses is an marked increase in the use of content marketing.
In fact, 2017 is set to become the biggest year of content marketing as a major strategy.
Whether it is a blog post, a white paper, or an email campaign - content serves to attract, engage, and move your audience. And your audience should be the right people for your service or product. In other words, quality leads or prospects.
Does Content Marketing Really Work?
Here is a rundown of some of the more telling statistics around content marketing and it's role in driving inbound marketing success.
Brands relying on inbound marketing save over $14 dollars for every new customer acquired. [www.stateofinbound.com]
Leaders in using content marketing strategy see 700% more site traffic than non-leaders [www.kapost.com]
Two thirds of B2B marketers say content is useful across all channels, including events, social, demand generation, etc. according to Kapost's Content Ideas research
According to the 2015 IBM Digital Experience Survey, 56% of marketers believe that personalized content promotes higher engagement rates.
Inbound marketing delivers 54% more leads into the marketing funnel than traditional outbound marketing. [www.stateofinbound.com ]
Although content marketing costs at over 60% less than outbound marketing, it generates more than three times as many leads as outbound tactics.
Adopting an inbound strategy doubles average website conversion rates, from 6% to 12% [www.stateofinbound.com ]
For every $1 spent, email gives back a whopping $38 in ROI, and offers the broadest reach [www.campaignmonitor.com]
You are six times more likely to get someone to click-through to your website via email than you are from Twitter.
And, lastly, 4.24% of visitors from email marketing buy something as compared to 2.49% of visitors from search engines and just 0.59% from social media, according to Monetate.
Is Content Marketing For Any Business?
The short answer is, "Yes." Because the nature of content is that it can take so many forms and be published and distributed in so many different channels, any enterprise can successfully leverage the power of content marketing.
The real question for most businesses isn't whether they should pursue inbound marketing through content, but how? While it is an effective and relatively low-cost alternative to traditional advertising, it is also somewhat labor intensive. Face it: someone has to create the content. Not to mention manage it, track it, re-purpose it, and so on.
So here is one more important statistic: according to one resource, 73% of major organizations indicated that they hire someone to manage their content marketing strategy. Whether that is bringing someone in-house, or outsourcing to an inbound marketing agency, getting expert help makes the process infinitely better.
And easier!
How Can I Start My Inbound Marketing Strategy
Using content with an inbound marketing strategy can do wonders for your business. With inbound marketing, getting your message out there is easier than ever before. But achieving your marketing objectives with a content marketing strategy takes time. It won't happen with a few blog posts or great email series.
People will need to consume your content for a while before they contact you. Yet, without your content compelling them to contact you, your goals may never be met.
The good news is that you don't have to figure out alone. In fact, one of the best investments you can make with your marketing budget is to partner with a solid firm like BroadVision marketing.
Click on the button below to get your free Complimentary Inbound Marketing Session so you can make an informed decision, or call BroadVision Marketing at 707-799-1238.