Your written content does not have to be Pulitzer Prize quality stuff. But what you say and how you say it on your website and blog is critical.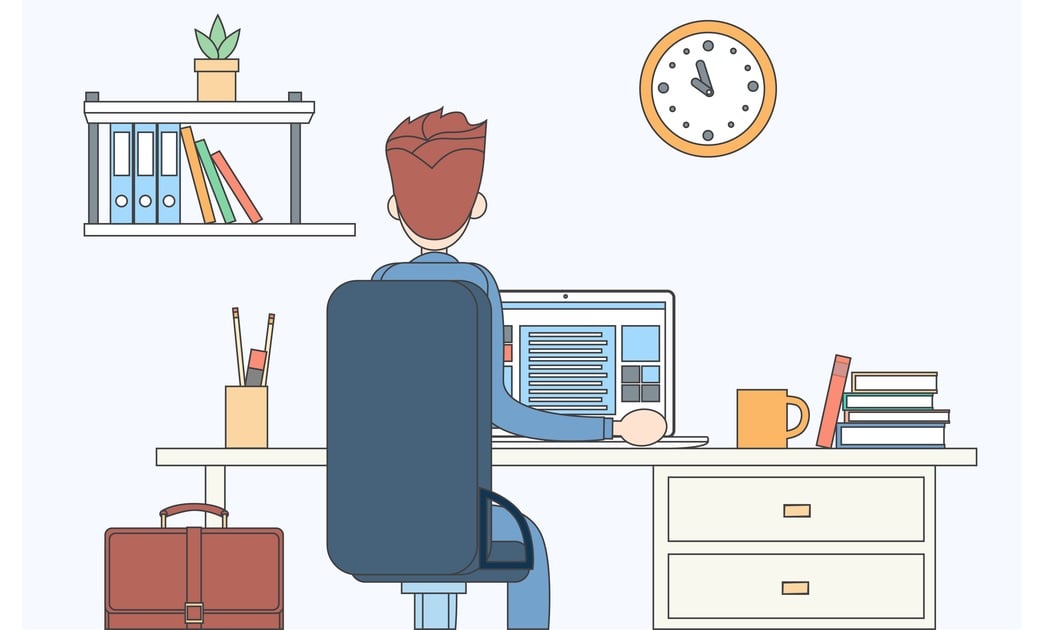 Most people do not like to write. And, for many it is even difficult. For example, some studies have shown that many business owners struggle with just reading, not to mention writing. In fact, according to a study by Julie Logan, Professor of Entrepreneurship at London's Cass Business School, a whopping 35 percent of U.S. entrepreneurs suffer from dyslexia, compared to 20 percent in the UK.
But, even for those 65 percent who have no such impediments to writing, it's a task they often don't relish. Yet, the heart of content marketing is, well, content! And a vast majority of that is written content.
Can Words Drive Website Traffic?
The short answer is: "Yes!"
While there is definitely a role for video, podcasts, webinars, infographic and other visual or audio-centric content, they all have something in common with blog posts: they use words. Remember that search engines such as Google "sees" your website, it is looking at words.
Here's a snippet of what happens when a search engine sees your website according to Google,
"When crawlers find a webpage, our systems render the content of the page, just as a browser does. We take note of key signals — from keywords to website freshness — and we keep track of it all in the Search index.

The Google Search index contains hundreds of billions of webpages and is well over 100,000,000 gigabytes in size. It's like the index in the back of a book — with an entry for every word seen on every web page we index. When we index a web page, we add it to the entries for all of the words it contains."
This means that your choice of words - from keywords to relevant topic terms - makes a difference. And this is just from the perspective of a machine, or an algorithm. The value of your written content to your (human) audience is of paramount importance.
Content is not promotion. It's certainly not advertising copy. And it really shouldn't be all about you, your company, or your products or services. It should, instead, be primarily about what your audience wants to know, wants to learn, or needs to find out.
Your written content can and should be "on target" with what your audience is searching for. And, when it is, you will find that it will help to drive qualified traffic to your site. And that's where the fun is!
What Makes for Great Written Content
As we pointed out previously, the level of writing quality needed for great content does not need be scholarly nor "high-end" stuff. In fact, your writing should be more conversational, informal and accessible. Many experts advise that you write like you talk - to a point.
This means that you need not be overly concerned with "proper" style or even many standard grammatical structures. Short sentences. Simple words. Bullet points and brief paragraphs. This is because reading content online is much different for people than reading print in a book. And, unlike a book, you want to do all that you can to ensure that your content doesn't scare off potential readers.
So avoiding dense and lengthy blocks of text is a fundamental practice.
What about keywords? Yeah, you've probably heard about the need for keywords and search engine optimization, or SEO. Let's just say that, for most content, keywords still matter but not like they used to.
What do we mean by that? Just that the days of stuffing a blog post full of keywords and then trying to write some superficial content around them are long gone. And thankfully so! Today we must focus on relevance in our content. In other words, Google is looking far beyond the topic keyword and has the intelligence to determine if your content is a good "fit" for the search query of your potential reader.
Relevance of your content and your audience's intent with their search query are of critical importance. With that in mind, then you can think about your keyword(s).
Here's what Search Engine Journal offers on that topic:
A few things to keep in mind when choosing your keywords and topic:

Focus on Long-Tail Keywords
Avoid Highly Competitive Keywords With Massive Search Numbers
Use a Proven Keyword Research Tool
Match Your Topic to Your Keyword
But remember that a solid keyword in your blog title is just a small part of what is needed to drive traffic with your content. Google has more lofty standards that is holding your blog post or webpage up against. The key is in the query. What people say they're searching for (often literally spoken now - think: voice search) and what Google believes they want but didn't quite ask for.
Another post at Search Engine Journal notes that,
"As simple as it sounds, one of the most important ranking factors for content on the web is relevancy to the query. No matter how good the content is, if it doesn't answer the search query, it's not the right result. These aren't signals triggered by keyword usage, exact-match phrase inclusion, or any other "gamey" search-marketing tactics. This is just good content being delivered for the right search queries. The only way to achieve that is to create good, wholesome content."
And this requires knowing and understanding your audience.
A Snippet About Google's Featured Snippets
For organic - that is "non-paid" - search results (as opposed to paid ads) the goal is to have links to your content show up as close to position number one on the first page as possible. It is the quest of every content marketer and the underlying goal of every good piece of content. Aside from providing solid content to answer your reader's question.
But a really cool "bonus" feature of Google search is that stand-alone box that sometimes appears at the top of the search results. This is known as a featured snippet. The really cool thing about a snippet is it's impact on search results, or clicks.
According to studies done with thousands of random searches resulting in featured snippets, these "top of the page" boxes garner almost 10 percent of the total clicks on the first page. And that is huge considering anyone with the right content can be placed as a snippet.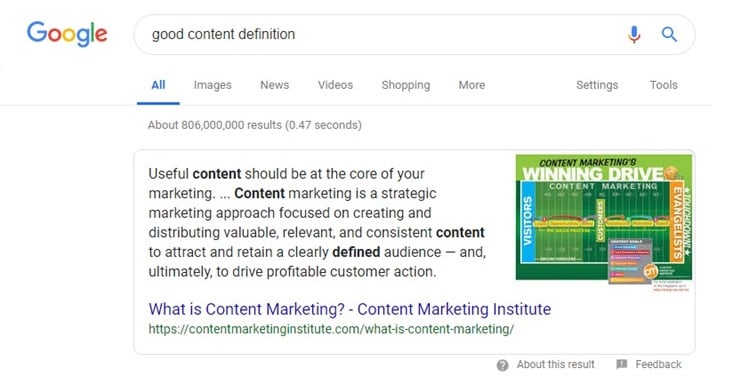 How do you get a featured snippet? Well, contrary to what some people might think, there's no guaranteed method of getting your page into a featured snippet. It's an independent function of the Google search algorithm.
Google describes the process this way:
"When we recognize that a query asks a question, we programmatically detect pages that answer the user's question and display a top result as a featured snippet in the search results."
However, there are tactics you can employ in your content structure to vastly increase the chances of one of your content pieces showing up as a featured snippet.
Here's some tips from the Content Marketing Institute (CMI):
"Create content specifically to answer questions. Provide in-depth answers.

Featured snippets are informational in nature. In the words of Neil Patel, "If your content doesn't answer questions, it won't get into the featured snippet. That's all there is to it."

Know the questions your readers are asking.

According to a 2015 article by Eric Enge at Stone Temple Consulting, 19% of searches using a question result in a featured snippet on the first SERP.

Create truly high-quality content.

The primary thing you need to understand about featured snippets is that they do not bypass Google's complex ranking system.

Work to provide the best answer.

You're not going to land a featured spot unless you're the best at responding to a given question.

Use question-and-answer pages.

Q-and-A pages on your site can be a great way to provide value to users, consolidate questions, and increase your chances of making it into a featured snippet."
While there is no guarantee that your great content is going to show up as a featured snippet, following these guidelines will still help you create the solid, relevant and quality written content your audience is searching for.
Your Partners for Great Content

Marketing

Written content is a fundamental and vital component of your content marketing. And high-quality, relevant written content is one of the main keys to attracting and winning prospects and customers.

Content can take on many other forms in addition to blog posts, such as eBooks, white papers, email, slide decks, infographics, webinars, not to mention the pages on your website.

However, the challenge for most business owners is in creating this never-ending need for fresh content. Then there is the additional challenge of determining how best to distribute and use that content to carry out an effective marketing strategy.

Fortunately, you don't have to attempt this on your own! Your options for implementing a successful and affordable content marketing strategy also include finding a professional firm that can work with you to maximize your efforts.

A qualified agency like BroadVision Marketing will develop a road map with an implementation time line, marketing milestones, and key deliverables. Using this road map we will create the framework and structure for us to work with you and help you to achieve your marketing goals.

Get your Free Complimentary Inbound Marketing Session to help you make an informed decision or call BroadVision Marketing at 707-799-1238.