We've said it before and it is more true than ever: visual content is a powerful means for engaging visitors and generating website traffic and shares.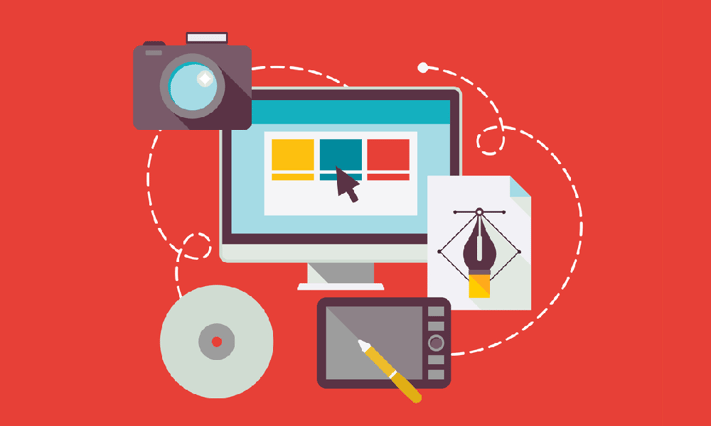 However, most of us are not designers and, many of us, struggle with anything creative. But even if your organization can hire creative staff or pay for freelance graphic design, it is a time-consuming process.
What if there were a way that the "average Joe" - or "Jane" - could quickly and easily put together an eye-popping and engaging piece of graphic visual content? And what if there were tools that made that possible online? And... what if these tools had both a free and paid version to make them all the more accessible?
Making Graphic Design a Bit More of a Democratic Process
Let us just say here that no tool is going to make a world-class artist or graphic designer out of anyone or everyone. The sobering truth is that tools can help and boost anyone's native abilities, but they will never take the place of talented, skilled and highly trained professionals.
But they can do a lot for the rest of us!
In the last few years a number of quality graphic design tool websites have come to the fore that have provided the tools, guidance and inspiration to make a decent, if not fantastic, graphic artist out of anyone. Like any online tool or program, there is a learning curve and - for those lacking an inherent sense of good design - there are plenty of good templates to work with.
Here's an overview of some of the best currently available:
Piktochart
Piktochart describes itself as "...an easy infographic design app that requires very little effort to produce beautiful, high quality graphics."
With a free basic version, and currently two tiers of paid subscription levels, the quality of Piktochart images is superb and the potential with a paid subscription is vast. In addition to the professional level subscription offerings, Piktochart offers versions for Education and Non-Profits, as well.
Although the download options on the free version are somewhat limited, you can choose from several image formats (JPG, PNG, PDF) in a range of different resolutions. However, the app attaches a branded watermark at the footer of your infographic with the free version and their "Lite" paid version.
Canva
The options available with Canva are mind-blowing. Canva claims to make "design simple for everyone." You can use their app to create designs for Web or print. including blog graphics, presentations, Facebook covers, fliers, posters, invitations and so on.
Similar to Piktochart, they offer a free version and two paid subscription levels that they title Canva for Work and Canva Enterprise. Unlike Piktochart, the free version actually offers far more options and variety of templates. For general marketing, social media use, and straight-up infographics, Canva has you covered.
The download options for your finished product are superb and there is no visible watermark, unlike Piktochart.
Venngage
Another old hand in the infographic maker game, Venngage specializes in, well, infographics! Their strength is in providing a simple to learn, easy to use program that specifically labels the perceived level of difficulty of templates.
Unlike the previous two sites listed, Venngage does have less options and less elements to work with in both their free version and even the lower end of their two paid versions. Another downside is that, with the free version, there is no download available so you cannot actually own your finished creation.
Visme
A somewhat newer entry in the field, Visme offers a range three paid versions as well as a free, Basic plan. Again, somewhat like Venngage, the options and flexibility available with their free version leaves much to be desired. However, the lowest tier paid plan is currently only $10 per month and offers quite a bit more in the way of features.
Visme touts itself as a resource for creating a wide variety of graphic content including presentations, infographics, reports, web content, product presentations and wireframes. And like all the other sites noted here, they offer a special plan for both educators and nonprofits.
Easel.ly
This class act can lay claim to being the easiest infographic maker out there. According to Easel.ly's About Us page,
Easel.ly is ideal for educators, students, business owners, and executives who need to convey a thought, lesson plan, or concept in an easy-to-follow visual form... The AASL (American Association of School LIbrarians) commended Easel.ly for being simple enough that even a child in the 6th grade could successfully navigate the site and design their infographic without adult assistance.
Easel.ly offers a free account, as well as a Pro version and an Enterprise version. The free account is somewhat limited in options, but the Pro version is very affordable at only $3 a month currently.
Get Graphic With Your Content
Any business can leverage the power of visual content and all signs indicate its use is growing faster than ever. With the advent of online tools, multiple apps and photo imaging programs, and the ease of uploading and sharing visual content , it is a form of content that is increasingly accessible for anyone.
You may be using a variety of visual content in your content marketing efforts already. And you may be wondering if it is an effective tactic given the work needed to produce them? The statistics consistently show that it is a powerful method for increasing engagement.
In fact, some statistics indicate that adding visual elements and graphics can increase audience views up to 94% - or more. In addition, almost 40% of online users will provide better and more favorable responses to a particular visual content than a simple text-based version.
Getting Help With Your (Visual) Content Marketing
Content marketing can be thought of as the foundation of an effective inbound marketing strategy. And high-quality, relevant, and consistent content is one of the main keys to attracting and winning prospects and customers.
This content can take on many forms such as blog posts, eBooks, white papers, video, email, slide decks, infographics, webinars, and even the pages on your website.
However, the challenge for most business owners is in creating this never-ending need for fresh content. Then there is the additional challenge of determining how best to distribute and use that content creation to carry out real marketing strategy.
Fortunately, you don't have to attempt this on your own! Your options for implementing a successful and affordable content marketing strategy also include finding a professional firm that can work with you to maximize your efforts.
A qualified agency like BroadVision Marketing will develop a road map with an implementation time line, marketing milestones, and key deliverables. Using this road map we will create the framework and structure for us to work with you and help you to achieve your marketing goals.
Get your Free Complimentary Inbound Marketing Session to help you make an informed decision or call BroadVision Marketing at 707-799-1238.