You should never attempt anything of consequence without a plan, and this is true for Inbound Marketing. But what makes for a good plan?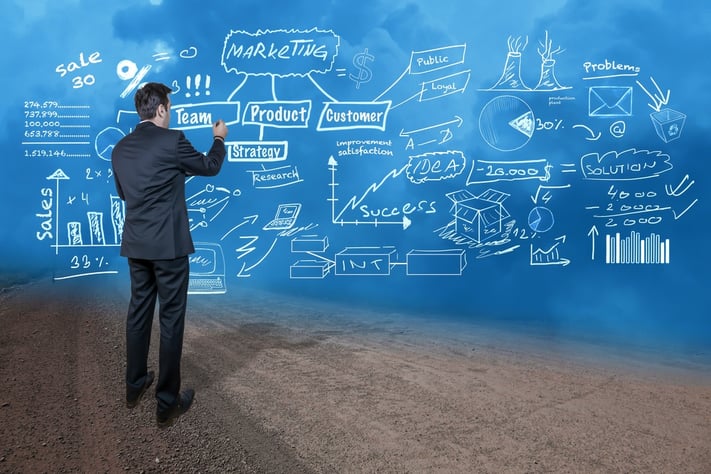 A solid marketing plan for Inbound Marketing will give you one of the most powerful and most cost-effective approaches to marketing.
Compared to traditional marketing methods, inbound consistently outperforms and typically costs far less.
A few stats from Hubspot illustrate this fact:
57% of businesses have acquired a customer through their company blog.

42% of businesses have acquired a customer through Twitter.

57% of companies have acquired a customer through LinkedIn.

48% of companies have acquired a customer through Facebook.

Inbound marketing costs 62% less per lead than traditional outbound marketing.
Having said that, it is important to keep in mind that inbound marketing, while having a number of consistent components and tactics, is not a "cookie-cutter" approach to marketing either. Each strategy and subsequent plan is unique to each user.
What You Can Do With Inbound Marketing
A comprehensive list of how inbound marketing can benefit your business would take a much longer post than this. But if we were to narrow them down to, say, the top five they would be these:

1. Influence Your Target Market Audience
Blogging, for example, will help you nurture existing relationships with prospects and customers. In addition, consistent posts with actionable value will provide thought leadership to your audience, and position you or your company as an expert in your field, or industry.
2. Decrease Your Marketing Costs

Inbound marketing can be far cheaper and more effective in comparison to outbound marketing. So what is the actual cost of inbound? Lead to lead, inbound marketing costs 62% less than traditional outbound marketing (HubSpot).
Content publishing platforms such as blogs and social media channels are, for the most part, free or at least very inexpensive. When inbound marketing is done strategically and well, the money invested can give the highest return on with greater lead conversions and lower costs.
3. Provide Real Marketing ROI
Part of the age old problem with traditional marketing methods is the lack of quantifiable ROI metrics. Broadcast media and print ads have impact, but it is notoriously difficult to track. Inbound marketing, however, uses real-time data that provide insights as to what what is working and what needs to be tweaked.
For example, data tracking visitors to your company website and their activities there allows you to see the precise impact of your inbound marketing strategy.
4. Maintain Traction In Your Market
It's never enough to reach out to your market randomly or sporadically. By consistently and regularly creating and sharing content through inbound marketing, you will attract and keep an audience that cares about what you do and the problems you solve.
You will earn their trust, loyalty, and respect with content and thought leadership, while providing them with value.
5. Get A Decisive Edge Over Your Competition
Inbound marketing helps you stay ahead of your competition who are probably trying to reach your same audience. While the others invest in trade shows, paid advertising, and publicity, these efforts are, at best, one-off tactics that do not maintain impact.
With inbound marketing, however, your content creation and promotion creates assets that you own and can use over and again to deliver value over time.
Your Company Is Unique. Your Marketing Should Be, Too.
Your business is like no other. Really. Your goals, your challenges, your offerings - they are all unique to you and your business. Even if you think you are simply a commodity. And because your business is unique, your marketing plan shouldn't be generic either.
We can offer a sample marketing plan, but the goal is to adapt it, modify it, make it your own. What might work well for your competitor across town may not be exactly the plan that will be most effective for you. Your marketing strategy should be crafted with your vision, your objectives, and your customers in mind.
Now that we've established that not all businesses are the same, nor are all effective marketing plans, let's look at a generic approach to inbound marketing.
A
Sample Inbound Marketing Plan Checklist
A typical inbound marketing plan will consist of the following steps:

Share this Image On Your Site
Finding a Partner For Your Inbound Marketing Plan
The approach of inbound marketing holds great promise for your business. But achieving your marketing objectives with a content marketing strategy takes time.
It won't happen with a few blog posts or some other great content. People will need to consume your content for a while before they contact you. Yet, without your content compelling them to contact you, your goals may never be met.
The good news is that you don't have to figure out alone. In fact, one of the best investments you can make with your marketing budget is to partner with a solid firm like BroadVision Marketing. Click on the button below to get your free Complimentary Inbound Marketing Session so you can make an informed decision, or call BroadVision Marketing at 707-799-1238.
---

Jaco Grobbelaar is the owner and CMO of BroadVision Marketing. BroadVision Marketing works with business owners to put in place inbound and outbound marketing strategies that consistently secure new clients. The BroadVision Marketing Training Center is located in Petaluma, CA and primarily serves companies in the San Francisco Bay area.
Jaco can be reached at jaco@broadvisionmarketing.com or 707.766.9778 or connect with Jaco on Facebook -www.facebook.com/broadvisionmarketing - and LinkedIn -www.linkedin.com/in/JacoGrobbelaar.