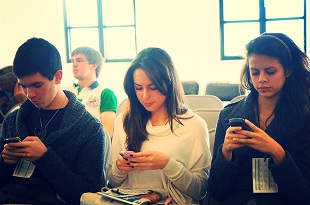 If you are responsible for the marketing efforts of your company then you already know that the game keeps changing. Inbound marketing practices keep evolving and it takes keen insight to navigate the future. If only we could see that future!
Seeing the Future of Inbound Marketing
Imagine knowing which online channels your prospective customers would be using a year from now. What if you could easily know what types of content they would be reading, watching, or listening to. Why, with those revelations, you could spend much less time failing to connect with your target audience and more time engaging that audience.
If you could know ahead of time which emerging technologies will have the biggest impact on your bottom line. you'd know which tools you should be investing your time and energy in. But you can't really know. However, we can look to some informed predictions, made by the experts, as to what the marketing future holds in store.
Five Trends That Promise to Change the Face of Inbound Marketing
What we have learned is that, among other things, marketing is becoming increasingly data-driven, personalized, integrated, native and mobile. All of these factors can be successfully leveraged by marketers of even the smallest businesses with small budgets. That's part of the beauty of inbound marketing.
But there are five specifc trends that promise to change much of what most marketers have been doing up until now:

Where to Go for Inbound Marketing Help
Using content and inbound marketing can do wonders for your business. But achieving your marketing objectives with a content marketing strategy takes time. It won't happen with a few blog posts or some other great content. People will need to consume your content for a while before they contact you. Yet, without your content compelling them to contact you, your goals may never be met.
The good news is that you don't have to figure out alone. In fact, one of the best investments you can make with your marketing budget is to partner with a solid firm like BroadVision Marketing. Click on the button below to get your free Marketing Action Plan (MAP) guide so you can make an informed decision, or call BroadVision Marketing at 707-799-1238.
---

Jaco Grobbelaar is the owner and CMO of BroadVision Marketing. BroadVision Marketing works with business owners to put in place inbound and outbound marketing strategies that consistently secure new clients. The BroadVision Marketing Training Center is located in Petaluma, CA and primarily serves companies in the San Francisco Bay area.
Jaco can be reached at jaco@broadvisionmarketing.com or 707.766.9778 or connect with Jaco on Facebook -www.facebook.com/broadvisionmarketing - and LinkedIn -www.linkedin.com/in/JacoGrobbelaar.