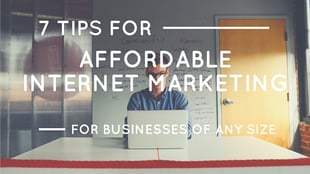 Content marketing is one of the most important components of online marketing. Fortunately, it also lends itself to tactics that allow business owners to engage in affordable Internet marketing strategies.
Tools and techniques are always changing and evolving, however. To successfully leverage affordable Internet marketing efforts, businesses need to be flexible and committed.
You Can Have an Affordable Internet Marketing Approach
Content, or inbound, marketing is more effective than ever and large companies are experiencing great results from their "high dollar" efforts. But, the good news is that regardless of the size of your business,or your limited resources, Internet marketing can work for you.
Content marketing is scalable and can be developed to work with every budget. Content marketing, or inbound marketing as we call it, is an increasingly viable marketing strategy. Consider these statistics gathered by Kapost.com.
82 percent of B2C marketers and 95 percent of B2B enterprise marketers use content marketing.
78 percent of CMOs believe custom content is the future of the marketing industry.
Only 12 percent of companies ignore content in their marketing efforts.
Despite the fact that content is proven to be valuable, only 32 percent of marketers believe they're executing an effective strategy.
While the last statistic is disturbing from a marketer's perspective, it also means that two-thirds of businesses out there are probably not maximizing their content marketing potential. This means that you can establish a competitive marketing edge over the majority of your own competitors!
7 Tips for Affordable Internet Marketing
There are a number of tactics and tools that can be implemented when developing an Internet marketing strategy. Here are seven of them:
1. Use great visual content. We work and live in a visual world. For the purposes of content marketing, this is a key advantage. Internet-based technology is evolving all the time and provides businesses new ways to tell stories through the use of videos, infographics, and captivating imagery. Since it has been shown that over 90 percent of content that is combined with visuals gets more total views than text alone, it is a "no brainer" that companies should include visual elements in every single post, article, and tweet they create.
2. Incorporate Email Marketing. Email marketing is not dead. In fact, it has one of the lowest costs per lead and should be included in your Internet marketing strategy. An email can be a great way to encourage engagement and strengthen your brand, not simply promote it. You should always provide something of value to your recipients that is tied in with your other efforts.Here are a few things you can do to increase the effectiveness of your emails:
Make sure your emails are easy to read, understand, and are mobile friendly

Use a promotion or call-to-action to encourage readers to act
Track and measure your results so you can learn how to improve your message
3. Leverage Social Media. The top social media platforms being used by most marketers today Facebook, Twitter, and LinkedIn. Just after that you will see many businesses using Instagram, Pinterest, and maybe Google+ but marketers are still most likely to invest their time and money into the top three social media channels. Why is this? Because of the sheer size and breadth of their audiences. As a business, you should use social media to promote one-on-one customer engagement and to distribute content that resonates with your target market on each networking platform.

With most social media sites you can optimize the use of targeted features. This allows you to be very targeted with customer profiling, so your content can reach users who have a better chance of converting into customers. And because many in your audience use social media on their smartphones, you need to enusre that your content is always mobile friendly.

4. Curate Content. You don't have to have an army of content creators on your limited payroll. The Internet is filled with great thought leadership content. Done correctly, curating existing content is an effective way to position your business as a reputable source of valuable content. Many businesses make legitimate use of content created by others in their field to share with their own audiences. You can this do this by learning to curate relevant content from across the web to provide your customers and prospects with information they want and need.

5. Repurpose Content. Without that army of content creators you can't afford, it's difficult to produce volumes of material every day. But the content you do create can be re-used on different channels and in different formats. This is known as repurposing content, which is just a fancy way of saying "using the same stuff in a different way." You can find ways to repurpose content and extend the value and life of the content. For example, you can pull key sentences from a blog post, or article, and use them as Twitter posts throughout the week. Or use one large idea as a launching point for an entire blog series and then turn the blog posts into an ebook or webinar.

6. Tailor Your Content. In case you hadn't noticed, the world of marketing is a crowded and noisy place! As the internet becomes increasingly filled with content, promotional and informational, smaller companies and brands have to focus on target a niche markets, or a highly-specialized segments of their larger markets. Tailoring your content and channels to these "micro-segments", as they also called, can increase the effectiveness of your efforts.

7. Maximize SEO. Your customers are using more mobile devices and many of them are local. Because of these trends, it is more important than ever to increase your "findability" with your local target audience through targeted Search Engine Optimization, or SEO. Do your customers really go to the web? A survey showed that 85 percent of consumers use the Internet to find local businesses.

And most people are just as likely to turn to the Internet, as they are to ask for personal recommendations about a local business. It is important for smaller businesses to focus on local SEO efforts.
You Need to Measure Your Internet Marketing ROI
Effective marketing requires quantifying results. It is critically important to measure your efforts and evaluate your ROI. You should focus on tracking and analyzing at least these four elements:
Content message
Content format
Distribution channel
Promotional efforts
By understanding how you're performing in each of these areas, you'll be able to better allocate your time and budget and adjust your efforts for maximum return.
Getting Professional Help For an Affordable Internet Marketing Strategy
The approach of inbound marketing holds great promise for your business. But achieving your local marketing objectives with a content marketing strategy does take time. It won't happen with a few blog posts or some other great content. People will need to consume your content for a while before they contact you. Yet, without your content compelling them to contact you, your goals may never be met.
The good news is that you don't have to figure out alone. In fact, one of the best investments you can make with your marketing budget is to partner with a solid firm like Petaluma-based BroadVision Marketing. We are your local partner for your local marketing needs.
Click on the button below to get your free Complimentary Inbound Marketing Session so you can make an informed decision, or call BroadVision Marketing at 707-799-1238.