There is no end to the amount of local SEO advice for business owners. In fact, there is so much information it is overwhelming. So where do you start for solid local SEO tips?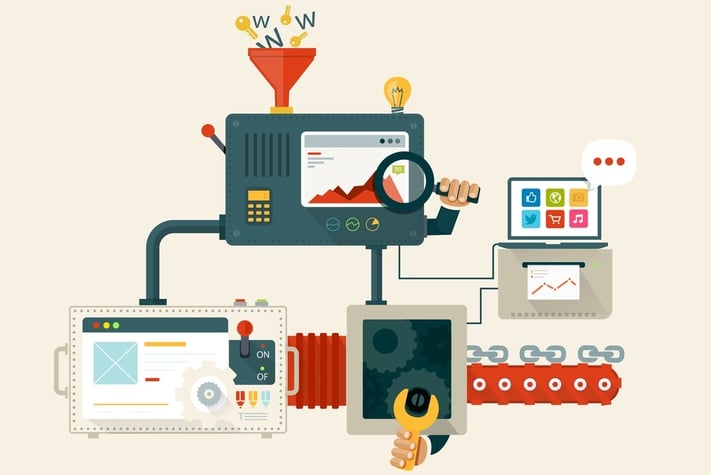 It is estimated that there are over 200 different factors that Google's algorithm takes into account as it determines page ranking for search results. However, the vast majority of these - by themselves - have very little measurable impact. And not all of them always apply to every search.
When SEO geeks and search engine marketing pros talk about Google and other search engines, one of the terms they tend use is "signals". This is just SEO-speak for search engine ranking factors. According to SearchEngineLand.com,
"Search engines reward pages with the right combination of ranking factors or "signals." SEO is about ensuring your content generates the right type of signals."
While this is true for all websites and all web pages, there are some subtle (and not-so-subtle) differences for local SEO ranking efforts.
But there are a critical handful of signals and factors that not only have an unproportionate impact on how well a website ranks in a given search, but they can be easily optimized. If you are a business owner taking care of your own marketing, or work for a smaller company with limited resources, this chore will probably fall on you.
Imagine Having a Local SEO Magazine
Better yet, what if you could simply take the "best of" from all the tips and advice being given by SEO professional and practitioners? And what if you could simply distill this into the top five tips for improving your local SEO efforts?
What might that look like. Well, one approach would be to have a magazine delivered to your office highlighting these "best of" practices. The next best thing would be a blog post listing the top five tips for maximizing your local SEO tactics.
So here's our take on this concept: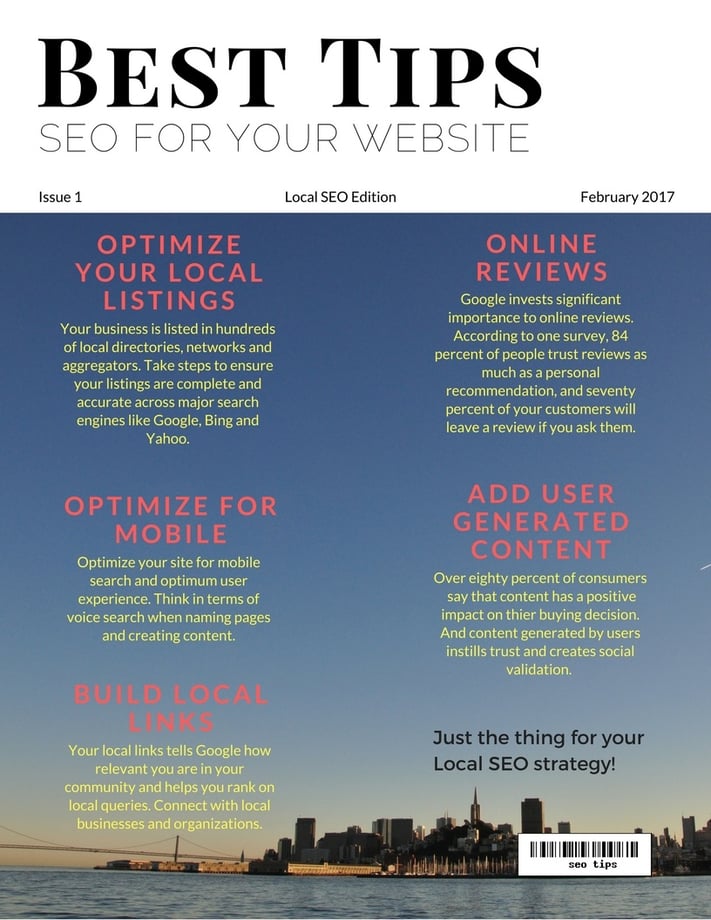 Share this Image On Your Site
Optimize For Mobile
It seems the whole world is going mobile. It is not optional any longer to optimize your site for mobile search and optimum user experience. Think in terms of voice search when naming pages and creating content.
Build Local Links
Your local links tells Google how relevant you are in your community and helps you rank on local queries. Connect with other businesses, agencies, non-profits and non-competitive organizations in your area through co-promotion, sponsorships, etc.
Optimize Your Local Listings
Your business is listed in hundreds of local directories, networks and aggregators. Take steps to ensure your listings are complete and accurate across major search engines like Google, Bing and Yahoo.
Add User Generated Content
Eighty-seven percent of consumers say that content has a positive impact on their purchasing decisions On the other hand, over forty percent reject advertising and "sale-sy" content. Content generated by your own users is a great option and provides social validation while creating trust.
Pursue Online Reviews
Google invests significant importance to online reviews from your customers. According to a recent survey, 84 percent of people trust reviews as much as a personal recommendation, and seventy percent of your customers will leave a review if you ask them.
The Goal for Your Website
The ultimate goal of your website is to show your potential customers that you provide the right service they need, that you are located near them, and that you good and highly reputable. What your website visitors see and read when they find your site is as critical as the SEO signals that got them there.
A solid local SEO strategy can dramatically boost your website traffic. But to achieve your marketing objectives using an SEO-based marketing strategy does take time - and work. It won't happen with a few blog posts or some other for of great content.
The reality of SEO is that people will want to see your content for a while before they contact you.
Improving Your Local SEO Marketing Plan
The good news is that you don't have to figure out alone. In fact, one of the best investments you can make with your marketing budget is to partner with a solid firm like Petaluma-based BroadVision Marketing. We are your local partner for your local marketing needs.
Get your free Complimentary Inbound Marketing Session here so you can make an informed decision, or call BroadVision Marketing at 707-799-1238. Want to know more about local SEO and how we can help? Click the button below to learn more about how inbound marketing can work for you.