We all know that people rely on reviews. And personal referrals are even better. But did you know that case studies can also build trust in your brand?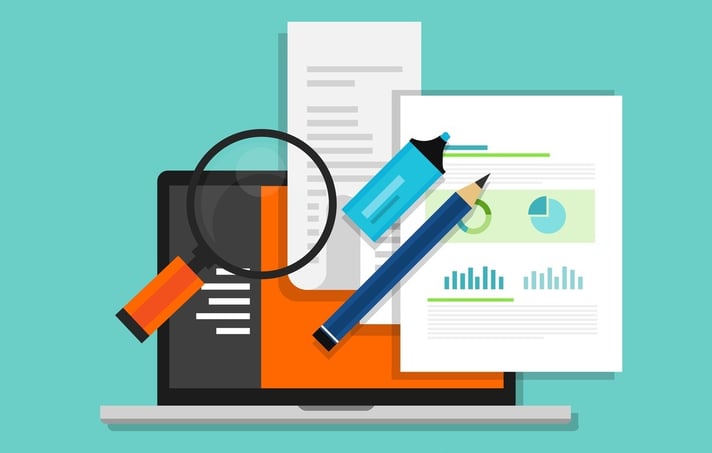 Attracting and engaging with prospects, or leads, is a challenge for almost every business. But prospective customers or clients are becoming increasingly wary of the worn out hype and hyperbole that so many companies still put out.
Advertising and other traditional marketing tactics are slowly but surely losing traction with the bulk of the adult marketplace regardless of the industry, product or service. Trust has become both an over-hyped marketing term and a critical dynamic in securing new business.
It's been said many times by many people, but it is still profoundly true: "People do business with people they know, like and trust."
The Trust Factor
Thanks to inbound marketing and the wonders of social media and the Internet, businesses have found a myriad of techniques to be found, seen and heard. Despite all the "noise" in the marketplace, it is incredibly easier to be "known" and even "liked" in our connected society. But what about "trusted"?
That's a bit harder.
In fact, it's quite a bit harder since we are dealing with multiple generations that have grown up on TV commercials, ubiquitous advertising, and non-stop sales pitches. The trust factor in regards to advertisers and marketers is dismally low. And, perhaps, with good reason.
But your business is different, right? Your product or service truly is superior and you have no intention of deceiving your prospective customers or being less than honest. Of course not! So how do you get people who you cannot see and may never actually talk to – not at first anyway – to trust you or your company?
Client Success Stories
Okay, so that's a common alternative name for case studies. And we mention that because, for some, the idea of 'case studies' seems a bit… dry. Boring even. But they don't have to be, and you don't have to call them that. Yet, regardless of what term you choose to call them by, engaging and compelling case studies are a powerful way to engender trust in your brand.
In the old days, case studies often took the form of a type of white paper, or even printed brochures. The concept and approach is certainly not new, but technology and inbound marketing techniques have breathed new life into a tried-and-true tactic.
A case study, or client success story, is essentially a structured document that details and chronicles how your product or service help a client be successful. In other words, it is a real-life example of your work that demonstrates the positive impact your business had on existing or previous customers.
Writing a case study can be involved and tedious, but it doesn't have to be. In fact, with the right plan and approach, a powerful case study can be a relatively simple project providing you have some happy and willing customers or clients.
Writing a Case Study
So how do you go about putting together a 'proper' case study? Amanda Zantal-Wiener, Senior Staff Writer at HubSpot, provided this basic checklist for the writing process:
Find the right case study candidate.

Reach out to case study participants.

Ensure you're asking the right questions.

Lay out your case study.

Showcase your work.
We are not going to go into the details of actually writing a case study in this post, but suffice it to say that there is a more-or-less traditional format that you can follow. Examples abound and there are even numerous templates and guides available.
Remember, a case study is far more involved and extensive than a simple testimonial or review. You might think of it as a testimonial on steroids with super powers thrown in! Which is why the very first requirement is to have some legitimate clients or customers who have demonstrably benefited from your product or service, and are willing to contribute their time and input (and name!) to your case study.
Zantal-Wiener, in explaining the first step of her checklist, notes:
Writing about your previous projects requires more than picking a client and telling a story. You need permission, quotes, and a plan. To start, here are a few things to look for in potential candidates.

Product Knowledge

It helps to select a customer who's well-versed in the logistics of your product or service. That way, he or she can better speak to the value of what you offer in a way that makes sense for future customers.

Remarkable Results

Clients that have seen the best results are going to make the strongest case studies. If their own businesses have seen an exemplary ROI from your product or service, they're more likely to convey the enthusiasm that you want prospects to feel, too.

One part of this step is to choose clients who have experienced unexpected success from your product or service. When you've provided non-traditional customers -- in industries that you don't usually work with, for example -- with positive results, it can help to remove doubts from prospects.

Recognizable Names

While small companies can have powerful stories, bigger or more notable brands tend to lend credibility to your own -- in some cases, having brand recognition can lead to 24.4X as much growth as companies without it.
How to Use Your Case Study/Client Success Story
This is where the magic and the marketing "juice" comes in! With the wonders of inbound marketing and technology, you can expand the reach and impact of your well-crafted case studies far beyond a simple document handed out at a trade show. (Although that's a good idea!)
Here is a short list of the many ways you can leverage the power and trust-building influence of your case studies:
Write a blog post about your recent case study
Create a dedicated page on your website for case studies
Use some or all of your case studies on select landing pages in your website
Create a video based on your case study
Highlight a client success story in an email newsletter
Create an infographic built on the content of your case study
Post links to or excerpts from your case study on Social Media
Slide Share is a great format for a client success story
Incorporate case studies in your existing sales materials
This is certainly not and exhaustive list and the possibilities are only limited by your creativity and ingenuity. And the more great clients you have that can be subjects for case studies, the more you can add to your portfolio, so to speak.
Leverage the power of someone else's great experience with your product or service. Leverage the power of the trust factor that case studies provide. Because, as you already know, once your prospects know you, like you, and then trust you, it is simply a matter of time before they, too, will become client success stories.
Help With Your Inbound Marketing Efforts
Inbound marketing is powerful approach for building and scaling your business and creating powerful case studies can be a significant part of it. But achieving your marketing objectives with an inbound marketing strategy takes time. It won't happen with a few email blasts, blog posts or even a few great client success stories.
The truth is that your audience will need to consume your content for a while before they contact you. Yet, without your content compelling them to contact you, your goals may never be met.
The good news is that you don't have to figure out alone. In fact, one of the best investments you can make with your marketing budget is to partner with a solid firm like BroadVision marketing.
Click on this link to get your free Complimentary Inbound Marketing Session so you can make an informed decision, or call BroadVision Marketing at 707-799-1238.