Email is a powerful tool in your inbound marketing efforts. But effective email can be challenging. Here are five email marketing tips to help boost your email results.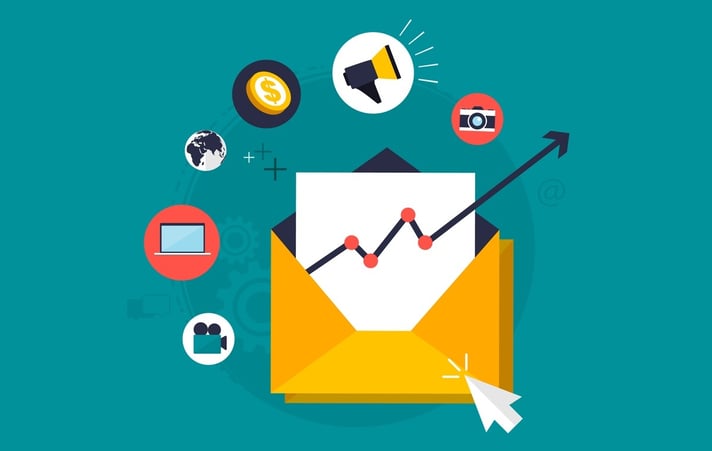 We all know what it's like to have our email inboxes buried in unsolicited and (often) unwanted emails. In fact, one study showed that the average person's inbox contains 54% promotional emails. And the most common action taken by the recipients is to delete them.
And herein lies the marketer's paradox: we routinely delete these promotional emails, but we desperately want the ones we send to be opened and read.
Taking Notes Before Hitting 'Delete'
A great strategy is to take note of what it is about an email that prompts you to either ignore it until later, or delete it outright. Is it the subject line? Perhaps the timing? And, if you do happen to open it first, what makes you not want to read it? Is it too long? Too short? Too 'salesy" or too cute and clever?
This is important because what turns you off may very likely be what turns off your prospects, as well. And, while there may be a myriad of reasons for not opening or reading an email, being aware of the most common ones - and the ones you can control - is essential for your own email marketing efforts.
What are some of the things we do know about successful emails?
11 a.m. ET has the highest clickthrough rate for email sends. (HubSpot, 2015)
Email subject lines that include the words "thank you" have the highest above-average engagement levels. (Adestra, 2015)
Emails that included the first name of the recipient in their subject line had higher clickthrough rates than emails that did not. (HubSpot, 2014)
The open rate for emails with a personalized message was 17.6%, compared to 11.4% without personalization. (Statista, 2014)
And some things diminish the success of emails sent:
As the number of images in an email increases, the clickthrough rate of the email tends to decrease. (HubSpot, 2014)
78% of consumers have unsubscribed from emails because a brand was sending too many emails. (HubSpot, 2016)
Email May be "Old Tech" But it's Not Going Away
Email as a technology is now over 40 years old. But unlike many other technologies from our recent past, it does not seem to show any signs of slowing or fading. In fact, three-quarters of companies agree that email offers "excellent" to "good" ROI, according to Econsultancy. And email use worldwide will exceed 3 billion users by 2020, while Gmail currently has 1 billion active users worldwide.
So not only is it an established, relatively simple technology that's going to be with us for a long while, but it is increasingly effective for marketing and lead nurturing purposes.
Do customers and prospects really want to get emails, you ask? Apparently so, despite the universal propensity for deleting and unsubscribing. In fact, according to Statista, 86% of consumers would like to receive promotional emails from companies they do business with at least monthly, and 15% would like to get them daily.
According to AJ Agrawal, writing in Forbes magazine,
"Regardless of the different strategies open to marketers today, you'll find email marketing to be integral to your marketing campaign. This is still the leading channel for getting the best ROI."
The key, he says, is to use email effectively. And that's where some helpful tips can come in handy.
Five Tips for Using Email Effectively With Inbound Marketing
This is by no means an exhaustive list and whole books could be written about email marketing (and they have!), but this will set a solid foundation for your email efforts.
1. Design Your Email to Your Customer
Not everyone on your email "list" is at the same place in their customer journey with your brand. For the most part, email strategies are never as simple as a "one size fits all" approach. You must know where they are in their relationship with your company and tailor your messages and your strategy to that. For example, a first time visitor or subscriber will not be in the same category as a frequent buyer on your list.
2. Personalize Your Emails as Much as You Can
No one has much appreciation for generic, broadly worded emails. It's no different than receiving a form letter from your favorite coffee shop. You might not expect to be called by name - though email technology can make that happen - but emails should be as unique to each recipient as possible. These means taking your email list segmentation as deep as you feasibly can.
3. Try to Include Non-Automated Emails
Email automation has been both a game changer and a life saver for marketers. No one person could ever send emails to 1,000 recipients, let alone 10,000. But that doesn't mean you can never manually send out emails to select people on your strategically segmented lists.
4. Give Your Subscribers (and Leads) Options
While having people unsubscribe is not the end of the world, giving them options as to how often to receive emails from you, or as to what topics, etc., can drastically reduce the unsubscribe rate. In addition, giving the first-time lead recipients similar options when you ask them to subscribe can go a long way towards getting them to sign up - and stay there!
5. Test and Verify
Testing various components of your emails will allow you to refine and optimize your efforts. Ultimately, your overall goal is to improve your inbound marketing performance. According to Kissmestrics, your should regularly test subject lines, your brand messaging, the call-to-action (always have one!), layout and design, and the type of personalization, among other things. If you can't measure it, you can't improve it.
6. (Bonus Tip!) Have Great Landing Pages
If the goal of your email is to have your reader take an action that will bring them to your website, then they should find themselves at a great landing page. The truth is that for too many brands, all their great efforts at crafting good emails, effective emailing strategies, and wonderful personalization, will all come to nothing if the landing page doesn't do it's job. (Learn more about great landing pages here.)
Help With Your Email Marketing Efforts
Inbound marketing is powerful approach for building and scaling your business and email marketing is a significant part of it. But achieving your marketing objectives with an inbound marketing strategy takes time. It won't happen with a few email blasts, blog posts or even a few great blog posts.
The truth is that your audience will need to consume your content for a while before they contact you. Yet, without your content compelling them to contact you, your goals may never be met.
The good news is that you don't have to figure out alone. In fact, one of the best investments you can make with your marketing budget is to partner with a solid firm like BroadVision marketing.
Click on this link to get your free Complimentary Inbound Marketing Session so you can make an informed decision, or call BroadVision Marketing at 707-799-1238.