Effective email campaigns tactics can power your inbound marketing strategy. But only if they are well crafted and on target.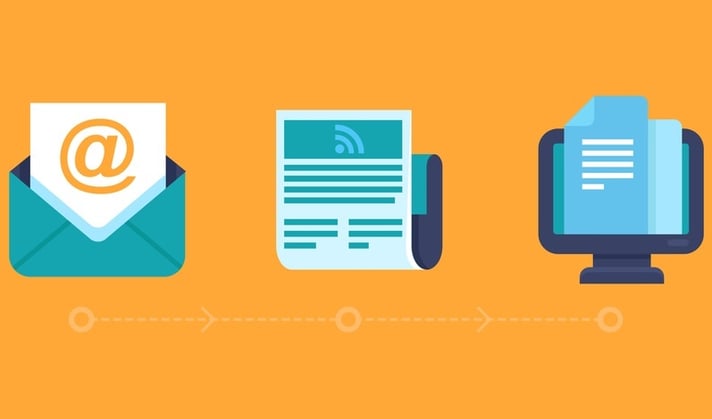 We have shown how email marketing campaigns can give your inbound efforts "superpowers" and it is a demonstrable fact. But what about the nuts and bolts of your actual emails? What makes one email more effective than a competing email in a recipient's inbox?
Emails and Snowflakes
One of the things about emails - every email - is that they are all unique pretty much. A lot like snowflakes. Another truth is that, like snowflakes, there are billions of them! In fact, as we noted in a previous post, there are currently over 270 billion emails sent every day.
With so many emails do people really open and read any of them?
They actually do, in fact. For North America, the average open rate for those billions of emails is around 34%. And consider that direct mail is also sent by the millions every year - a total of more than 150 million direct mail promotions were sent out in 2015, for example - with a household response rate of about 5% on average.
This puts direct mail on par with email that averages a 3% to 5% click-through rate, which is similar to snail mail's response rate. But for a fraction of the cost!
When you break down the numbers you find that far, far more people are looking at emails than are looking at direct mail. And when you consider that you can email up to 2,000 people for no cost and the time it takes to draft and craft the message, it gets even better. That many postcards would still run you about $500 at minimum. And likely quite a bit more.
But your emails are not guaranteed an open rate of 34%. Your message is still competing with every other single email that lands in your recipient's inbox. How do you get yours opened?
7 Tips for Crafting Emails That are Likely to Get Opened
For this post we are going to run on the assumption that you already have a quality email list and the your audience is well defined and accurately targeted.
There are a number of technical details that go into developing and launching a successful email campaign, but if your emails don't appeal to your audience they won't be opened. And if they get opened, but fail to engage your readers right out of the gate, they won't get read.
And if that happens you can forget about your snazzy call-to-action.
Here are seven essential email marketing tips for crafting and drafting an effective email:
1. Personalize Your "From" Line
People are smart enough to know that B2B and B2C emails are typically sent in massive numbers as email blasts. But human nature still drives people to be more prone to open an email from a person instead of a business name.
HubSpot suggests sending emails from a personal name as in "Bob Smith" with a personal email address like "bobs@abcbrand.com"
2. Have Clear Subject Lines That Invite Clicking
The best way to stand out is to write compelling, "can't-help-but-click-on-this" subject lines. To entice readers to click, be sure your subject lines:
Are fewer than 50 characters so they don't get cut off

Include verbs and action-oriented language

Are personalized when possible

Stay consistent with the text of your message

Avoid SPAM trigger words such as "Save," "Free", "Quote," and "Cash"
3. Keep Your Content Clear
According to the folks at MarketingExperiments, "clarity trumps persuasion" when it comes to online copy. This is equally true of emails, as well. Having a clear message, maintaining a logical flow with your points, and avoiding excessive verbiage will give you the clarity and punch you need to make your statement.
4. Have a Clear, Engaging and Obvious Call-to-Action
HubSpot recommends only one call-to-action, or CTA, for each email message. Remember: you're still striving for clarity here. And keep in mind that very few, if any, products or services are actually sold (or purchased) directly in an email. It is, at best, a portal to your sales funnel.
5. Include an Image
Visuals still grab attention and engage viewers. But the trick is to include an image without cluttering the body of your email. And keep in mind that your image does not need to be a photo, but can simply be an attractive flat illustration or design element.
Another way to add mileage to your image is to include alt text to it so that if the recipient's email client blocks images (as many do) your recipient will know there is supposed to be an image there.
6. Be Social-able
It is almost always a good idea to include social sharing buttons to your email messages. People are prone to share by nature and this is a simple way to extend the "mileage" on your emails. Most email tools and services make this an easy add-on, but you can create your own manually if need be.
7. Proofread and Preview
Don't be in a hurry. Nothing can damage your perceived credibility in your email than a typo or badly mangled syntax. Being authentic and genuine does not include revealing the fact that spelling is not your strong suit (assuming that is the case)!
Preview your email by sending it to yourself. This allows you to see what your recipients will see, for the most part, and catch any design improvements that might be needed.
Bonus Tip
Remember Mobile! This means having slightly smaller image file sizes than you would normally use for desktop users. By contrast, your CTA buttons or links should be larger than, say, 50 pixels in order to be easily visible and clickable on mobile devices. Good email services will have responsive templates, as well.
Email Campaign Scheduling and Frequency
There are a number of schools of thought on how often you should send emails in a campaign sequence. The trick is to show up in your recipient's inbox often enough to be seen and remembered, while not so often as to become annoying and deleted.
Frequency is also largely determined by the type of campaign, which will be addressed in a follow-up post.
When to send your emails is subject to another ongoing discussion among email marketing experts. For a number of years the common opinion was something along the lines of "Tuesday through Thursday morning, between 8 and 10 am."
The problem is that if everyone is doing that then it's not such a great bit of marketing wisdom anymore, is it?
A better approach would be to vary your days and times based on whether you are sending email to consumers or businesses. As a general rule, B2B email usage is limited to Monday through Friday. A corallary to this is the click rates for PPC ads targeting businesses. Most clicks occur during the work week.
B2C emails, on the other hand, have more leeway in terms of finding optimum days and times to send. According to a 2016 Deloitte mobile consumer survey about 40 percent of consumers check their phones within five minutes of waking up. Another 30 percent of consumers check their devices just before going to sleep.
And apparently there are lot of insomniacs out there because almost 50 percent of consumers check their phones in the middle of the night. This could mean that sending your emails first thing in the morning, just before bedtime, and at 3:00 a.m. might be fruitful.
In addition, the survey showed that emails sent on Friday had the highest click-through rate. Apparently, marketers don't work weekends as Saturday and Sunday had the lowest volume rates. However, they also had the highest open and click-through rates according to the survey.
You can draw your own conclusions from there!
Great Email Marketing Needs Great Marketing Partners
Inbound marketing is powerful approach for building and scaling your business and email marketing is a significant part of it. But achieving your marketing objectives with an inbound marketing strategy takes time. It won't happen with a few email blasts, white papers, or even a few great blog posts.
The truth is that your audience will need to consume your content for a while before they contact you. Yet, without your content compelling them to contact you, your goals may never be met.
The good news is that you don't have to figure out alone. In fact, one of the best investments you can make with your marketing budget is to partner with a solid firm like BroadVision marketing.
Click on this link to get your free Complimentary Inbound Marketing Session so you can make an informed decision, or call BroadVision Marketing at 707-799-1238.