Whether you are building a platform for your marketing efforts or simply looking to gain new leads and prospects, there are many tactics that can be used. But email marketing still a powerhouse tactic.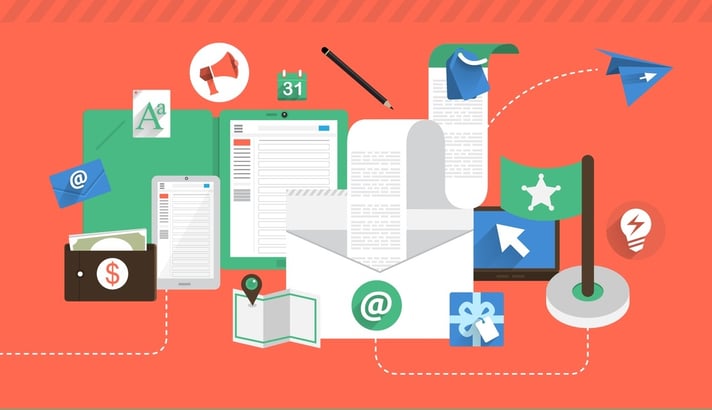 Although we are using the term 'email marketing' for the purposes of this article, email is really a tool, or tactic, that is part of the larger strategy of inbound marketing. Along with your business blog (and you do have one, right?) email can be one of your most effective means of gaining traffic.
Social Media - Everyone is There, But Are They Paying Attention?
The novelty and visual pull of much of social media makes it both engaging and time-consuming. And the mind-numbing numbers that you see of massive amounts of users can be seductive. Like these:
Facebook has 1.9 billion unique monthly users
YouTube is 1.0 billion
Instagram with 600 million
Twitter and Pinterest, both with 317 million users
and LinkedIn, boasting over 500 million members
But the dirty little secret (not so much) is that vast majorities of these 'users' and 'members' are using these platforms regularly or consistently. The actual impressions, or views, gained with any piece of content is infinitesimally tiny. Especially in light of the time, and effort to get it out there.
Repetition, link building, guest blogging, posting, posting, posting... it simply takes a lot of work for little return if you are using social media to build a platform or promote your brand. This is not to say that it doesn't work - it most certainly does. But not so much for these ends. Social media has it's place in the larger sphere of inbound marketing. But there are other tools that perform far better for these purposes.
And this is where the not-so-exciting and far more utilitarian medium of email comes in.
Email Still Feels Like a Personal Outreach
What we mean by this is that even though an email may be generic and sent in massive email "blast", each one is still received by one individual. A person. A human. And an email is a message directed to that human being with the sole purpose of being read by them.
You really can't say that about social media posts.
Does email still work, you might ask? Oh, yeah! Incredibly well, actually. Consider that, while it is a 40+ year old technology, there are currently over 270 billion emails sent every day. The average open rate for emails sent in North America is around 34%. And if there is some kind of call to action in those emails, the average click through rate is just over 3%. That's really good, by the way.
The bottom line here is that people use email, open emails, and even read emails. A lot. And the numbers are actually growing, not declining. Which is all the more reason to believe that email is here to stay.
But can you use email to build your brand's platform and establish real relationships?
If you think of social media as akin to a theater or shopping mall, you can appreciate the variety of things to see and do, and the various people that you can watch passing by. But it's fleeting and superficial.
Email, on the other hand, is like writing letters and having conversations. It's a medium for communicating one-on-one and setting the stage for deeper relationships. Email is participatory and interactive, whereas social media is much more passive and detached.
Why You Should Spend Far More Time With Email
There are number of reasons why email should be one of your primary tactics for building your brand's audience and platform. But there are few major ones that we want to highlight here.
(Thanks to platformuniversity.com)
1. Email is a Direct Connection to Your Audience
Unlike social media, when you send an email you know who is going to get it and that they will, indeed, get it. And statistics tell us that there is a 34% likelihood that they will open it and read it. You can't say that for your content posted on a social media channel.
The competition for your email is limited to whatever happens to be in your recipient's inbox at the moment. And if yours is well designed, tailored to your recipient, and has the "right" subject line, it is far more likely to get read.
2. Email Subscribers are More Accessible
Not only are your emails more likely to be opened and seen by your audience, those readers are far more likely to respond. In fact, according to a study by ConvertKit, an email subscriber is 15 times more likely to make a purchase than a follower on a social media channel.
And your emails will almost always end up in your recipient's inbox. Social media is a bit more of a cosmic crap shoot - you can put it out there, but you have almost no way of knowing if it gets seen or read. (If a post gets published on the Internet and no one reads it, does it exist?)
Finally, you can always reach your email audience, 24/7, whenever you have something to say, something to share, or simply want to check in.
3. Your Email Is Yours, But Social Media Belongs to Facebook (and Twitter, and Google, and...)
Any time social media sites undergoe a major change or, worse, simply gets shut down or goes away, so does the entire universe that was contained in that channel. All the followers, users, fans, comments, recommendations, etc. disappear with the channel. Not to mention any content you may have shared there.
With many channels, you do not have unlimited access to your fellow users, nor do you always retain ownership of the content you post there. (e.g. Facebook!) But your email subscribers are your own as is your access to them. You own your email list. Social media is owned by corporations.
Bringing Email Into the 21st Century
There are a number of tactics and tools that are used to implement an effective inbound marketing strategy. Using content as the foundation and the fuel, so to speak, any business can build their brand and thrive with inbound marketing. And email is one of those tools - even though it's considered "old school" by many.
Want to learn how to make your email marketing efforts up-to-date and relevant? Read our next post for actionable tips and techniques. In the meantime, reconsider the time and effort you've been putting into social media and seriously consider shifting your focus to email.
Finding Help For Your Email Efforts
Inbound marketing is powerful approach for building and scaling your business and email marketing is a significant part of it. But achieving your marketing objectives with an inbound marketing strategy takes time. It won't happen with a few email blasts, blog posts or even a few great blog posts.
The truth is that your audience will need to consume your content for a while before they contact you. Yet, without your content compelling them to contact you, your goals may never be met.
The good news is that you don't have to figure out alone. In fact, one of the best investments you can make with your marketing budget is to partner with a solid firm like BroadVision marketing.
Click on this link to get your free Complimentary Inbound Marketing Session so you can make an informed decision, or call BroadVision Marketing at 707-799-1238.