Social media is a swirling, evolving and often confusing realm for many business owners. Yet most know that they should be there in order to promote their businesses. But how?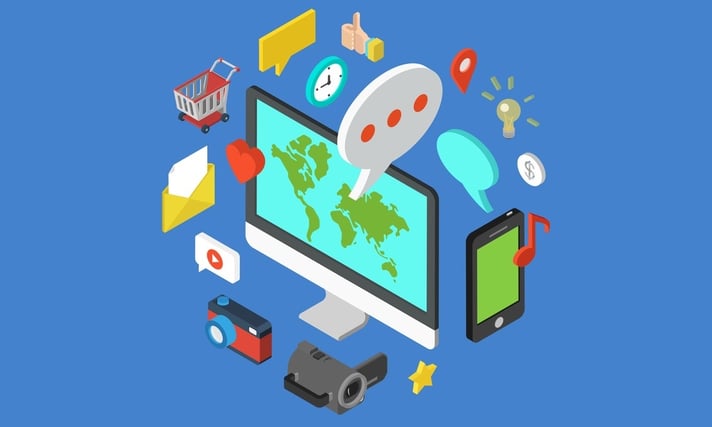 At the risk of being overly simplistic, social media can do two primary things for a business: increase awareness and build trust. But, you may ask, can't you sell and advertise there, too? Yes, you can. But those are not the predominant benefits of having a social media presence for businesses.
The trust factor is absolutely critical with today's market.
Word- of-mouth referrals are what drive business today. People trust the recommendation of a friend, family member, colleague, or even stranger with similar tastes over anything thrust at them by a faceless ad agency. And the reach and ubiquitousness of social media makes "word-of-mouth" referrals easier to make and far more common.
"Have You Heard About...?" Social Media and Social Proof
The problem for businesses is not so much coming to terms with the power and potential of social media for brands. It's how to make it work for them. The social media landscape is crowded, undulating, and - for many over the age of 40 - even intimidating.
Even if they are not familiar with the term, however, most business people are familiar with the concept of "social proof."
A more clinical definition is offered up by Wikipedia as:
Social proof is a psychological phenomenon where people assume the actions of others in an attempt to reflect correct behavior for a given situation.
This is a long-winded way of saying that humans tend to do what most everyone is doing. Or, in a marketing context, if someone smarter than me, or someone important or famous, says something is good then it must be good.
This is important for business owners and marketers when it comes to leveraging the power of social media. Among many other things, social media sites have provided gob-loads of opportunities for common people to share their recommendations, referrals and "likes" for products, services, brands, and just about anything and anyone.
Having said that, there are two types of social proof that matter most for a marketer. Drawing from a 2011 post by Aileen Lee, Buffer Content Crafter Alfred Lua described them as follows:
User:

User social proof is when your current users recommend your products and services based on their experiences with your brand. Examples: praises on social media or positive ratings on review sites.
The wisdom of the crowd:

This type of social proof is when a large group of people is seen to be endorsing your brand. Examples: having thousands of customers or millions of followers on your social media profiles.
And social media is the place where these recommendations, positive ratings, and endorsements are found.
Should I Twitter or Do a Snapchat Thingy?
The confusion is understandable. Consider that there are multitudes of digital "gurus" who make their livings being experts on specific social media channels. To do this they must be up-to-date and in-the-know with their chosen channel. And this can be a formidable task.
But there is good news: you don't have to know it all, understand it all, or even use it all. In fact, it is far better to not try to be on every social media platform.
Most digital marketing experts would agree that focusing on and maximizing your presence on three, or maybe four, social media platforms is sufficient. Not only is it sufficient, some experts would argue that it is better and more effective.
So the question then becomes: "Which channels should I be on?"
First, ask yourself what you want to achieve with social media? Then ask yourself where does your target market audience hang out? Again, somewhat simplistic, but it's a huge starting place and will make your marketing life much more enjoyable.
A somewhat generic approach would be to simply focus on the Big Three (or Four, if you prefer) which are listed here:
Facebook with 1.9 Billion unique monthly users
YouTube at 1.0 Billion unique monthly users
Instagram, the fastest growing, boasts 600 million unique monthly users
Twitter, wavering but still strong, at 317 million users
Pinterest also there with 317 million users, with 3x more female users
and LinkedIn, weighing in with 500 million as of April, 2017
"But," you say, "there are six here - not three! (or four)"
True, and this is because not every channel is suitable for both B2B and B2C companies. Nor every brand, product or service. Social media platforms are largely defined by the demographics of their users, so the key is to match your audience to the channel.
If your business is a retail fashion outlet, you would want to target those channels where the majority of your customers and prospects would be active. That would most likely be Facebook, Snapchat (only 160 million or so users, but growing fast), or Instagram, and Pinterest.
If, on the other hand, you were a commercial concrete flooring contractor, your best bets might be Facebook, YouTube and LinkedIn. In fact, LinkedIn and YouTube are pretty much solid choices for most any B2B brand, while Facebook is better for some than others. Again, the demographics of your target audience - your real and hoped for customers - should be the primary deciding factor.
What To Do There Besides Simply Showing Up
It was Woody Allen who made the famous observation, "80 percent of success is showing up." Unfortunately, this is quite the case with social media. Imagine trying to stand out and being seen or heard in a massive exhibit hall amid tens of thousands of booths. That's social media. Except it's tens of millions of booths.
This is where content comes into play. Having something worth saying means it's worth writing about. Or making a video about. Or an infographic, SlideShare presentation, webinar... you name it. Content that is written, visual, or auditory is the key to finding, gaining, and getting attention.
The beauty of these various channels is that they tend to support one medium over the others. On YouTube it's obviously video. On Pinterest, predominately images. And LinkedIn likes both, but pushes the articles and written posts.
The key is to begin with your foundational content - the landing pages, documents, and blog posts you create first for your website - and then determine the channels and medium you would like to share it on and with.
By doing so you are expanding the reach of your content without having to create new content again, and you are exponentially increasing the possibilities of shares, comments, recommendations and "likes." This engagement with your content is what builds the much vaunted "social proof" that will elevate your brand above the rest in the eyes of your customers and prospective customers.
Here are a few tips to boost your content marketing efforts on social channels:
If you choose to set up a Facebook page for your business (and you probably should!) be sure to promote your company blog posts on it.
Have a solid "brand message" you can include and share at every opportunity and on every post or upload where it would applicable. This is simply a message that encapsulates who you are as a company and what makes you unique. Your content should be great, but people need to associate it with your brand.
You want your content - wherever it ends up - to be searchable and this means the strategic use of keywords in the text of your content posts. The trick is to incorporate keywords that your target audience will be searching with into your content in a way that adds to it's relevance and substance.
You Have a Great Resource for Your Content Marketing
Using social media with your content marketing can do wonders for your business. But achieving your marketing objectives with a content marketing strategy takes time.
It won't happen with a few blog posts or some other great content. People will need to consume your content for a while before they contact you. Yet, without your content compelling them to contact you, your goals may never be met.
The good news is that you don't have to figure out alone. In fact, one of the best investments you can make with your marketing budget is to partner with a solid firm like BroadVision Marketing.
Click on the button below to get your free eBook containing 10 Powerful Inbound Marketing Charts so you can make an informed decision, or call BroadVision Marketing at 707-799-1238.