There's a variety of content types that can be used in your content marketing efforts and eBooks are still winners.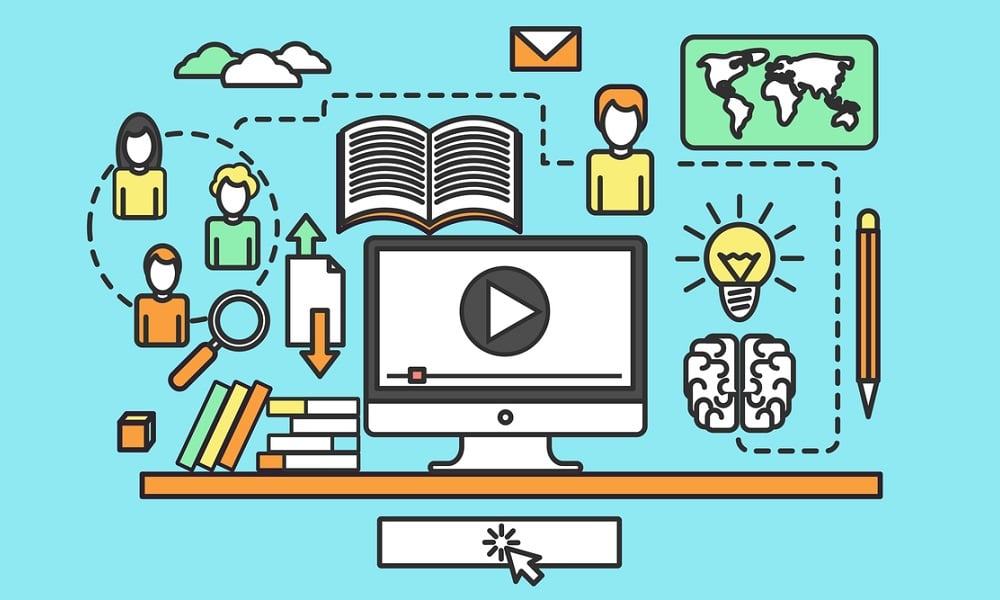 You may not use the term "eBook" very often, if at all, but you've probably read them. In fact, you've probably downloaded quite a few over the years and, if you are actively engaged in inbound and content marketing, you may even have written a few.
And while they may seem a bit "old school" the fact is they are still heavy lifters of content marketing.
And What Is an eBook Anyway?
While the definition is a bit murky depending on who you ask, what most of us refer to as eBooks have been around for as long as we've had modern content marketing. And they have a highly respectable pedigree, especially if you agree that Benjamin Franklin's Poor Richard's Almanac constitutes a content marketing publication.
His was on paper, of course. But, like our eBooks today, it was hand-made and self-published!
To be strictly accurate, an eBook can be simply defined as:
"An eBook is an electronic version of a traditional print book that can be read by using a personal computer or by using an eBook reader."
Another good definition comes from our friends at HubSpot:
"Ebook is short for "electronic book," and uses either a computer, mobile device, or ebook reader to display long-form texts in book form. Ebooks have multiple digital "pages" that people can navigate through, and are often packaged as a PDF document so they can easily be sent from one user to another."
When it comes to eBooks for content marketing, HubSpot has this to say:
"Ebooks are lead-generation tools that potential customers can download after submitting a lead form with their contact information. They're typically longer, more in-depth, and published less frequently than blog posts, which are written to attract visitors to a website."
And THAT is what we are talking about when we refer to eBooks!
Using EBooks for Content Marketing
Part of the beauty of an eBook is in it's versatility. At it's most basic level, it is simply a digital version of a book. And this "book" can consist of as many pages as one cares to write and consist of nothing more than text. On the other hand, an eBook can have as few as three or four pages and be chock full of design elements, graphics, images, and even video.
Because it is typically published as a PDF (Portable Document Format) this means it can be embedded with live links to your website and other online destinations. What this means for content marketing efforts is that you can create just about any type of "eBook" you can imagine and tailor it to just about any audience, topic, industry and style.
Speaking of eBooks in a strictly generic sense, even our touted case studies, white papers and guides could be called "ebooks". However, for the sake of clarity, eBooks constitute their own category of marketing content.
EBooks are a critical element in most inbound marketing strategies. A typical lead generating process will often look like this: A visitor to your blog likes what they've read and is open to getting more information. Being a smart inbound marketer, you have a compelling call-to-action (CTA) at the end of your blog that directs your visitor to a landing page.
This landing page will ask your visitor for their contact information and allows them to download your fabulous eBook that gives them additional information about your business. And, as a bonus, your eBook download has also acquired a new lead for you to contact and establish a relationship.
Get your Definitive Guide to Selling Better & Faster
Basic Benefits of EBooks In Your Marketing Strategy
Making full use of eBooks in the content marketing component of your overall inbound marketing strategy is key to success. They have been used since the dawning of the digital marketing age and still have the power to gain attention.
And remember: that's the first and most fundamental step in any marketing effort - getting attention.
Here are the three basic benefits of an eBook:
1. Education Providing actionable, valuable information allows you to educate your readers with relevant content and create a desire for more.
2. Thought Leadership Most eBooks are usually several pages in length and the more quality information you provide, the better perception they'll have of your brand.
3. Lead Generation As with any downloadable offer, eBooks create an opportunity to acquire leads and bring them into a sales journey.
Another benefit of a quality eBook is shareability. Much like white papers, guides and infographics, eBooks are inherently easy to share and one of your secondary objectives is to see your publications shared with others.
While it's true that you won't be getting the contact information from those people your lead (or customer) shared your eBook with, those people will have your information in hand (virtually speaking!) A great way to view this is seeing your leads who share your eBooks as fans and advocates for your brand.
Some Basic EBook Building Strategy
As we noted earlier, one of the great things about eBooks is their versatility. They can be used for dozens of purposes and be formatted in dozens of ways. However, there are a few basic elements you want to keep in mind when building, or creating, your eBook for as a marketing tool or lead magnet.
Create Value
This means, first and foremost, that your eBook is not going to be a "sales brochure." (If you need one of those, go ahead and write one, but it's not an eBook.) Content with value is relevant, substantial and well-written. If your piece is superficial, badly formatted and has no real relevance to your intended reader, it will more likely cause them to disregard your brand instead of being drawn to it.
Be Accessible
Unless you're eBook is written for astrophysicists on the subject of quantum physics, keep it simple. Your eBook is not the place to impress your prospects with everything you know, It's more of an informal introduction. Value does not have to be hard to read or hard to comprehend. And remember - these are not white papers so the writing style should be less formal, less "tech-y", and more personable.
Be Visually Appealing
Just because your eBook is free doesn't mean it can be ugly. If you have access to a graphic designer, or the resources to hire one, then do so. But it's not really necessary. There are hundreds of free eBook templates available as well as many easy-to-use graphic tools and websites to help you sparkle. Avoid solid text - even if you know it's good stuff no one is likely to plow though it!
Have Brand Consistency
While this might seem a bit counter-intuitive if you want to be creative with all your eBooks, keeping a consistent branding format to your eBooks will help readers immediately associate them with your company. The content can be vastly different from one book to the next, but key branding elements should be consistent with all of them and with your website and any other digital or printed collateral you have.
And it wouldn't hurt to always include another call-to-action (or two) within every eBook. While it may seem natural for a reader to reach out to your brand after reading your fantastic eBook, what is far more natural is for people to read it, appreciate it, and then get distracted with something else in life and never think to call or email you.
Getting Help With Your EBook Building
Developing a marketing strategy using eBooks will provide a powerful boost to your business. In fact, because of digital marketing, reaching your ideal audience with eBooks is easier than ever before.
But achieving your marketing objectives with a digital marketing strategy does take time and it won't happen with a few random tactics like blog posts, case studies or a few great videos.
For example, your audience will likely need to see, hear, and read your content for a while before they contact you. And only quality, relevant content will drive your organic search traffic and boost your SEO results.
In fact, without your content compelling them to contact you, your goals may never be met.
The good news is that you don't have to figure out alone. In fact, one of the best investments you can make with your marketing budget is to partner with a solid firm like BroadVision Marketing.
Click here to get your free Complimentary Inbound Marketing Session so you can make an informed decision, or call BroadVision Marketing at 707-799-1238.