Email has been with us for over 40 years. In fact, it's been around longer than many marketers! But it is still a powerful tool for marketing that can be used in a number of surprising ways.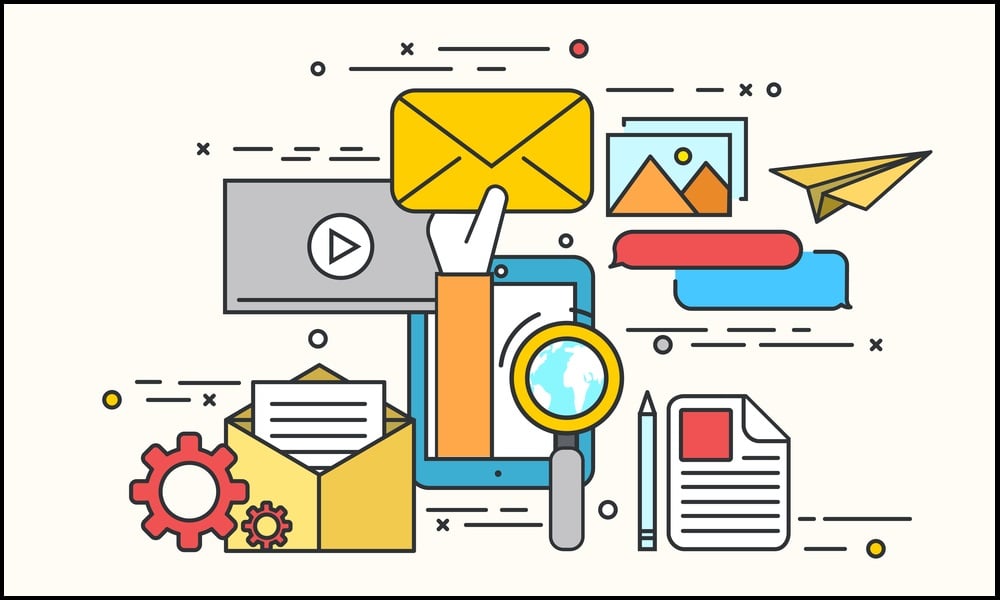 For many people, it seems that email has always been there. What is sometimes lost with the longevity of email is it's versatile use as a marketing tactic and strategy. In fact, email marketing as a channel for direct marketing has a proud and profitable history. For example, according to a post at Smart Insights,
"In 1978, (Gary) Thuerk sent an email promoting DEC machines to 400 users via Arpanet. What would have then been a complete novelty for recipients (receiving a sales/marketing message direct to their computer's inbox) resulted in $13 million worth of sales for DEC machines (and a few complaints!)."
That was 40 years ago. Today, email marketing accounts for billions of dollars in revenue for brands. How effective is it? Here are a few recent email ROI statistics*:
Average ROI - 3,800%, or $38 for every $1 invested
Top Performers- 18% of companies achieve ROI greater than $70 per $1 invested
Low Performers- 20% of companies achieve ROI less than $5 per $1 invested
So, worst case scenario? You are at least very likely to earn about a 500% return on your email marketing dollars. And, according to some experts, this is on the high-end of the ROI average for most marketing tactics. This means that the low end of most email marketing tactics still perform better than 50 percent of all other marketing tactics in general!
Email Marketing is a Beautiful Thing
Perhaps this is a good place to re-establish the fact that email is not hopelessly "old school" nor is it in any way ineffective. It is, to be blunt, a killer approach to generating leads, nurturing prospects, and closing sales. While "actual results may vary" depending on your industry, product or service, anyone and everyone can make effective use of email.
Our friends at HubSpot note that,
"Email isn't dead. It's one of the few marketing channels we can use to build an authentic connection with the humans that keep our businesses alive.

Email marketing isn't spam. It's not a personal note from an old colleague either. It's something in between. Your customers don't give their information lightly, and — if used right — email marketing can be both a relationship-building and profit-building tool."
HubSpot goes on to share some heartwarming statistics of their own:
The key is recognizing what varieties of email marketing can work best for you, creating a strategy, and a documenting a plan for executing that strategy. Email marketing without a strategy is just... well... email.
And a strategy without a documented action plan is just a rumor. So, write it down!
One of the beautiful aspects of email marketing is its inherent versatility. There is so much you can do with email, and so many ways you can implement it as a marketing tactic. Most marketers (and recipients) are largely familiar with the lead nurturing emails consist of a tightly connected series of emails containing useful, targeted content.
This email sequence tactic is used primarily to nurture leads through the marketing funnel. Consisting of anywhere from five to eight or more emails, sent in a calendared sequence, with the goal of bringing the recipient along a path to a purchase or decision of some kind, most of us have gotten these at some point.
Oh, The Things You Can Do With Email
In addition to the ubiquitous lead nurturing email sequence approach, you can also engage in the following tactics for your email marketing strategy.
Welcome Emails
A welcome email is great tool for thanking a new subscriber (or customer) and to provide information or additional instructions. Depending on your offer or the reason the person signed up, this is also a great format and opportunity to reflect the personality of your company and brand.
Thank You Emails
The Thank You email may seem a bit redundant, but it should typically follow on the heels of your Welcome email. The email should simply thank the user for their submitting the form and provide them with the download you promised, such as a link to a PDF, a coupon, or maybe instructions for activating a free trial. This way your customer can store them safely in their inbox for future reference.
Confirmation Emails
These are a bit more broad and should be simple and to the point. It is a mark of thoughtfulness and basic customer service to provide an immediate confirmation of any kind of online transaction. Whether it is a purchase, a sign-up or simply a request for a downloadable PDF, here's where you show you are on top of things.
Keep in mind that these types of emails do require software to set up or an email service that provides the templates and the options.
Social Media Email
Other options for email marketing include social media. For example, if you are the administrator of a LInkedIn Group (if not, you should consider it!) you are using email every time you send a LinkedIn Announcement. The downside is that you cannot do much customization or design, but you have direct access to key recipients.
Co-Branding Emails
Do you know any business owner colleagues who are in a complementary, but not a competing business? Much like joining forces by trading coupons, collaborating on emails can open numbers of opportunities. The way to leverage this is to combine email lists and include both of your company's logos, and contact information, etc.
The content of the emails can be promotional for a joint, co-sponsored event, a webinar, or even a sales event. It not only expands the reach of your brand for both participants, but can provide a synergistic effect to boost both brands.
Online Magazine/Newsletter
Part of the beauty of this type of email is the vast range of formats, styles, and designs that can be utilized. These newsletters should be informative, provide value for your readers, and have little - if any - promotion. Just having your "face" and name in front of your audience regularly and consistently is beneficial.
Do provide plenty of links to your website and do make your brand prominent and visually appealing. But keep the "salesy" bits to a minimum.
Event Invitation Emails
Invite your audience to an event and ask them to register. This could be a live event at your place of business if you have a brick-and-mortar enterprise, or an online event such a webinar or virtual conference. Even if they choose not to register or attend, the value of these types of emails extend to simple brand awareness and perception. You succeed in reflecting a brand that is active, engaged and approachable.
Doing Email the Right Way
While design and layout are important, content is much more so. Yes, your emails should be visually appealing, but they must offer value to your audience. And this doesn't happen by constantly bombarding your contacts with sales pitches.
As HubSpot puts it,
"Focus on sharing the key information in the most appropriate format depending on the type of email you're sending -- and the audience you're sending it to."
Investing in a reputable Email Service Provider (ESP) and engage in continually building your email list. Buying lists is almost never a good idea or investment, by the way. Once you have determined that email marketing is right for you, consider outsourcing the work to a professional email marketing firm. The investment will more than pay for itself and will free you and your limited staff to do what they do best - what you hired them for.
Great Email Marketing Needs Great Strategy
Using email marketing for your brand's promotion efforts is a powerful approach for building and scaling your business. But achieving your marketing objectives with an inbound marketing strategy takes time. It won't happen with a few email blasts, a one-off campaign, or even a random newsletter.
The fact is that your audience will need to consume your content for a while before they contact you. Yet, without your content compelling them to contact you, your goals may never be met.
The good news is that you don't have to figure out alone. In fact, one of the best investments you can make with your marketing budget is to partner with a solid firm like BroadVision Marketing.
Click on this link to get your free Complimentary Inbound Marketing Session so you can make an informed decision, or call BroadVision Marketing at 707-799-1238.