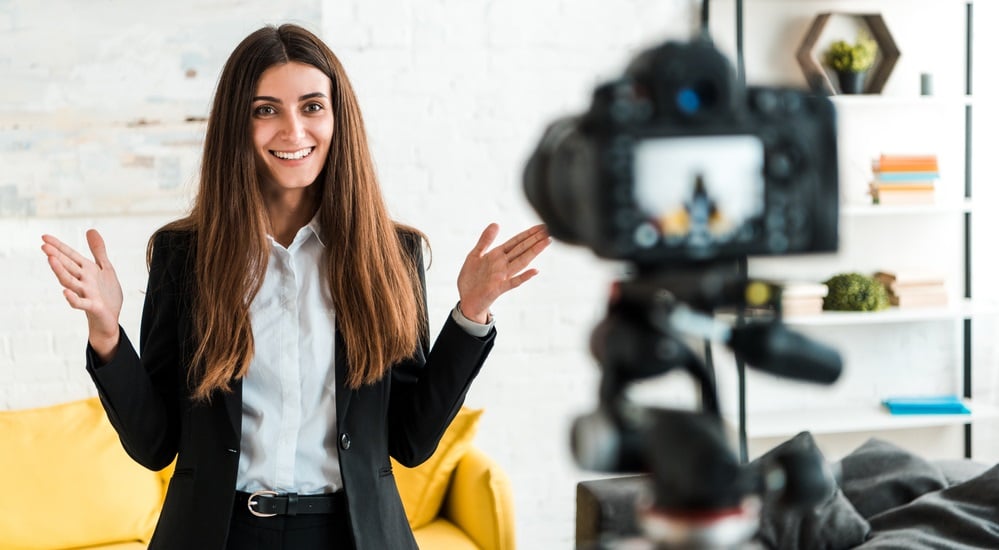 It's not an overstatement to stay that video is probably the most powerful medium on the Internet today. And short-form video on your can supercharge your traffic.
However, like any other marketing tactic a, short-form video by itself does not constitute a marketing strategy. It is merely a component of a strategy. But, that being said, it can be a powerful component for driving traffic to your site.
The Impact of Short-Form Video on Website Traffic
You practically have to be a social recluse and completely "off the grid" to be unaware of the ubiquitous nature of online video.
With the ease of access to the Internet, billions of people watch videos of every conceivable type every day. And, what should spark a marketers interest, these same people constantly share them with their family members, friends, co-workers and colleagues using social media platforms.

The wide variety of videos that are grabbing the attention of online viewers range from humorous and innocuous to substantial tutorials and customer reviews or case studies. What many of these videos have in common is that they are not always the result of "high-end" video production efforts.
In fact, it is quite possible to create effective and powerful video using nothing more than a quality cell phone. But, regardless of whether you hire a studio to produce a slick series of marketing videos, or you simply sit down with your Android or IPhone and do it yourself, your video should have a clear purpose, be produced with good sound, lighting and visual quality, and have a great story.
A poorly done video is no better than a poorly written blog post or poorly designed graphic: if people stop watching and click away to something else, you haven't captured a lead or engaged a customer.
And, worse, you've negatively impacted your brand and that viewer's perception of it.
Video Works Because Everybody's Watching!
According to HubSpot's 2023 Social Media Marketing Report, social media marketers planned to boost their short-form video efforts this year, with 33 percent of the 1,000-plus marketers surveyed planning to invest most in the relatively new format in 2023.
SproutSocial shared the following statistics on the massive expansion of video use in the digital marketing realm, including the social media giant Facebook:
62% of users said they've become more interested in a product or brand after seeing it in Facebook Stories.
300 million people use Facebook Stories every day.
The Facebook Watch tab allows users to view and engage with focused video content. Facebook Watch attracts upward of 1.2 billion users per month.
Then there's Meta's other powerhouse, Instagram:
Of course, most of us think YouTube when we think of online video and with good reason:
The statistics keep piling up and the global audience keeps growing. Video for inbound marketing really is an inescapable fact and, if you're not incorporating video in your marketing efforts yet, this is a great time to start.
The value of using video for digital marketing is mind-blowing! The purpose for your videos can run the gamut of launch announcements, new product promotion, explainer videos and tutorials, and customer testimonials. The style, length, purpose and structure that is possible with online video is practically endless.
Ultimately, why and how you use video is going to depend largely on your brands marketing objectives and goals, and the demands of your target audience.
Short-Form Video: Captivating Audiences in Seconds
In today's fast-paced digital landscape, capturing and retaining the attention of online audiences is more challenging than ever. Enter short-form video, a powerful medium that has quickly begun to revolutionize the way we consume and engage with content.
From TikTok to Instagram Reels, these bite-sized videos have quickly become a dominant force in the online sphere.
But what impact do they have on website traffic?
Let's take a look at how short-form video captivates audiences in seconds and drives valuable traffic to websites.
Short-form videos have made a significant impact on website traffic by captivating audiences, building brand awareness, driving traffic through CTAs, enhancing SEO, and increasing social engagement.
As the online landscape continues to evolve, businesses and content creators must harness the power of short-form video to capture the attention of their target audience and direct them to their websites. By leveraging the unique strengths of short-form video, brands can create a compelling and seamless journey that begins with a captivating video and ends with an engaged visitor exploring their website's offerings.
So, if you're looking to boost your website traffic, don't underestimate the power of short-form video. Embrace this dynamic medium, craft engaging and shareable content, and watch as your website becomes a hub of activity, fueled by the captivating allure of short-form videos.
Your Partners for Video and Inbound

Marketing

Video should be a significant part of your inbound marketing strategy. And high-quality, relevant short-form video content is one of the main keys to attracting and winning prospects and customers today.

Content can take on many other forms as well, such as blog posts, eBooks, white papers, email, slide decks, infographics, webinars, and even the pages on your website.

However, the challenge for most business owners is in creating this never-ending need for fresh content. Then there is the additional challenge of determining how best to distribute and use that content to carry out an effective marketing strategy.

Fortunately, you don't have to attempt this on your own! Your options for implementing a successful and affordable content marketing strategy also include finding a professional firm that can work with you to maximize your efforts.

A qualified agency like BroadVision Marketing will develop a road map with an implementation time line, marketing milestones, and key deliverables. Using this road map we will create the framework and structure for us to work with you and help you to achieve your marketing goals.

Get your Free Complimentary Inbound Marketing Session to help you make an informed decision or call BroadVision Marketing at 707-799-1238.