Inbound marketing is a proven approach to cost-effective business success. But there is another element that drives the success of inbound marketing, and that is Local SEO.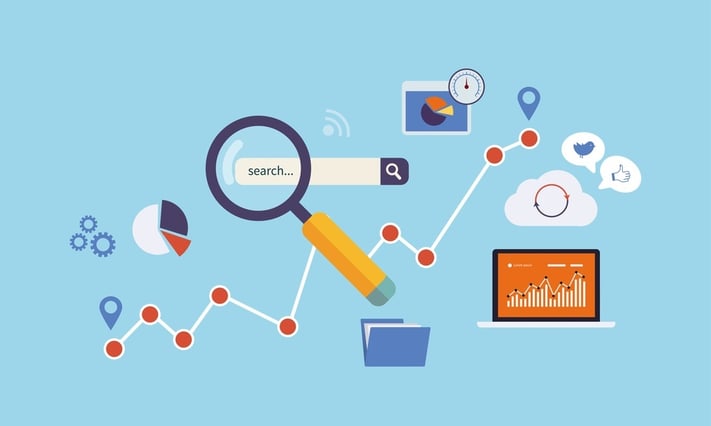 Every business has the challenge of attracting and acquiring new customers. For many businesses, marketing and sales is often driven by the need to outpace attrition with acquisition. There's an old saying that goes, "If you got no business, you don't have a business."
We know that one of the best ways of getting "business" is with a well-implemented inbound marketing campaign.
The Joys of Inbound Marketing
So what is inbound marketing in the first place? At it's core, an inbound marketing campaign is simply a concentrated effort to attract leads and prospects who are interested in a particular topic, or have a specific need. It is the art, science and craft of using quality content to inform your audience, provide an answer, or solve their problem.
And, while it is not running a "sales" campaign in the traditional sense, the long term result is to get more sales, however.
There are a number of differences between what we refer to as "traditional" marketing and inbound marketing. Like the absence of overt advertising, for example. But it's in the execution of the campaign that the real difference between "traditional" marketing and "inbound" marketing becomes apparent.
Inbound marketing campaigns have a number of components that require forethought, planning and orchestration. It involves far more that simply publishing random blog posts, or leveraging social media channels.
And it requires that these various components are found by people searching the Internet for information, answers, or solutions.
This is where Local SEO comes in.
Local SEO and Marketing Your Business Online
While most small business owners are not experts in Internet marketing, they do understand that it's important to their business success. There are many terms used by marketing experts and self-proclaimed "gurus" that are vaguely understood and usually mis-understood.
Search Engine Optimization, or SEO, is one of those vaguely understood terms.
At it's basic level, it simply refers to making your website show up in search engine results. We think of it as the work done to increase a website's appeal to search engines. It involves code, constant research, quality content, and a deep knowledge of a target audience.
A more "text book" type of definition is offered by the consulting company Moz:
SEO is a marketing discipline focused on growing visibility in organic (non-paid) search engine results. SEO encompasses both the technical and creative elements required to improve rankings, drive traffic, and increase awareness in search engines.
The challenge for any business is being found online by the right people looking for the right things. The challenge for a local, brick-and-mortar business is being found only by those prospective clients and customers within a reasonable distance from the business or shop.
Being found on page one in search results is the goal for every business, and being "Number One" is the Holy Grail for many businesses. However, the truth is that search results are dynamic, shifting and subject to a number of changing factors. Being found consistently and by the right visitors is far more critical.
And businesses engaged in an inbound marketing campaign need SEO to ensure that their well-crafted content gets found.
The Five Steps of Inbound Marketing
So whether you're thinking of planning your first inbound marketing campaign, or just want to become familiar with the basics, this simple, five-step process will help.
While there are a number of elements involved for each step, here is high-level overview:
Step 1: Determine Your Offer Mix
An effective inbound marketing campaigns is centered on creating an effective mix of offers, or content. The strategy involves creating a number of valuable content pieces designed to attract readers and drive traffic to your website. Of all these visitors, your goal is to eventually create conversions Beginning a campaign with about four or five different content offers of varying formats is a great approach, and that this can always be increased over time.
Step 2: Set a Timeline and Goals
Your timeline for each campaign is tied directly to your campaign goals. Consider ways to spread out your different content offerings to maximize their impact without having any one of them run so long that the overall theme is diluted. A good rule of thumb is to have your campaigns run anywhere from 30 to 90 days. During this time your offers would be spread strategically throughout the life of the campaign.
Step 3: Drive Traffic to Your Site
This is where SEO comes into play big time. To support your campaign and drive traffic to your site with your offers, use all your communication channels to effectively push your campaign. For example:
Blog Posts: Dedicate a number of your regular blog posts to the campaign topic.
Social Media: Post links to your offers in your social media channels, and join existing conversations on other blogs and forums.
Email Series: Use an email campaign to launch your offers. Segment your list to only include people most likely to be interested in the content instead of sending a general email to everyone.
Step 4: Nurture Your Leads
For inbound marketing the Number One rule is: "Provide value." This is not a strategy of pushy sales pitches. Not every visitor from your campaign is ready to make a purchasing decision. However, by giving these leads more valuable information, you will nurture them through the sales funnel.
As they become more engaged in your content and opt to download more offers, you can introduce them to your product or service. If they aren't interested, that's fine. If they do continue to click through on your emails and act on your offers, they may be ready to hear more.
Step 5: Report on Your Metrics
This is an area that gets overlooked or given too little effort. But there are some key metrics that are critical to measuring the success your campaign. By the end of your campaign you want to know the following:
Views: Measuring the number of views will give you a sense of how effective your promotion was. If your views were low, you will know to evaluate and improve your promotion channels and strategy.
New Leads: New leads are critical to your sales team and are an indicator that you're tapping into a market or segment, and that your content was effective in attracting people to your company.
Total Submissions: Form submissions are critical. They are another type of engagement and they reveal of what your leads are interested in.
New Customers: The number of new customers is certainly an important metric, but you often can't measure this fully until some time has passed. It is valuable, too, to measure which campaigns brought in actual customers or just more leads.
And for your viewing pleasure, we have a graphic overview of the process :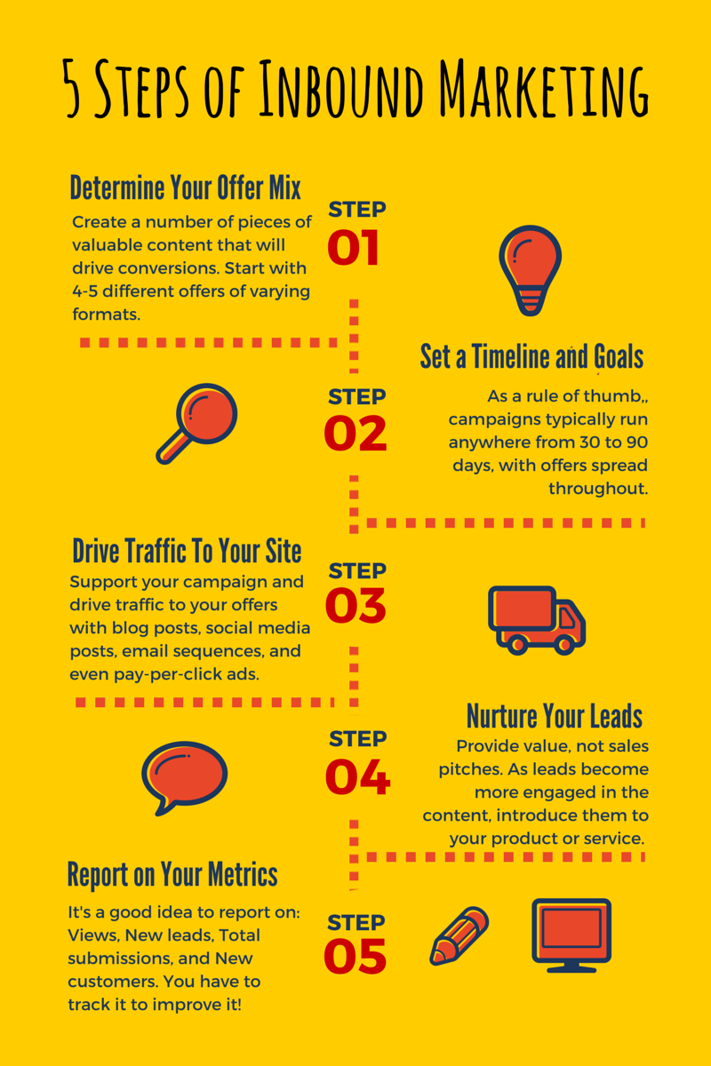 Inbound marketing can be involved or fairly brief and straightforward. An inbound marketing campaign can, for example, be as simple as publishing three or four content pieces and a using a strategy spread out over three weeks. It can also involve a multiple-piece strategy involving numerous landing pages, email campaigns and a four-to-six month timeline.
Either way, the basic strategy still comes down to these five simple steps!

Getting Help With Your Inbound Marketing and SEO
The approach of inbound marketing holds great promise for your business. But achieving your marketing objectives with a content marketing strategy takes time. It won't happen with a few blog posts or great ebook. People will need to consume your content for a while before they contact you. Yet, without your content compelling them to contact you, your goals may never be met.
The good news is that you don't have to figure out alone. In fact, one of the best investments you can make with your marketing budget is to partner with a solid firm like BroadVision marketing.
Get your free Complimentary Inbound Marketing Session so you can make an informed decision, or call BroadVision Marketing at 707-799-1238.