The statistics are overwhelming: 54 percent of people want to see more video content from brands. So what are you waiting for?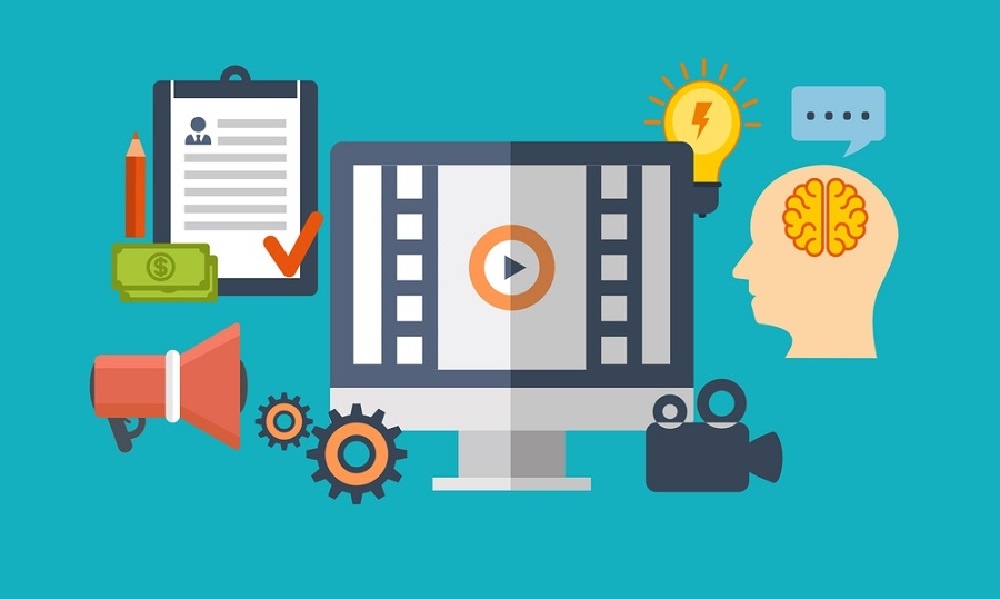 Additional statistics from HubSpot also found that, overall, 83 percent of consumers worldwide prefer YouTube to watch video content and 73 percent of them prefer seeing videos on social media that are "entertaining."
For business owners and others tasked with driving traffic to their company's website and generating new leads, the search for effective marketing tools and tactics is unending. And video has proven to be one of the most powerful.
Our friends at HubSpot put it this way in a recent post:
Video marketing is no longer an "up-and-coming" content strategy. It's here, and it's an increasingly powerful way to communicate your brand story, explain your value proposition, and build relationships with your customers and prospects.
The question for many brands is exactly what does video really do?
This graphic illustrates the essential role and function of video in marketing.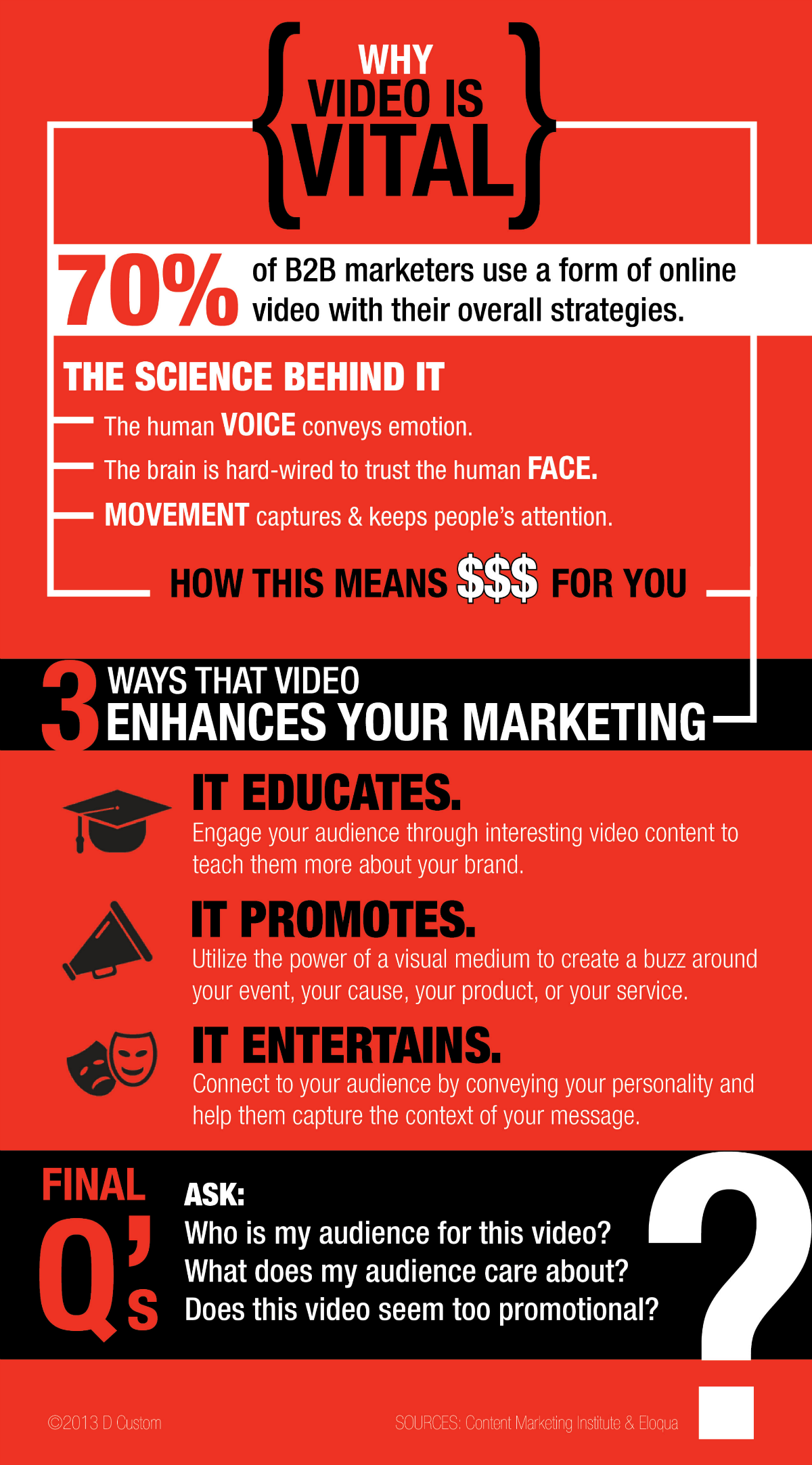 [infographic courtesy of D Custom]
Tips and Ideas for Video Marketing
The next question many owners and marketers ask is, "How can I best use video for my brand?"

Well, we're glad you asked! Here are a few tips and suggestions for making effective use of video for marketing your brand's product or service.
Video can easily be approached as a DIY tactic, though it doesn't have to be. As we note in a few places below, high-end video production is not always necessary or even recommended for many types of video use.
Welcome Video for Website
Your website's homepage is likely the most visited page on your site. A welcome video can help to grab and hold the attention of visitors, while making a strong impression. Your video should inform visitors who you are and what you can do for them. This is the primary function of a homepage and a video is a great tool for accomplishing that.

Keep your ideal customer in mind when making this video and craft your message to resonate with that person. This is a great way to communicate your brand's value to those visitors and bring along their buying journey with you.

Informational Product Videos
"Don't tell me, show me." is great ad copywriting advice and with video you can do that literally. Video is a powerful tool for highlighting the value of your product or service. With a well designed video you can show your product or service in a positive light, and quickly point out the relevant benefits and features.

Like an informational video, a product demo video can also show your prospective customer how your product or service works. And, depending on the complexity of your product, you can you get into the relevant details and provide an in-depth explanation, if needed, in an engaging way.

Tutorial Videos
Sometimes the written instructions just aren't enough. In fact, many times a video tutorial can show customers how your product works in a far better manner than words and pictures. By creating comprehensive, but easy-to-follow tutorials you can help cement a customer relationship while strengthening your brand's perception and value.
Although it is normally true that short video content is best for attracting attention, a surprising number of customers and prospects will watch long format online video if it is engaging and informative. And this is especially true for complex or high-end products or services.
Try Low-Budget Video
Effective video doesn't have to be costly. In fact, on social media platforms, more natural and "unpolished" video content can be more effective than professionally produced studio footage. This doesn't mean that just any "off the cuff" video with bad lighting and poor sound. It still has to be viewable, however, and must have something of value for your audience.

But, when done well, low-cost and simple video content can cut through the growing video clutter. It can also help your video content stand out from the mass of overproduced commercial video. Keep in mind, though, that your style and presentation must also reflect your brand and your brand's "personality."

Video Emails
Email marketing is still a lead generating powerhouse tool, and emails with short, value-packed videos will help get yours opened and read. A short video in your email will help you stand out from the crowd. Email technology allows you include videos that can be easily viewed, and boost the effectiveness of your campaigns.
A common variation of this approach is to include a short video (or two!) in every email newsletter your organization sends out. Video has been proven to increase open rates, click-through rates, and audience engagement.

Every Day Videos
Many brands make use of social media platforms by posting daily, or even a few times a day, on popular sites such as Facebook and Twitter. One great way to maximize this approach is to upload short, 20-30 second daily videos. Depending on your industry, product or service, these daily video snippets can provide quick "how-to" tips, industry updates, success stories and more.
Depending on your brand and the tone of your brand perception, you can attract more attention with your videos if they are funny or unusual. They must still provide value and must still be produced with your target audience in mind, but quirky or humorous can help generate views and social shares.
Your (Visual) Content Marketing Partners
Content marketing can be thought of as the foundation of an effective inbound marketing strategy. And high-quality, relevant, and consistent content is one of the main keys to attracting and winning prospects and customers.
This content can take on many forms such as blog posts, eBooks, white papers, video, email, slide decks, infographics, webinars, and even the pages on your website.
However, the challenge for most business owners is in creating this never-ending need for fresh content. Then there is the additional challenge of determining how best to distribute and use that content to carry out an effective marketing strategy.
Fortunately, you don't have to attempt this on your own! Your options for implementing a successful and affordable content marketing strategy also include finding a professional firm that can work with you to maximize your efforts.
A qualified agency like BroadVision Marketing will develop a road map with an implementation time line, marketing milestones, and key deliverables. Using this road map we will create the framework and structure for us to work with you and help you to achieve your marketing goals.
Get your Free Complimentary Inbound Marketing Session to help you make an informed decision or call BroadVision Marketing at 707-799-1238.