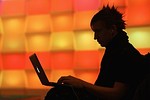 Do you want to know a secret to getting
backlinks
for your blog and get free promotion for your business? I've been experimenting with one easy way to convey my message, attract clients and build my brand that I want to share with you.
A blog commenting campaign
I have begun a blog commenting campaign. What in the world is that? A blog commenting campaign is a focused effort to look for
blogs
to comment on to highlight you company. There are so many blogs out there in your niche giving you endless opportunities to plug your blog. That's because unlike a static website, you can make comments on a blog. You have the opportunity to add what you think to a blog post, read what others have written and even comment on someone else's comment. You should be passing on information while you are doing this because this is how you will gain credibility.