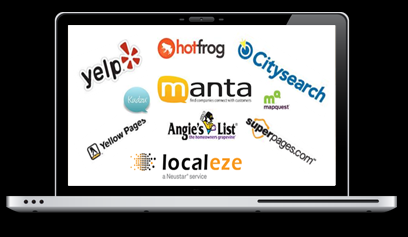 Pulling in customers can pose a great challenge to small businesses. Now that most people turn to the internet to find a product or service they need, the use of local internet marketing directories to get found by potential customers will work well for your business. As a local internet marketing solution for local businesses, you can increase your chances of attaining your business goals by being on these directories.
Benefits of Local Internet Marketing through Local Directories
Participating in local internet marketing directories offers several benefits to local businesses. For one, it's an integral part of a local internet marketing solution for local businesses, and therefore you should plan on using them. Although being every available local directory can help boost the search engine ranking of your website, you want to join only the most reputable local directories to get found by Google and other major search engines. Remember that Google not only ranks a web page by the relevancy of content, but also by credibility. Being recommended by reputable sites in your local internet marketing strategy area can help you.
Here's a List of Some Local Internet Marketing Directories
Local directories may be classified according to the information they provide: contact details, maps, customer reviews, ratings, and company profiles. Each area can have its own set of directories where the locals refer to when looking for companies, products or services. This internet marketing solution for local businesses can have optimum results if you will take advantage of sites related to your business.
Ask Local Pages --Offers telephone search, business name finder, and white pages.
Discover Our Town--Local city guide for local events, dining and shopping centers, among other things that people may find interesting.
Bridgat--Portal for buyers and suppliers that engage in international trade.
nSphere--Provides local data to meet local user needs.
EZlocal Local--Business search engine. Lists over 16 million small and medium sized businesses.
Facebook--Outsourcing marketplace for tradesman and professional services.
Flickr--Online business directory for searches by local consumers.
Hotfrog--Aims to make a business stand out online. Offers information on products and services available in a particular location.
Craig's List--Local classifieds and forums for jobs, housing, for sale, personals, services, local community, and events.
LinkedIn--Offers a platform for sharing blog posts, links, and articles for businesses and professionals.
MerchantSpan--Allows businesses to connect with customers using social networks.
User Instinct--Search engine for local businesses. Lists companies and professionals by towns and cities within a specified distance.
Twibs--Business listings, categories, tweets and votes of businesses on Twitter.
ShowMeLocal--Online yellow pages and business directory network. Offers contact details, maps and driving directions.
MapQuest--Shows maps, driving directions, local traffic and road conditions. Shows businesses near searched location.
Angie's List--Compiles consumer ratings of local service companies and contractors in multiple cities across the United States.
TheUSAExplorer.com--Yellow Page directory with user reviews, ratings, contact information, directions, etc.
City Search--Reviews, recommendations, and directions to the best hotels, restaurants, events, night clubs, shops, services, etc.
CitySlick--Local advertising and marketing with business coupons and reviews.
Insider Pages--Reviews of local businesses.
Yelp-User reviews and recommendations to food, shopping and entertainment businesses.
Which of these local directories are already part of your local internet marketing strategy? Which ones are you interested in being on?
Jaco Grobbelaar is the owner of BroadVision Marketing. BroadVision Marketing works with business owners to put in place inbound and outbound marketing strategies that consistently secure new clients. The BroadVision Marketing Training Center is located in Petaluma, CA and primarily serves companies in the San Francisco Bay area.
Jaco can be reached at jaco@broadvisionmarketing.com or 707.766.9778 or connect with Jaco on Facebook - www.facebook.com/broadvisionmarketing - and LinkedIn - www.linkedin.com/in/JacoGrobbelaar.