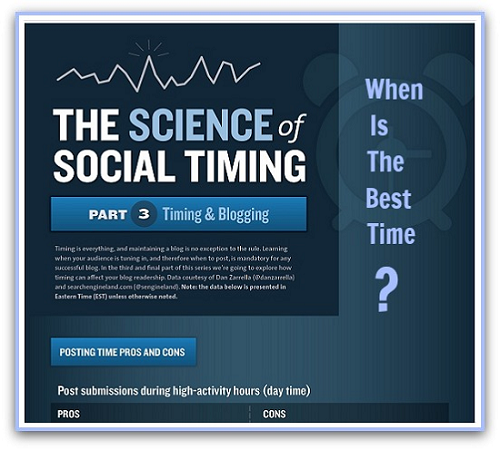 I seriously thought that there was a formula for knowing the better if not best days and times to post a blog. Wrong. I have to admit I looked at infographics and charts without taking the time to read the articles I found on the subject. OK, I did look at the bullet points to get reinforcement for the graphics I was looking at so thoroughly. Two of the most arresting items I saw were KISSmetrics' The Science of Social Timing Part 3, which was introduced in 2011and shared repeatedly ever since. The other were Sharaholic's charts, used by Jason Keath on Jan.18.2012 in When Is The Best Time Of The Day To Blog?
These two sources actually contradict each other in some odd ways on blog post ideas.
KISSmetrics' take-away includes these key points that the infographic throws light on revealing interesting trends. (This information is presented in Eastern Time (EST).)
Average blogs see most traffic at around 11 AM.
Average blogs are most likely to get maximum comments around 9AM, including Saturdays.
Average blogs get the maximum inbound links at around 7AM, including Mondays as well as Thursday.