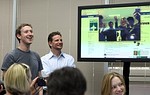 [caption id="" align="alignright" width="250" caption="Zuckerberg explains Timeline"]
[/caption]
Facebook
is going through a major upheaval among savvy users, according to internet news services. For one thing Facebook unveiled its Timeline recently, an act that followed closely on the news that Facebook privacy practices were found faulty by the
Federal Trade Commission
. Furthermore, this past summer
elderly people
in various places in the United States were scammed based on Facebook information they probably thought was private, but instead was used against them.
Some of the seniors, top worries when it comes to learning to use Facebook came from an article by Colleen Greene on "Helping senior citizens learn how to use Facebook" at (11.2.10)
http://colleenscommentary.net/2010/11/02/helping-senior-citizens-learn-how-to-use-facebook/
. Greene asked the elderly what their concerns were and their top concerns were privacy risks.